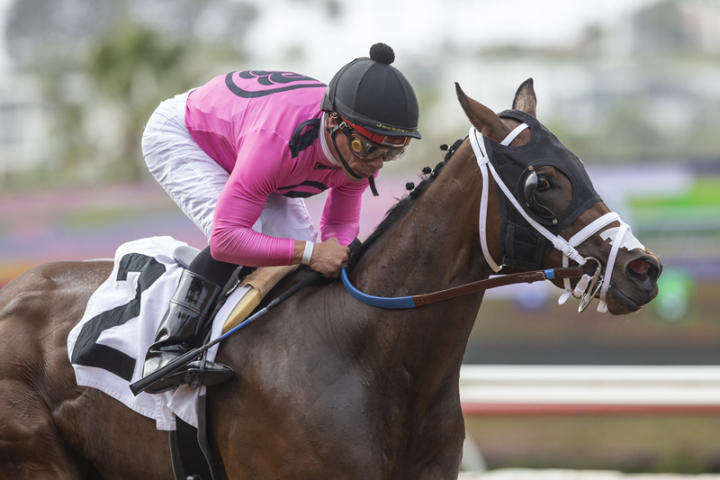 Unbeaten Bulletproof One tops Generous Portion
Steve Andersen  DRF Aug 26, 2019
DEL MAR, Calif. – Bulletproof One is highly likely to be the shortest-priced favorite in a stakes in the final week of the Del Mar summer season when she starts in Wednesday's $100,000 Generous Portion Stakes for California-bred 2-year-old fillies.
Unbeaten in three starts, Bulletproof One won the CTBA Stakes for statebred 2-year-old fillies at 5 1/2 furlongs on July 31 at odds of 1-2 in her first start in Southern California. Bulletproof One led throughout and pulled clear to win by 6 1/4 lengths.
"She's fast from the gate," trainer Peter Miller said. "Just fast. She has a high cruising speed."
By Idiot Proof, Bulletproof One was bought privately by Gary Barber and Eclipse Thoroughbred Partners after her win by 9 1/4 lengths against California-bred males in the Everett Nevin Stakes at Pleasanton on July 6.
Norberto Arroyo Jr. rode Bulletproof One in the CTBA Stakes, but leading rider Flavien Prat has the mount on Wednesday. Miller said there was confusion as to whether Arroyo would be serving an outstanding suspension on Wednesday when arrangements were made, leading to the change.
Arroyo has appealed the suspension, which was for a riding infraction earlier this summer, and is riding on Wednesday. He has the mount on the promising maiden winner Smiling Shirlee in the Generous Portion.
There have been discussions about running Bulletproof One in Saturday's Grade 1 Del Mar Debutante at seven furlongs, but as of last weekend Miller said the Generous Portion Stakes was the more likely goal, especially since she is widely expected to win.
"There's always a chance," Miller said. "I'd say it's 90-10 that we stay in.
"It's never the wrong move to win."