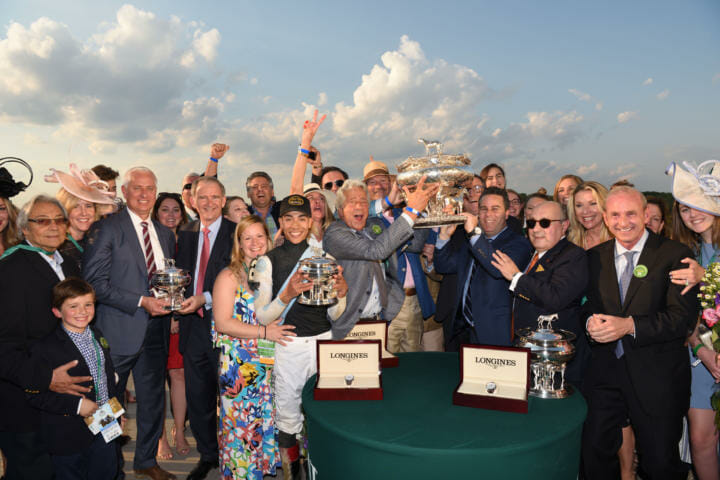 Top Highlights of 2017 & Launching Into 2018
Believe Big!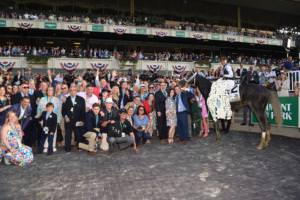 That's the Eclipse motto and it's the mantra the stable and company has lived by now for 6+ years.
Thanks to an incredible partner base, who have put their faith in the Eclipse program, the baby blue and black has firmly established itself as the undisputed leader in the racing partnership space in terms of overall success and yearly output in all major racing statistical categories and as a household name among the elite of all owners throughout the country.
As they say. it's a lot easier to get to the top than to stay there, but Eclipse is intent on doing so and maintaining it's top position for a long, long time to come, continuing to deliver the goods to our deserving partners.
A look back on the 6 full seasons from 2012-2017 since the Eclipse stable was started from scratch and it is remarkable to see how the stars have aligned for $16,997,356 million in total purse earnings (the $17 million plateau was surpassed on New Year's Day), 44 Stakes wins, 10 Grade 1 wins with 8 individual horses, 186 total wins for a 20.19% win strike rate and an overall in-the-money clip of 52.66%.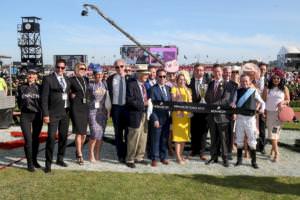 Eclipse has certainly made serious headway in accomplishing our mission of etching the baby blue and black into the history books by capturing numerous of the most prestigious and coveted races from coast to coast, and through 2016 had placed in a pair of American Classics by virtue of Danza's 3rd-place result in the 2013 Kentucky Derby and Destin's nose 2nd in the 2016 Belmont Stakes.  But, what really thrust the 2017 season over the top for the Eclipse brethren was Tapwrit's triumph in the 3rd jewel of the Triple Crown, The Belmont Stakes and the icing on the cake had to be Pinot's historic victory in the Australian Oaks, handing Eclipse a dual-hemisphere Classic double.
There's a reason our partners Believe Big!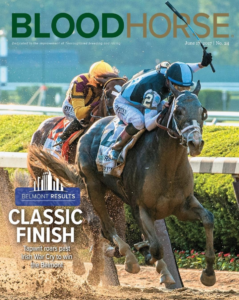 And, as the stable's track record is embellished and enhanced by the year, there's good reason for partners to keep believing bigger and bigger…
The Eclipse team is humbled by the support the stable has received from our enthusiastic partners and credit our partners with allowing the Eclipse stable to continually reach new heights.
We make no secret about our belief that horse racing is truly the ultimate "what have you done for me lately?" game, so our desire to keep the success rolling and to provide our partners with 1st-class racing results and a 1st-class lifestyle experience remains deeper than ever.
The 2017 season was yet another banner stand for Eclipse, as the stable closed out the year ranked 12th among all owners in the country in earnings (sliding 1 place from last year) with $3.43 million in purse earnings.  Eclipse won 43 races, good for a solid 19.37% win percentage and the in-the-money rate landed at a robust 56.76%.   Perhaps the most astonishing stat of the season was the stable's 45 second-place results, which means that Eclipse runners finished in the top 2 a total of 88 times from 222 overall starts, which equates to a 39.63%, 1-2 punch.
Between domestic and international starts, 12 times the Eclipse colors posed for photos in Stakes races in 2017, including a pair of Grade 1's with Tapwrit in New York and with Pinot in Australia.  The baby blue and black won 25% of the time in Graded outings and at 27.6% in Black Type events overall.
For an illustration of all North American-based racing partnerships stats, check out:
https://www.ownerview.com/syndicate
And, to further emphasize the strength of the Eclipse program, the Thoroughbred Racing Commentary has just released their global owner rankings, in which Eclipse was ranked #87 among all owners throughout the world.
https://www.thoroughbredracing.com/rankings/category/owner/
While we are all certainly excited to turn the page and get the 2018 season launched with a quartet of runners this coming weekend, let's take a moment to enjoy, reflect and appreciate Eclipse's Top 10 Highlights from the 2017 stand: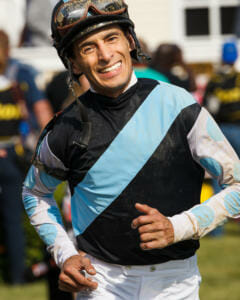 10. Philanthropy.  This highlight can just as easily be ranked #1, so, by virtue of the fact that we're counting down from 10 to 1, we can kind of sort of make the case that we've saved the best for last.  Eclipse has always prided itself on giving back to the industry we all so deeply care for and feel so lucky to be a part of and Eclipse has been blessed with countless numbers of partners who take charity just as seriously as we do.
2017 was a rollercoaster of highs and lows and when the lows struck, the Eclipse family showed their true colors by showing up in droves by donating time, money, resources and general support to important causes.  Unfortunately, there were a pair of natural disasters which inspired the philanthropy of Eclipse partners this year in the form of Hurricane Maria, which decimated Puerto Rico and the Lilac Fires in North County San Diego, which ravaged through the San Luis Rey Training Center.  In both instances, the Eclipse faithful were prominent in assisting efforts for those whose lives were uprooted by the tragedies, 1st teaming up in September with Puerto Rican native and All World jockey who is so special to Eclipse, John Velazquez (above), to assist the horse racing industry workers in Puerto Rico with food and supplies and then in December, when the Eclipse family went above and beyond to provide aide and relief to those affected by the San Luis Rey disaster.  Eclipse could not be more proud of the manner in which our partners, supporters, fans and friends contributed to the relief efforts in each of these terrible situations and we could not be more grateful and thankful to be associated with the type of people who possess the righteous character we seek to convey day in and day out.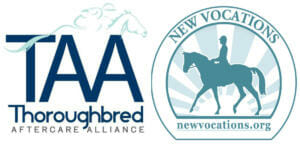 In addition to the unfortunate circumstances brought on by way of natural disaster, the Eclipse team continued to stay true to 2 major industry-related causes near and dear to those who bleed baby blue and black: thoroughbred aftercare and military veteran therapy.  Eclipse takes the treatment of our racehorse's post-retirement safety extremely seriously and while the stable has supported the Thoroughbred Aftercare Alliance(TAA) individually and numerous accredited aftercare facilties/providers, there is no question that the closest bond is that between Eclipse and New Vocations.  Eclipse is hugely fond of the retraining and rehoming adoption program headed up by Anna Ford at New Vocations and uses the program as our go-to for secondary careers when our horses are retired from racing and Eclipse will continue to contribute to New Vocations, including making numerous purse earnings pledges throughout every racing season.
As for our mission to support U.S. military veterans through an industry-related vehicle, Saratoga War Horse has become a priority for Eclipse and it has been hugely gratifying to see so many Eclipse partners get involved, not the least of whom is Eclipse Chairman, Brian Spearman, who was elected to the position of Chairman of Saratoga War Horse last year.  Eclipse had a significant presence at the annual gala during the Saratoga meet and also made purse earnings pledges to Saratoga War Horse on Veteran's Day weekend.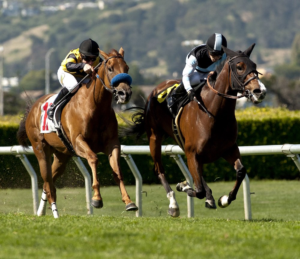 9. Lady Valeur has earned the right the be deemed an iron horse and it would be a treat to have a barn full of sturdy Stakes performers like this gal.  Since being plucked from obscurity in the stix of Ireland just 2 years ago and transferred into the care of Paddy Gallagher, Lady Valeur has run 19 times with 5 wins, 3 seconds and 3 thirds, including 3 Stakes wins, and multiple Stakes and Graded placings, including a narrow defeat in the 2016 renewal of the Grade 1, $300,000 American Oaks.  In 2017, Lady Valeur tacked on another pair of Listed Stakes wins in capturing the Golden Poppy Stakes at Golden Gate as well as the Luther Burbank Stakes at Santa Rosa. Lady Valeur laces 'em up and goes to battle month in and month out and she'll come back to represent the baby blue and black for her 5 year-old season in 2018, perhaps with a Graded score in the cards for her to add to her crown of jewels.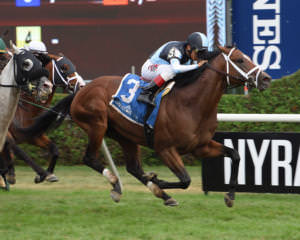 8. Hieroglyphics was acquired from OBS March 2016 with high hopes.  At the time of his purchase, the $450,000 price tag on his halter ranked him as the most expensive 2 year-old in-training ever bid in by Eclipse at public auction.  Naturally, the pressure was on and when Hieroglyphics turned in a dismal debut at Saratoga in the summer of his 2 year-old campaign, it was a considerable let-down to the partners who had forked over some serious dough to be part of this son of Pioneerof the Nile.  The reset button was hit and Hieroglyphics was sent to Payton Training Center in Ocala to purge his atrocious unveiling from body and mind and when he came back to Todd Pletcher and was transferred to the turf, the burly bay re-transformed into the high quality runner he was pegged as dating back to when Eclipse scouted him as a Frosh.  Hieroglyphics took some nasty, brutal beats at The Gulf during the winter, earned his cap and gown in the spring and by the time he returned to The Spa for his summer stand, he reeled off a summer to remember, skipping clear to a decisive Allowance win on opening weekend and then parlaying that into a spectacular Stakes score in the Better Talk Now Stakes, capping off a tremendous summer for Hieroglyphics and his relieved and elated partners.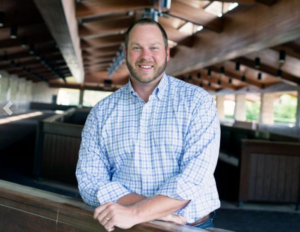 7. Another highlight which likely deserves higher ranking than its #7 placement…the hiring of Jacob West most definitely served as a bright spot for the Eclipse team in 2017.  Eclipse has taken a conservative approach to adding to its staff since its inception as well as the merger with Dogwood Stable, honing in on sustaining the boutique, familial camaraderie feel of the organization, so when another member to the team was added, Eclipse was intent on landing a star and Jacob West was unquestionably the team's #1 draft choice.  Jacob has come to Eclipse by way of the esteemed Kentucky operations, Taylor Made and Three Chimneys and his deep repertoire of skills as a horseman and in knowing the ins and out of the industry, combined with providing Eclipse with a firm presence in the heart of Lexington, made him a clear standout to take on the position of VP of Bloodstock.  The Eclipse family has welcomed Jacob and his wife Lauren and their handsome dog, Lincoln, with open arms and Jacob has already made an immediate impact since joining the team in July, playing a major role at sales, developing an innovative pinhooking program for partners to diversify their Eclipse equine portfolio and in covering ground at farms in Kentucky and Florida and on race days.  If you haven't met or corresponded with Jacob yet, we encourage you to do so!
6. Eclipse made it clear that the stable was not at all pleased with the output provided by the 2016 Freshman class during its Freshman season.  While that class evolved admirably into a stellar Sophomore class, led by the Classic hero, Tapwrit, the 2 year-old production was well below standard for the squad.  With that in mind, Eclipse made a concerted effort to remedy mistakes made in the scouting, acquisition and development process for the incoming 2017 babies and improvement was made in a big way, as evidenced by the fact that the stable established 3 "TDN Rising Stars," from a trio of diaper dandies within a span of 3 consecutive months.
Hazit became TDN Rising Star Numero Uno of the year when he impressed in his unveiling at Saratoga for Todd Pletcher, besting eventual BC Juvenile winner, Good Magic in the process.  The performance inspired the heavyweight Coolmore contingent to acquire an interest in the son of War Front, providing the Hazit partners with a healthy windfall.  Although Hazit under-delivered in 2 subsequent Grade 1 outings in the Champagne and the BC Juvenile, Eclipse and Todd Pletcher remain bullish on him as he endeavors his 3 year-old campaign.
About a month later, Montauk put forth perhaps one of the most devastating exhibits of brilliance for a 2 year-old the entire season when he put on a show to capture his debut at Belmont Park.  The strapping son of Medaglia d'Oro was immediately dubbed a star and even though he was sidelined by design to prepare for his Triple Crown Trail mission, the Eclipse color-bearer still was bet to the 2nd choice in Kentucky Derby Future Wager 1.  Montauk is now in the process of gearing up for his Sophomore season with Todd Pletcher and it's impossible for one's blood not to be pumping about this serious, serious prospect who sure has the look and feel of the real thing.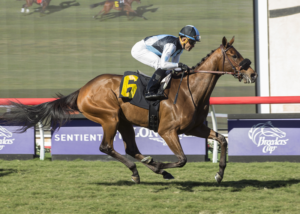 Completing the TDN Rising Star trifecta was the spitfire filly, Tesora, who dazzled on debut at The Gulf in September, but the rising stardom moniker was not doled out until she took her act West where she was nothing short of scintillating in overcoming an abundance of trouble to prove a mile best while putting on display an extraordinary turn of foot at Del Mar.  The classy daughter of Scat Daddy is yet another testament to the synergy created by Eclipse and trainer Jonathan Thomas at Bridlewood Farm, who has done a masterful job developing youngsters for the stable, rehabbing injured horses to return at full strength and traveling the country to experience success on the racetrack while preparing the charges from the friendly confines of Bridlewood Farm in Ocala.  Tesora was also purposely put on the shelf after being deemed a star in the making, revving up for what figures to be a healthy diet of Graded Stakes in 2018 and beyond.
5. Nothing will ever make up for one of the nastiest beats ever suffered by a horse in an American Classic when Destin got nostrilized in last year's Belmont Stakes, but his dominating win in the Grade 2, $200,000 Marathon Stakes at Del Mar on the Breeders' Cup undercard helped his partners forget about the sting of that brutal blow for a few moments.  Destin didn't quite have the blockbuster season envisioned for the gorgeous gray guy from the outset, but a win at Saratoga and the Marathon score on one of the biggest days of the year in front of one of the largest and most energetic crowds of the year made for a decent consolation prize.  Delivering Graded victories to partners at the most esteemed venues on the game's most coveted days is what Eclipse is all about and Destin accomplished that goal in this year's Marathon, a fun race to be a part of and to win, no doubt.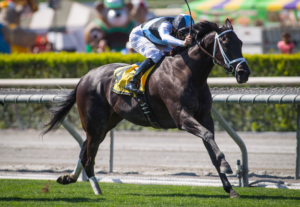 4. Illuminant granted her partners a bonus year in 2017 after gifting them Grade 1 glory in the 2016 Gamely.  Illuminant was sold for $900,000 in November of 2016, but in a creative deal with the buyers, SF Bloodstock, Eclipse was able to retain a significant interest in the Quality Road filly, while also allowing the partners to take some real dough off the table. The partners were rewarded with multiple Stakes thrills, including a logic-defying comeback win in the Wishing Well at Santa Anita and she doubled-up in showing all of her brilliance, grit and determination in capturing the Grade 2, $200,000 Monrovia again down the hillside toboggan slide course at The Great Race Place.  For Illuminant to overcome what were once thought to be career-ending injuries and return to Graded Stakes heroism at 6 1/2-furlongs after winning a Grade 1 the prior year at 1 1/8-miles speaks to her incredible versatility and class and to the phenomenal horsemanship exuded by trainer, Michael McCarthy.  The Black Beauty was again sent through the Fasig-Tipton sales ring this past November where she commanded $1.1 million from Shadai Farm of Japan.  Illuminant now resides at the famed farm alongside other Eclipse fantastic fillies, Curalina and In Lingerie.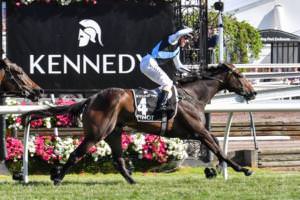 3. It is unfathomable to think that Eclipse has acquired just a single horse in Australia and that filly, Pinot, has gone on to carry the baby blue and black banner on to historic success in the Grade 1, $1 million Victorian Oaks.  Pinot was bought for the equivalent of $150,000 USD as a yearling at the Inglis Easter Sale in Sydney and has been impeccably developed by master horsewoman, Gai Waterhouse and her training counterpart phenom, Adrian Bott.  Pinot burst onto the Australian Turf scene with a sparkling win in the Oaks Trial as a Maiden; stamped herself as a potential superstar in proving superior in the Group 3 Ethereal Stakes; and then earned herself the title as the crowned Queen of the sophomore division Down Under with a breathtaking triumph in the Group 1, $1 million Oaks.  The partners who put their faith in Eclipse's ability to extend its success from the States to Australia all made the trip to Melbourne for the Oaks, making for a surreal experience and providing the Australian continent with one of the most captivating stories of the year.  Pinot's Classic success has coined Eclipse an international sensation stable, putting the exclamation mark of all exclamation marks on a dual-hemisphere Classic double between America and Aussieland.  Pinot's remarkable success has paved the way for Eclipse to gradually expand deeper into the Australian market, as the team has set its sights on returning to the Inglis Easter Sale in Sydney in April, a sale built around the Royal Randwick carnival of racing where Pinot will seek to become a dual-Classic winner in the Sydney Oaks.
To read a story in AusHorse Magazine, the Australian equivalent of The Bloodhorse in the States, about Eclipse's historic splash onto the Australian racing scene, check out this link (scroll to page 40):
http://digital.smedia.com.au/aushorsemagazine/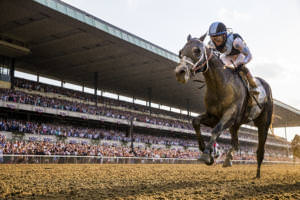 2. Tapwrit's monumental win in the 149th running of the historic Belmont Stakes ranks as unquestionably the racing highlight of the year for Eclipse.  A Classic is a Classic and for the Eclipse silks to streak across the finish line victorious in one of the most coveted races on the American racing calendar and to forever etch its name in the tradition of true Americana sport is an achievement Eclipse does not take lightly and one which Tapwrit's partners will forever cherish.  Big Sandy, New York, Todd Pletcher, Jose Ortiz and a partnership match made in heaven, topped off by an extraordinary performance from a Classic colt, Tapwrit, made for the thrill of a lifetime and history achieved.  Tapwrit's stallion rights have been secured by Gainesway Farm, where he will stand proudly by his sire's side, Tapit, but before he heads off to the breeding shed, Tapwrit has plenty more work to do on the racetrack and he will stake his claim for top Handicap horse honors at age 4 next season.
To "tap" into a video of what it feels like to experience the raw emotion of a Classic win, check out this footage provided by a Tapwrit partner of him and his family in the heat of the moment :
1. Health & Safety.  At the core of everything Eclipse stands for is pure horsemanship and a totally devoted appreciation for the equine athletes who are the heart of the Eclipse program. Therefore, the #1 highlight of the 2017 season is the fact that each and every one of the 222 horses and jockeys that Eclipse sent out onto the racetrack to compete in a race came home safe.  Inevitably, the stable is frequently experiencing injuries to equine members of the roster, some minor, some crushing.  This comes with the territory and Eclipse exercises every ounce of skill and effort to minimize this risk.  We also recognize and appreciate the risk taken by horse and jockey every time they go to battle and this is something Eclipse never takes for granted and we take extreme pride in the care, attention and horsemanship that goes into every member of the stable.  It is our wish that this can be our #1 highlight every single year.
 *HONARABLE MENTIONABLES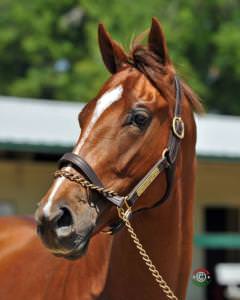 Onassis, the equine variety, is hardly a household name.  She's a modestly-bred daughter of First Dude who was acquired at OBS April 2017 for $140,000 and has yet to make an official start for Eclipse.  However, Onassis provided Eclipse and an entire community in need of a lift with the feel-good story of the year when she emerged unscathed from the traumatic Lilac Fire which ripped through the San Luis Rey Downs Training Center.  Onassis emerged from the harrowing event with pure class and composure and she will forever be adored by her partners and the Eclipse family who fell in love with her story in the wake of such horror.  To read Eclipse President, Aron Wellman's personal account of the rescue aftermath involving Onassis, check out:
https://eclipsetbpartners.com/news/gaining-perspective-time-tragedy/
Eclipse operates day in and day out under the notion that a good horse can come from anywhere at anytime.  This theory has been exemplified by the stable's enterprising acquisitions numerous times over the past 6 years, some of which have translated into massive success, some of which have resulted in epic failure.  Perhaps one of Eclipse's most audacious moves to date came this past summer when the company turned to Canterbury Park in Minnesota to acquire the once-raced 3 year-old filly, Vallestina.  The daughter of Leroidesanimeaux had broken her maiden on debut in a lowly Maiden claiming event at Canterbury by daylight.  However, as was advertised and acknowledged to the prospective partners presented with the opportunity to own Vallestina, she likely beat up on some distant relatives of Lassie in the process.  Nonetheless, Eclipse made the play, navigated some complex travel plans to get the chestnut gal from Shakopee, Minnesota to Del Mar, California and within a month, Vallestina was bounding her way to an impressive score by the seaside "Where The Turf Meets The Surf," making for one of the most jubilant winners' circle scenes of 2017 for partners who put their faith in such an obscure purchase.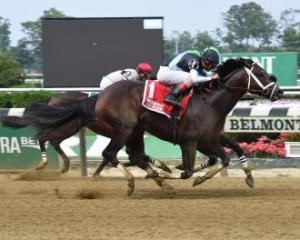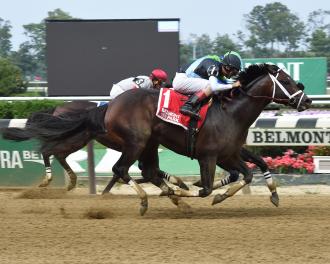 1. Comfort was acquired privately by Eclipse in January of his 3 year-old year after an eye-catching Maiden score.  The son of Indian Charlie was much maligned throughout his Eclipse career, emerging from his auspicious stable debut in the Grade 3 Lexington with a hind ankle injury and he was injury prone and plagued for the next 2+ seasons, although magnificent on his day.  Comfort won an Allowance sprinting on the dirt at Gulfstream at the end of his 3 year-old season, but came out of that effort requiring surgery to cut his check ligament.  Ever the warrior, Comfort came back at age 4, reeling off a pair of spectacular victories at Belmont Park, including a rousing score in the State Dinner Stakes.  He then dove into the deep end of the pool, tackling the top Handicap colt in all the land, Frosted, and ran that foe to a fierce 2nd in the Grade 1, $1.25 million Whitney at Saratoga.  Comfort would then return to Belmont Park where he won the Seattle Slew Stakes, fracturing his shin in the process.  From June to September he posted 4 consecutive triple-digit Beyer Speed Figures, won 2 Stakes at Big Sandy and a gutsy 2nd in the Whitney at The Spa.  After the Seattle Slew, Comfort underwent a 3rd surgery and was brought back for a 5 year-old campaign, but he re-aggravated his shin and was retired to stud in New Mexico where he is preparing to stand his 1st season as a stallion.  On his day, Comfort was exceptional, winning Stakes in the Big Apple in monster style while racking up robust speed figures.  He was a true warrior who battled through injury and always laid his body down.  With his sterling pedigree and natural talent, Comfort is cut out to be a serious stallion and in a few year's time, it will come as no surprise if he takes New Mexico by storm.  Comfort epitomizes the heart, class and talent of a true Eclipse Hall of Famer.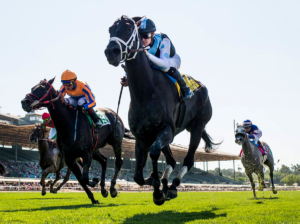 2. The aforementioned Illuminant joins an esteemed list of esteemed Eclipse fillies in the Hall of Fame.  Although it took the black beauty 4 tries to break her Maiden, she always hinted at being Grade 1 caliber and she proved it in her 4 year-old season when she traveled to Keeneland to run the mighty Tepin to a 3rd in the Grade 1 Jenny Wiley and she validated that tremendous performance when she bounded home a decisive winner in the Grade 1, $300,000 Gamely a month later.  A high maintenance filly who required an enormous amount of TLC, Illuminant was sidelined for the remainder of her 4 year-old year and after an innovative deal for Eclipse to retain an interest in the star filly, she overcame all odds to return to the upper ranks at age 5, booming home best in the Wishing Well Stakes and then providing a smashing score in the Grade 2, $200,00 Monrovia.  A Grade 1 winner at 9 furlongs and a Grade 2 victor at 6 1/2-furlongs, Illuminant resembles the prototypical all-around athlete with the versatility, adaptability, courage and psyche to be an elite thoroughbred racehorse.  Illuminant was sold in November for $1.1 million and now resides side by side 2 other Eclipse legendary ladies, In lingerie and Curlalina, at the famed Shadai Farm in Japan.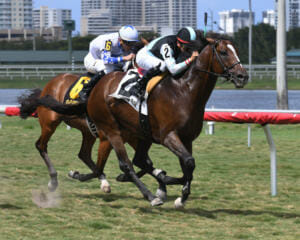 3. War Correspondent rounds out the 2017 Hall of Fame class.  Plucked privately at the end of his 3 year-old season, Eclipse campaigned War Correspondent for 3 seasons, winning a pair of Grade 3's, including the Miami Mile this past year, in addition to a pair of Grade 1 placings in the Gulfstream Park Turf Handicap and a narrow 2nd in the Grade 2 Autumn Stakes. A magnificently-bred colt, War Correspondent provided his partners with some massive paydays when Sagamore Farm acquired a minority interest in him as a 4 year-old and then his stallion rights were acquired at age 5 by the historic Calumet Farm.  War Correspondent was a regal colt for Eclipse and with his stellar looks, prime-time ability and royal pedigree, he has every right to make his presence felt on the breed as he assumes his duties as a sire in 2018.