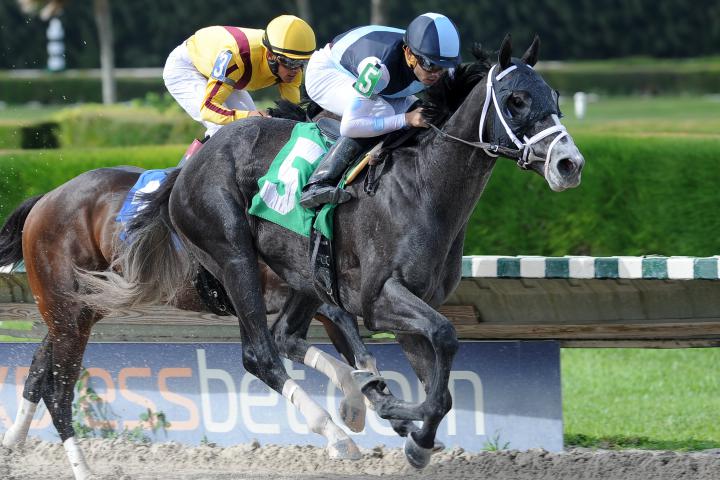 How the Son of Tapit who Almost Broke the Bank May be About to Hit the Jackpot
By: Bob Ehalt Thoroughbred Racing Commentary
Crossing a street can be the simplest of task. It's usually a quick and uneventful process in the everyday life of people in all corners of the world. Yet on one fateful afternoon in August of 2015, the all-too-routine act of walking from one street to another triggered a chain of events that has taken Aron Wellman and his partners on an amazing journey that just might include a coveted stop at Louisville on the first Saturday in May.
On that day, Wellman, the President of Eclipse Thoroughbred Partners, and his business partner, Eclipse Chairman Brian Spearman, had just viewed the Denali Stud consignment at the Fasig-Tipton Saratoga Select Yearling Sale and were walking back to the main sales pavilion.
With each step, Wellman's mind raced faster and faster as he thought about a gray son of Tapit he had just seen at the Denali barn. Wellman loved everything about the young colt.
"I don't like to throw my cards on the table too soon, but I think the people at Denali were well aware of my affinity for that Tapit colt. They knew I was smitten with him the first time I saw him," Wellman said. "He had so much substance, depth and scope to him. He had good bones that could support a hefty frame. He walked with an incredible amount of power, yet was graceful on his feet for a heavier horse.
"He was the kind of horse that your eyes swell up when you see him."
Making the impossible happen
Yet Wellman also knew the colt was destined to sell at the auction for a seven-figure price well beyond his group's relatively modest means. While Danza had finished third for Eclipse in the 2014 Kentucky Derby, he was bought for just $105,000 as a yearling. The syndicate's multiple G1-winning filly Curalina, who was sold by Eclipse as a broodmare prospect for $3 million last November, was originally a $125,000 yearling buy, ironically enough from a Denali consignment.
"I would generally toss out a son of Tapit from a Grade 1-winning mare at an auction because if they pass a physical inspection he would probably be too expensive. The most Eclipse had ever paid for a horse at a sale was about $200,000," Wellman said. "But this colt was a standout."
As he pondered ways to make the impossible happen, Wellman crossed the street and saw Bridlewood Farm's general manager, George Isaacs, and farm trainer Jonathan Thomas walking toward him. Wellman knew both of them quite well from sending some of Eclipse's young horses to Bridlewood for their early training.
In an instant, a plan popped into Wellman's head.
"Aron asked us if we had seen that beast Denali was selling," Isaacs said. "He said he didn't have the resources to buy him and wanted to know if we were interested in partnering up with him. I said we'll check into it."
About 10 minutes later, Wellman's phone rang and destiny was in motion.
Three-way partnership
Isaacs was shopping for young colts to build up Bridlewood's racing stable and augment the farm's acquisition of well-bred fillies and mares, including half-sisters to Arrogate, Beholder, Songbird, Nyquist and Honor Code and a full-sister to Untapable. He also liked what he saw in the precocious Tapit colt and convinced Bridlewood owner John Malone to join forces with Wellman.
Yet, even with Malone on board, Wellman knew he need one more partner to make the finances work. So he and Isaacs decided to contact Jonathan Panagot, the racing manager for Robert LaPenta, who also sends his young horses to Bridlewood's Florida farm. Wellman knew Panagot from the days when Wellman worked for the Team Valor partnership and Panagot was the stable manager for trainer Graham Motion.
Panagot pitched a three-way partnership to LaPenta, who was receptive to the idea.
Best known for starting his own stable with trainer Nick Zito more than a decade ago, and producing runners such as 2007 juvenile champion War Pass, 2008 Belmont Stakes winner Da' Tara and beaten Kentucky Derby morning-line and betting favorites in The Cliff's Edge and Dialed In, LaPenta has become more involved in partnerships in recent years and now has a stable of 40 horses, with 15 of them belonging to partnerships.
"The game has changed," LaPenta said. "You look at the sales and prices have gone up, so it's no surprise there are more partnerships. You're at a disadvantage on your own. I still buy a lot of horses on my own but I like partnerships because I can share some of the risk and costs."
Before long, Wellman received a call from Panagot that was the answer to his prayers.
Valuable commodity
That short walk across a street in Saratoga Springs, New York, put in motion a chain of events that led to the new partners buying that Tapit colt with a winning bid of $1.2 million and embarking on a journey that has them in a highly enviable position with a leading contender for the Kentucky Derby.
Wellman's Eclipse Thoroughbred Partners, Bridlewood and LaPenta are now the proud owners of Tapwrit, their son of Tapit who became a G2 winner on March 11 and jumped into the upper echelon of Triple Crown candidates by setting a track record in an impressive 4½-length victory in the Tampa Bay Downs Derby for seven-time Eclipse Award-winning trainer Todd Pletcher.
Making matters even more satisfying for the ownership group, they have a rather rare and valuable commodity in a regally bred colt who sold for a million dollars and has become a bona fide Triple Crown contender.
"With his type of pedigree, if he can hit it big, it's a jackpot situation," Pletcher said.
If something special happens next month at Churchill Downs, rest assured there will be more buzzers and bells going off for that jackpot than you'll hear in a busy racetrack casino, and it's not an unreasonable possibility. The way Tapwrit has developed and added muscle since his recent victory has ignited an outbreak of Derby Fever among the team supporting him.
"Tapwrit is the real deal," LaPenta said. "He's going to make some noise in the Kentucky Derby. I really believe that."