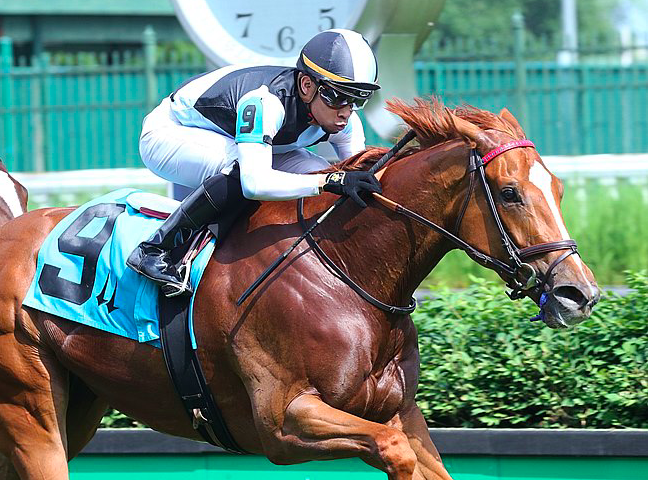 Sharing Sets Her Sights On Royal Ascot
By Meredith Daugherty BloodHorse
In the days leading up to the May 23 Tepin Stakes at Churchill Downs, connections of turf phenomenon Sharing wondered if their filly would be able to perform at the same level at 3 that had won her the Breeders' Cup Juvenile Fillies Turf (G1T) crown at 2.
If all went well in the Tepin, the tentative plan was to take a chance with the filly on her next start and ship her across the Atlantic for the Royal Ascot meet in June. While the COVID-19 travel restrictions were sure to present a challenge of their own, all parties agreed that Sharing deserved the chance to get a new stamp in her passport and test herself against the best grass fillies in Europe.
Happily, the Tepin proved little obstacle to the daughter of Speightstown , who snagged a half-length victory over her rivals.
"Objective No. 1 was to get a good race into her on May 23 at Churchill," said Aron Wellman of Eclipse Thoroughbred Partners, who owns the filly along with Antony Beck's Gainesway Stable. "We were really focused on that to start with, with the idea in the back of our minds that Ascot could come in to play if everything went well. She came home to Fair Hill and Graham (Motion) was bullish on her condition and energy levels and making sure she was showing all the signs that the race wasn't too hard on her.
"We took the last week to assess the filly and thankfully she seems to have come out of the Tepin in terrific nick. Graham is delighted with her. In the process, we've been performing our due diligence in gathering all the information we would need in the event we do want to go an ambitious route and try for the Coronation Stakes (G1) June 20 at Royal Ascot. As of this moment, between Graham, myself, and Antony Beck of Gainesway, we feel pretty comfortable with the logistics of getting Sharing to England ahead of the Coronation and with the efficiency of being able to get her back as well. If she continues to train as impressively over the course of the next 10-12 days or so, puts in a good work the weekend of the 13th at Fair Hill, and comes out of it well, our inclination as of this moment is to go to Royal Ascot."
Bred in Maryland by Sagamore Farm out of the grade 1-winning Pleasantly Perfect mare Shared Account, Sharing has missed the winner's circle only once in her career. She finished third in her debut for trainer Graham Motion but bounced back one month later to break her maiden. Her next out victory in the Selima Stakes was a springboard to the Juvenile Fillies Turf at Santa Anita Park, where she defeated a handful of talented European fillies to take top honors.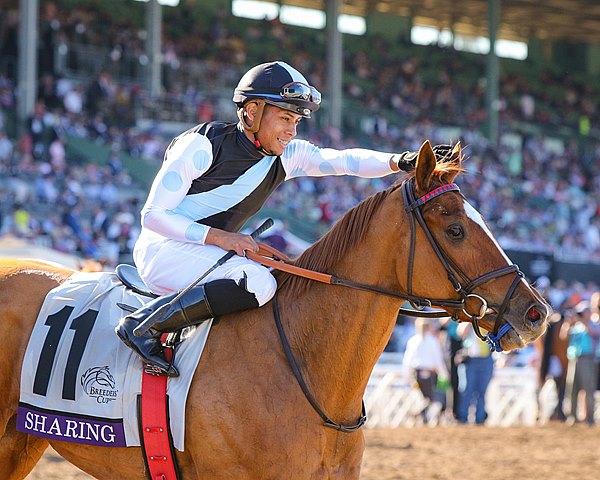 With a track record like hers, Sharing has more than proved to her connections that she deserves a spot in Europe for the royal meeting. While Motion said he will remain stateside for the venture, the filly will be well taken care of by assistant trainer Alice Clapham, who has plans to return home to England ahead of the meet for a scheduled trip with family. Clapham will remain in the country to receive the filly when she ships in.
"Alice has done all of my traveling," said Motion. "A month ago I wouldn't have thought this was feasible because we didn't have a race picked out for her. Once the Churchill race came up, the timing of it put it back on the radar. Obviously there were still a lot of questions and we didn't even know when racing was going to be starting back in England or the logistics of getting her there. We're not necessarily missing anything here because there aren't many options for her to run until the summer around August. Obviously it's odd not to be able to go, but I think we feel like it's more about the challenge of going and running in a group 1."
The COVID-19 travel restrictions, which require all incoming passengers from abroad to undergo a mandatory two-week self quarantine, will also keep the partners of Eclipse Thoroughbred and Gainesway in the States. Jockey Manuel Franco, who has partnered with Sharing through all of her five starts, will also remain in the U.S. so that quarantine issues on either side of the pond don't adversely affect his opportunities to ride in the country.
"The protocols for quarantine for Manny are pretty stringent and he would have to quarantine for two full weeks after coming home from the U.K., which is asking too much of him, I think," said Wellman. "Manny has done an impeccable job developing this filly and has been so successful with her. It's hard for us and for him to swallow that reality, but in this instance it makes the most sense to use a European jockey. That being said, we have secured Oisin Murphy to ride Sharing in the Coronation. To be able to secure the champion jockey from last year is superb and from all accounts, Oisin is looking forward to the opportunity and we know we will be in the best of hands at Ascot.
"The only regret in this process is that Graham, the Gainesway crew, and the Eclipse Partners aren't preparing to make the trip along with her. It's such a glorious sporting event to be a part of and to have a filly as special as Sharing is, to take a Breeders' Cup winner over to Royal Ascot would be a tremendous experience and honor for all of us to experience firsthand. Nevertheless, we are enthused. It is a huge challenge which we're excited about and just because we wont' be able to be there in person wearing our top hat and tails doesn't mean we don't hold a race like the group 1 Coronation at Royal Ascot in the same regard. The prestige will be the same, the meaning will be the same, and Graham and our team are up for the challenge."
In all likelihood, the team will keep Sharing at her home base of Fair Hill until right before the Coronation is set to run. Motion said that he would prefer his filly to have her last timed work under his supervision ahead of shipping.
Concerning travel logistics, Wellman said Sharing could take a June 16 flight out of Indianapolis, Ind., which would give her a few days to acclimate ahead of the race. Both Wellman and Motion said they had very few concerns about the filly's travel experience, as she has the appropriate temperament for shipping.
"It's an international trip but we're trying to simplify it and not allow it to become bigger than it needs to be," said Wellman. "Frankly, it's very synonymous to her going from Fair Hill or New York to Santa Anita Park. It's a similar journey. There are some quarantine protocols she'll have to go through but by and large it's very similar to a cross-country trip. That's all falling neatly into place and hopefully she'll continue to thrive and the logistics of it all will continue to go smooth."
"Everybody is trying to figure this out as we go along but everyone over there has been very helpful to us in trying to figure out the protocols," said Motion. "We're not really sure, we would probably either travel with one of Wesley (Ward)'s horses or go to where Wesley will stable in Newmarket. But her ability to ship is one thing about her that made me feel this could be in the cards. She is pretty straightforward as far as everything goes and I have always thought this is something that she could handle."
Racing in Great Britain resumed without the presence of spectators June 1. The British Horseracing Authority had shut racing down entirely March 18, but Ascot announced in April that the royal meeting would remain in its original spot on the racing calendar, running June 16-20.
Hurdles aside, Wellman said the ultimate goal is to give Sharing a proper chance at adding another top level score to her already impressive résumé. But on another level, Wellman hopes that the willingness of him and his partners—as well as that of other owners and trainers—to make an effort to navigate through coronavirus protocols will send a deeper message to fans that they're committed to supporting the international racing community.
"The first piece of this is that we're doing it for the filly. She deserves the opportunity to do what we are asking her to do," said Wellman. "We believe she is the type of filly who can handle it mentally and she's a physically-imposing filly that we have conviction will perform well over there and make us proud. The secondary layer to the venture is that it's about doing our best to be sportsmen and sportswomen. The best European fillies came to Santa Anita to run on American soil and Sharing was fortunate enough to get the best of them on that occasion. We believe it is appropriate that if everything meshes well, for her to go and run on their home turf will let her see if she can conquer them in Europe.
"We're living in funky times where there is so much divisiveness throughout the country and the world. This is a moment of unity where, even though we can't be there in person, we want to be sportsmen and women about it and try our best to showcase to the world how good Sharing is."