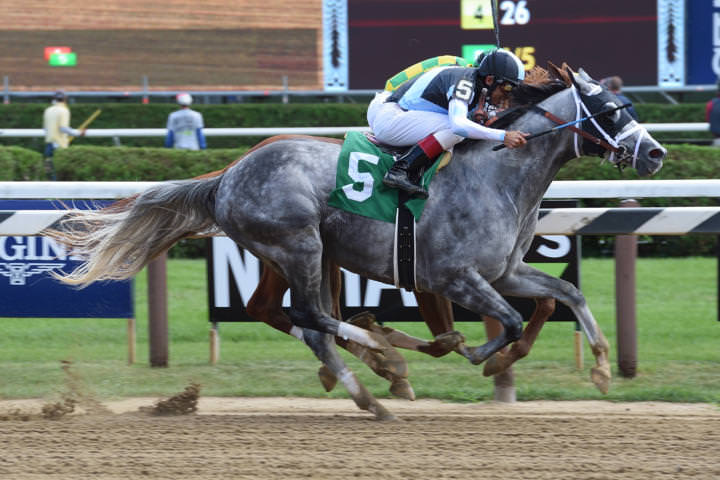 Sequel Introduced Two New Stallions in New York
Breeding, of course, is all abount families, and family connections. No one knows that better than Becky Thomas, the owner of Sequel Stallions in Hudson, New York. Her foundation stallion, Freud, was a full-brother to breed-shaper Giant's Causeway. Her newest acquisition, the MGSW Destin (Giant's Causeway), second by a nose in the GI Belmont S. to Creator, is a full-brother to a successful stallion she pinhooked as a yearling, Creative Cause. And he is joined in the stallion ranks by a half-brother to the reigning Triple Crown winner, Justify, in the likes of Grade III winner The Lieutenant (Street Sense). The TDN sat down with Thomas at the Ocala Sales earlier this week to talk about the new arrivals.
TDN: First, how do you feel about standing a Classic-type horse like Destin in New York and how has the reaction been?
BT: It has been really exciting. I always refer to our farm as the farm that Freud built. We started this farm 17 years ago and our second stallion was Freud; we're standing a full-brother to a horse that went on to become one of the most significant stallions in our history. Giant's Causeway was a Classic horse.
BT: Freud has thrown Classic winners, he has thrown sprinters on all surfaces. So, in standing a horse like Destin, I am doing the same thing that we did when we originally stood Freud. When I look at Destin, I see a lot of speed. But I'm breeding mares that are more middle-distance; I'm not breeding a mile-and-a-half turf horses to him until we see what we get. Our original plan was only to sell 10 breeding rights to breeders. Our program is modeled after Mr. Hughes's Share the Upside program. But we have been blessed with lots of participation from not just in New York, so we have 21 breeding rights that we've sold and those people will be able to breed two mares this year if they choose. That helps our horse in the second year and in the climate that we have right now overall, the second year is what our fourth year used to be, so we feel pretty good about that.
TDN: How did the deal with Destin come about?
BT: I long had a great relationship with Twin Creeks, having had the opportunity to stand Mission Impazible. They're very much interested in utilizing the New York program, obviously because of the award program. But they're big racers and they wanted to participate, not just as stallion owners, but to have their foals born and raised in the state of New York. So, Destin is another horse that they had bought and during his racing career they sold a partnership interest to both Gainesway as well as Eclipse Racing.
We couldn't be more excited to be able to have the opportunity to partner on a horse with Gainesway and Eclipse Racing. I try to be able to move forward in New York with racing partners as well as breeding partners who are familiar with the industry on a national level. We essentially made an offer to the partnership with each of us contributing mares. Substantial mares. And participating in a program that Twin Creeks and I were obviously very familiar with.
A second part that was really cool for me is the fact that Creative Cause was one of my pinhooking horses. I bought him as a yearling. We were already standing a full-brother to Giant's Causeway in Freud, and then having the opportunity, as Freud is the senior boy, to take a son of Giant's Causeway after having had a lot of success with the family, it just felt really good.
TDN: Tell me about Creative Cause. He was a horse you had down here in Florida. Do they remind you of each other and maybe talk about the start that Creative Cause has gotten off to.
BT: Destin actually looks a little speedier to me. He's a medium-sized horse and even though he was not a horse that won as a two-year-old, he looks like my kind of horse.
TDN: You're also standing The Lieutenant. Obviously a big point here is that he's a half-brother to one of the best horses we've seen in modern times. What did you see in Justify that you thought was truly special and then how does that relate to The Lieutenant?
BT: Well, for me, to be able to watch American Pharaoh and then follow up, just a short time later with Justify, I feel like we're in cherished times. Justify, of course, is out of a Ghostzapper mare, and watching all of his races, he's just a big, impressive horse that's something special. The Lieutenant was owned by the Warrens and being trained by Mike McCarthy; they were up to their ears with City of Light. He wouldn't be anything that I would ever even think of being able to get, but we were called by Jacob West to see if we had any interest. I've known Mike for a long time and when I called him, he said, "Becky, we just were really unlucky with this horse." Mike said he trained in lockstep with City of Light. That kind of solidified it for me. I called Jacob back and said, "Well, I would love to have him."
TDN: I'm guessing a lot of people haven't had a chance to see him in person. He's a California-based horse. For those who haven't seen that, describe The Lieutenant.
BT: I think he looks a lot like Street Sense. He's a very elegant horse. But he's got a really good hip, and so does Street Sense. So, when you look at him, I see a lot of elegance and he's a bigger-than-average horse, but he's very cat-like when he walks. The Lieutenant looks like a horse that would be a classic miler to a mile-and-a-quarter horse. So I picked my own mares for him that were almost a little square, like Freud-type mares.
He does have a limited race record due to his initial injury. But, if you watch the Suburban, which was a Grade II which Diversify won, he beat multiple Grade I stakes winners. He beat Discreet Lover, he beat Hoppertunity. Those horses were tried-and-true race horses and I feel like if he hadn't been injured, you could see that he was competitive with that caliber of horse.
To watch a video with Becky Thomas please click on the link below:
http://www.thoroughbreddailynews.com/sequel-introduced-two-new-stallions-in-new-york/