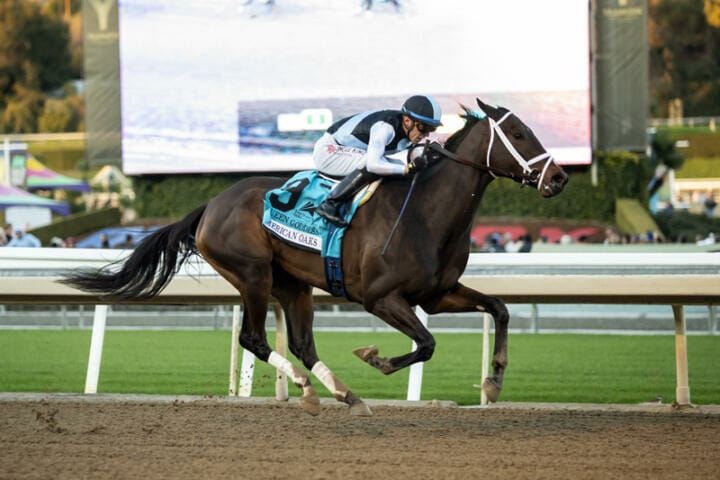 Queen Goddess Rules in Off-the-Turf American Oaks
By Bob Ehalt BloodHorse
Christmas presents can bring smiles or smirks and sometimes something in between.
For trainer Michael McCarthy the news that the $302,500 American Oaks (G2) for 3-year-old fillies was being switched from Santa Anita Park's turf course to the main track was akin to receiving a gift card for an unfamiliar restaurant from Santa Claus. With four of the race's 10 starters hailing from McCarthy's barn, and none of the four having the advantage of a race on a dirt, he did know what to expect.
"I gave all of my owners the option to scratch (their horses)," McCarthy said on TVG minutes before the Dec. 26 stakes. "I felt a race as prestigious as this should be run on the grass, whether it be rescheduled or if they did whatever they had to to run it today. I can't thank my owners enough for wanting to go ahead and run. It's a grade 1 stakes and I don't know what to expect with the surface change."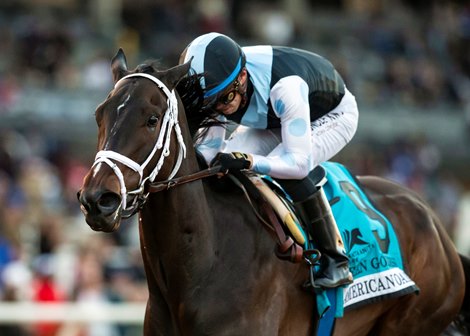 As it turned out, McCarthy wound up with a present along the lines of dinner for four at a 5-star restaurant.
As 4-5 favorite Going Global  fizzled in her dirt debut, McCarthy wound up with the exacta as Eclipse Thoroughbred Partners and TOLO Thoroughbreds' Queen Goddess  turned aside stablemate Nicest  by 2 3/4 lengths to close out the initial card of Santa Anita's winter meet.
"That was very good. It was spectacular," said McCarthy about a win that came on the heels of a victory earlier Sunday in the $201,500 Santa Anita Mathis Mile Stakes (G3) with Law Professor  when it was moved from the turf to the dirt.
While the American Oaks was automatically downgraded from grade 1 to a grade 2 affair because of the surface change, Eclipse founder and president Aron Wellman is hopeful the American Graded Stakes Committee will reinstate the grade 1 status when it takes up the matter this coming week.
"She did it well and did it in legitimate time (2:04.72 for 1 1/4 miles)." Wellman said. "She's a real filly and the filly who was second to her (Nicest) was just second to older fillies in a graded stakes, so there's some form there. It's such an important race on the Southern California calendar that I would hope the committee will retain its grade 1 status."
While Queen Goddess—a daughter of Empire Maker  bred by TOLO Thoroughbreds—had never raced on dirt, Wellman said she had displayed some flashes of brilliance while working on the dirt in morning drills. The original plan was to test her in a dirt race next year, but when a couple of days of rain led to Sunday's surface switch for the 1 1/4-mile American Oaks, the timing seemed perfect to roll the dice and test her on the main track.
"We had been eager for the opportunity to try her on dirt, but as a 3-year-old filly, turf is where most of the options are. So our feelings weren't hurt when the race came off the turf today," said Wellman, whose group bought a 50% share of the daughter of the Lemon Drop Kid mare Royal Story  earlier this year after she was second in her July 16 debut. "She had trained very well on the dirt throughout the summer and we were intrigued by the prospect of running her on dirt at some point. She had done some things on the dirt in training that were special. This opens up a whole new world of opportunity for her going into 2022 and beyond."
Fifth in the Queen Elizabeth II Challenge Cup Presented by Dixiana (G1T) in her only other stakes try, Queen Goddess won for the third time in six starts. She is the first of three foals from Royal Story, who has also produced Texas Tiara , a 2-year-old Malibu Moon  filly who is placed, and a yearling Mendelssohn   filly.
"We're humbled to be a part of this, but Geoff Nixon and TOLO did all the dirty work," Wellman said. "They bred her, they raised her, they raced her, and were kind enough to bring us aboard after her debut. We're thrilled to get this huge win on her resume."
Regardless of whether it turns out to be a grade 2 or grade 1 win, the American Oaks added an exclamation point to a grand 2021 campaign for Eclipse and its partners. Sunday's victory was the 23rd stakes win for the stable, adding to a year that already included victories by Aloha West  in the Qatar Racing Breeders' Cup Sprint (G1) and Quick Suzy  in the Queen Mary Stakes (G2) at Royal Ascot.
"It's been a monster 2021 for us and I'm very grateful to our partners for the faith they put in us and elated that they could get results like this," Wellman said.
Unlike most of her nine rivals, Queen Goddess clearly relished the switch to dirt as jockey Juan Hernandez quickly guided her to a clear lead and was never seriously threatened in the 10-furlong test. She led by two lengths after a mile in 1:38.14 on a fast track and easily fended off a challenge by the McCarthy-trained Nicest in the final furlong to pay $31.20 to win.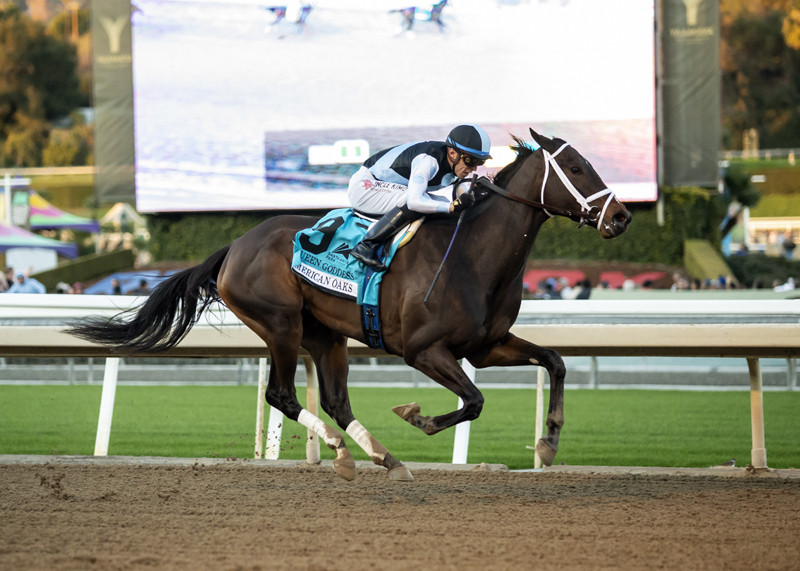 "We knew our filly would stay the trip," Wellman said. "We wanted to keep her face clean and maybe kick dirt in the face of the other fillies who were not used to dirt and perhaps we could discourage them. Juan rode a brilliant race. He executed the game plan to perfection."
Katsumi Yoshida's Nicest, a daughter of American Pharoah  , was second by 3 1/4 lengths over Head of Plains Partners' Fluffy Socks , a Slumber   homebred trained by Chad Brown.
Going Global, sent off at 4-5 off six wins in seven U.S. starts, raced in second after a mile with a promising move but faded in the stretch to finish sixth.