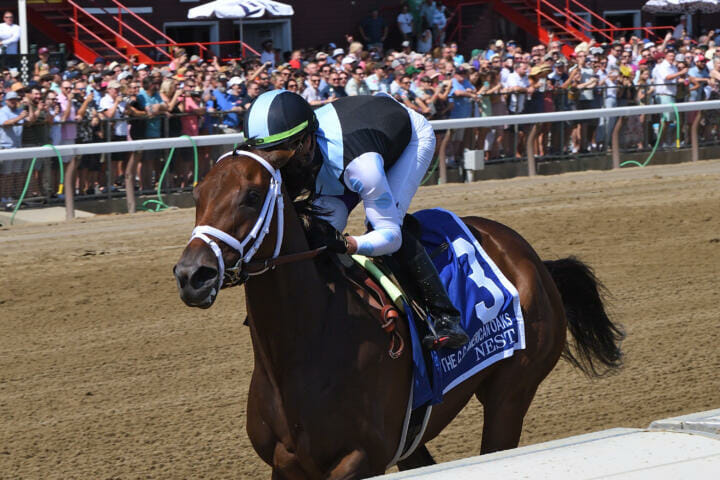 Nest, Secret Oath Ready to Rumble in the Alabama
There are seven of them that will run in Saratoga Race Course's premier summer event for 3-year-old fillies.
However, only two of the 3-year-old fillies' names are up in the bright lights of the marquee for the Aug. 20 $600,000 Alabama Stakes (G1).
Secret Oath  vs. Nest .
Nest vs. Secret Oath.
Use them in whatever order you choose, but they are the pair expected to make the Alabama the can't-miss race of the week, maybe the entire 40-day meet.
This is the rubber match between the two lady heavyweights. Secret Oath, owned by Briland Farm, got the first one—and the biggest one—when she won the Longines Kentucky Oaks (G1) at Churchill Downs May 6. The margin of victory was two lengths; Nest, owned by Repole Stable, Eclipse Thoroughbred Partners, and Michael House, was second.
Nest would get her revenge at Saratoga earlier in the meet when she clobbered Secret Oath by 12 1/4 lengths in the Coaching Club American Oaks (G1) July 23.
Now, here we are.
The subplot in this intriguing  1 1/4-mile race is the teacher facing the pupil. D. Wayne Lukas, Secret Oath's trainer, will be facing Nest and Todd Pletcher, who worked under Lukas for seven years.
Lukas, as competitive a man as you'll ever meet, can't wait for the rematch. He has spent the better part of the last month telling anyone who asks that Nest is not a dozen lengths better than his filly.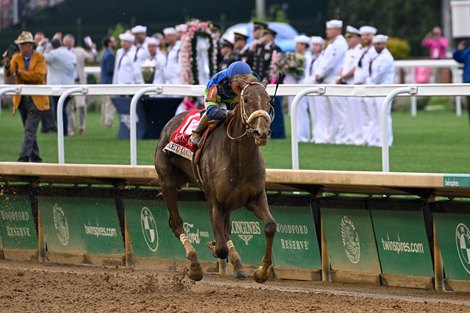 "I'm very confident," Lukas said about his filly. "I think she's the best of her class. But you've got to prove it over and over and over. You've got to keep proving it. That Kentucky Oaks race was no fluke, and she wasn't as good then as she is now. She's filled out, she's put on weight. She has thrived up here."
Then, when reliving the Coaching Club American Oaks, he shakes his head.
"I want to get back on track," he said. "That was a sour spot of the meet for me. Still is."
Pletcher, like everyone else on the Saratoga backstretch, shows nothing but respect to his mentor. If Lukas predicts there will be a battle in the Alabama, Pletcher agrees, at least outwardly.
"Look," Pletcher said, "Secret Oath is an awfully good filly. Things went our way the last time and you don't take anything for granted in these big races. (Nest) ran terrific but I don't think Secret Oath ran her race. So, I am sure the coach will have her ready to go this time."
With the ball in his court, Lukas lobbed his own compliment back into Pletcher's court.
"(Nest is) good. She's really good," Lukas said. "She doesn't have any distance limitations. As bad of a handicapper as I am, I would handicap her as the horse to beat. No question."
Nest, a daughter of Curlin  , will be ridden by Irad Ortiz Jr., who has been on board for six starts—five of them wins. Secret Oath, a daughter of Arrogate , has won five of 10 career starts. She will have jockey Luis Saez, whose ride in the Coaching Club American Oaks was not what Lukas wanted to see.
Lukas said he has talked with Saez about that ride, which saw Secret Oath much closer to the pace than she normally would. Lukas wants his filly to make one devastating move—like she did in the Kentucky Oaks—and he has discussed that with Saez.
Lukas said he never thought about changing riders.
"I think he is on the same page," Lukas said. "We have had some serious conversations. Three or four. I did most of the talking. This is a business. We are not dealing with 12-year-olds in Little League. We are dealing with riders that are making millions. I told him exactly what I thought; that we gave one away. I went over it furlong by furlong, all the way around. He knows I am on his side and he had to hear it. I'm the coach and he's the quarterback. I didn't bench him. I just told him we have to play a better game."
When asked if Saez took the criticism well, Lukas smiled.
"He is so quiet, I don't know if he took it well or not," Lukas said. "He didn't say anything, but he never does. You can praise him and he doesn't say anything."
Lukas is confident that Secret Oath will rebound. Pletcher is confident that Nest will continue her brilliance.
"You always worry about coming back off a big win," Pletcher said. "It seemed like she did it easy, but it was still a big effort. Every indication is that she is in good form. She looks terrific and is doing all the things you would like to see one do between races. I'm really happy with her."
While all the attention is on the two fillies, Lukas warns not to dismiss the rest of the field. He spies talent in the other five runners.
Start with Klaravich Stables' Gerrymander , trained by Chad Brown. She is coming off a win in the Mother Goose Stakes (G2) at Belmont Park on June 25.
"I couldn't be more pleased with her," Brown said of the daughter of Into Mischief  . "I gave her a layoff by design. Squeezing a race between the Mother Goose and the Alabama for that particular horse I don't think would be beneficial."
Also in the field are the Pletcher-trained Goddess of Fire , owned by Red Oak Stable; Godolphin's Nostalgic , trained by Bill Mott, who was third in the Coaching Club American Oaks; Calumet Farm's She's Keen , trained by Rusty Arnold, who broke her maiden in her last start, her fifth; and Rigney Racing's Skratch Kat , trained by Philip Bauer, who is making her stakes debut.
Saratoga Race Course, Saturday, August 20, 2022, Race 10
Grade I
1 1/4m
Dirt
$600,000
3 yo Fillies
5:35 PM (local)