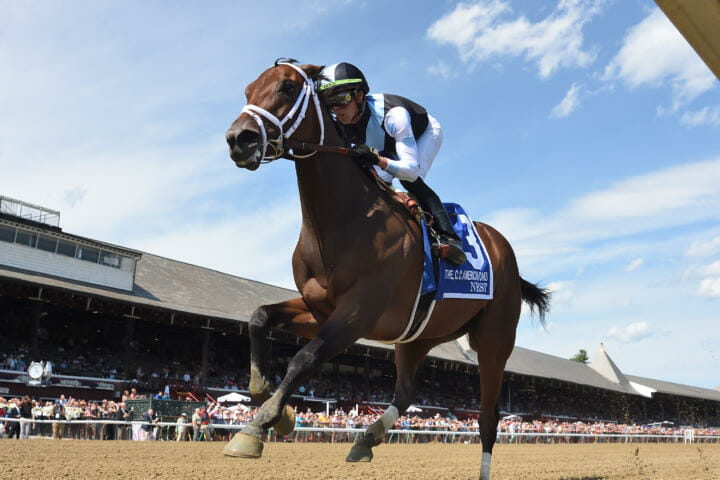 Nest Rolls Home Over Secret Oath in CCA Oaks
By Tim Wilkin BloodHorse
For a few brief seconds, the race everyone wanted to see July 23 in the $500,000 Coaching Club American Oaks (G1) at Saratoga Race Course was right there.
Nest  versus Secret Oath . The two best 3-year-old fillies in the land were about to get after each other. Let's get it on.
Then, as quickly as the matchup materialized, it disappeared.
Nest and jockey Irad Ortiz Jr. shrugged off the bid of her adversary and rolled to a dominating victory in the 1 1/8 mile race.
The final margin of victory was 12 1/4 lengths, and it could have been more if Ortiz had continued to urge his mount as she approached the wire.
If this were a prizefight, it would have been stopped.
Or, as Mike Repole, who co-owns Nest along with Eclipse Thoroughbred Partners and Michael House, said, "if this were a football game, it would have been 49-0!"
Since the CCA Oaks was moved to Saratoga in 2010 from Belmont Park, the largest margin of victory belonged to another Pletcher runner, Princess of Sylmar , who won by six lengths in 2013.
The daughter of Curlin  —Marion Ravenwood  by A.P. Indy , stamped herself as the leader of the division. Going into the CCA Oaks, it was a tossup between Secret Oath, winner of the Longines Kentucky Oaks (G1) and Nest, who was second in that race.
Nest, though, had gotten some major style points when she finished second after stumbling at the start in the 1 1/2 mile Belmont Stakes Presented by NYRA Bets (G1) behind stablemate Mo Donegal .
Secret Oath, meanwhile, had been on an eight-week break from racing after her fourth-place finish in the May 21 Preakness Stakes (G1).
Todd Pletcher, Nest's Hall of Fame trainer, was originally going to wait for the Alabama Stakes (G1) on Aug. 20 at Saratoga because he wanted to give his filly time to recover from the grueling Belmont against the boys. The filly seemingly had her own agenda.
"We've run a lot of horses in the Belmont over the years," Pletcher said, "but we've never had one come out any better than she did. She had great energy, and she gained weight. She gave us every indication she was ready to run back."
Pletcher's instincts were spot on, and now he has won the CCA Oaks for a record eighth time.
Around the far turn, Briland Farm's Secret Oath, a daughter of the late Arrogate , got on equal terms with Nest, but only briefly. Secret Oath could not stay with her, and there would be no match race to the wire. The rout was on.
"We got beat fair and square," Secret Oath's Hall of Fame trainer D. Wayne Lukas said, watching Nest come back to a raucous winner's circle from his box in the clubhouse. "(Secret Oath) acted to me like she needed this race more than I expected."
"She ran great, and she tried," Luis Saez, Secret Oath's jockey, said. "The winner just kept going."
Lukas says he'll go back to the drawing board and get his filly ready to take on Nest again in the Alabama in a month.
Nest, the 3-5 favorite, paid $3.90 and was timed in 1:51.04. Secret Oath was three lengths ahead of Godolphin's Nostalgic . Society , owned by Peter E. Blum Thoroughbreds was fourth and Magdalena Racing (Sherri McPeek) and William Klimashousky's Butterbean  was fifth.
The complexion of the race changed at the start when Society, ridden by Tyler Gaffalione, stumbled leaving the gate, as did Butterbean, who was next to her in post position 1. Society was expected to be the pacesetter with Nest taking up the chase.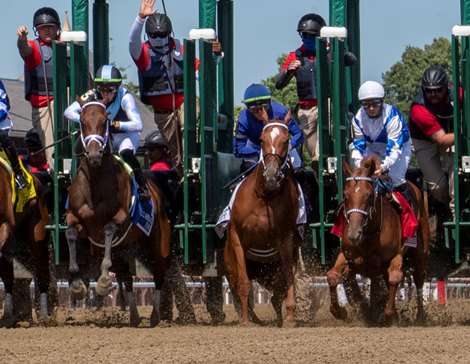 With the lead there to be taken, Ortiz took it.
"I wanted to break good out of there," Ortiz said. "She broke clean, and I realized (Society) didn't break well. So, I said, 'let's go.' I was in front and didn't panic. Everything changed when the gates opened, and I just let her do her thing, and she did the rest."
Nest has won five of eight starts and has never finished worse than third in her career. She has accumulated earnings of $1,405,550.
"You know, I clearly thought she was the best 3-year-old filly in the country," said Repole, who won this race in 2014 with Stopchargingmaria .  "She has run amazing races all year."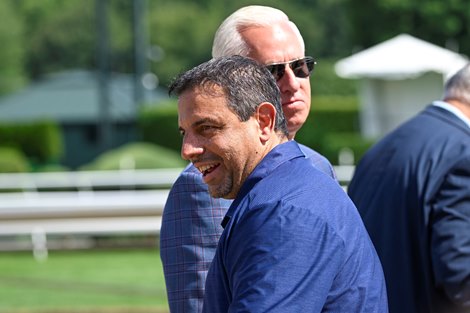 After Secret Oath won the Kentucky Oaks, it was a popular, sentimental victory because of Lukas, an 86-year-old icon of the game. Pletcher was one of the first to congratulate Lukas, for whom he worked as an assistant for seven years before going out on his own in 1995.
While Lukas sat up in the box seats and watched his former pupil celebrate, he smiled. If he could not win this, he was only rooting for one other.
"Oh, sure, absolutely, gosh yes," Lukas said. "That is family. We were side-by-side for a long time. I told Todd before the race, 'Let's one of us get this.'"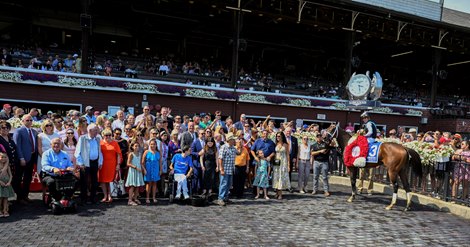 VIDEO: COACHING CLUB AMERICAN OAKS (G1)