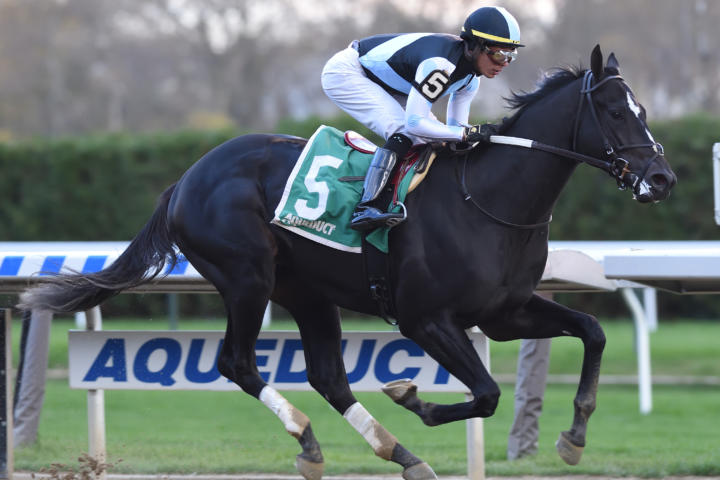 Independence Hall runs highest Beyer Speed Figure by a 2-year-old this year in Nashua
David Grening DRF Nov 04, 2019
OZONE PARK, N.Y. – If not for a burst water pipe that forced Laurel Park to cancel its Oct. 24 card, we still might not know just how good a colt Independence Hall is.
Independence Hall dominated Sunday's Grade 3, $150,000 Nashua Stakes at Aqueduct by 12 1/4 lengths, earning a 101 Beyer Speed Figure that ranks as the best figure achieved by a 2-year-old of any gender in 2019. Yet, the Nashua was Plan B after a first-level allowance on Oct. 24 at Laurel was lost when that card – and subsequently three more – was canceled due to a broken water pipe along the track apron.
Aron Wellman, whose Eclipse Thoroughbred Partners bought into Independence Hall following his maiden victory on Sept. 21 at Parx Racing, said he was trying to take the conservative approach by running him in an allowance before tackling stakes company.
"I guess in all success stories like this there's a little serendipity and intervention involved," Wellman said. "Hopefully, this is a story we'll be telling in six or seven months."
Wellman, Randy Gullat, and Steve Davison – the principals of Twin Creeks Racing – and Bob and Kathleen Verratti were scheduled to talk this week about future plans for Independence Hall in the wake of his devastatingly easy victory in Sunday's Nashua.
While the Nashua is typically the prep for the Grade 2 Remsen, a 1 1/8-mile race at Aqueduct on Dec. 7, Wellman said the Nashua performance may force him to wait.
"My gut instinct at this time is he probably ran a little bit bigger than we were expecting him too in all respects," Wellman said. "Knowing that, we might just have to take a deep breath and a step back from the Remsen. I wouldn't take it off the table, but I wouldn't say it's a definitive target either. We might want to avoid running him back too quick off an effort like that."