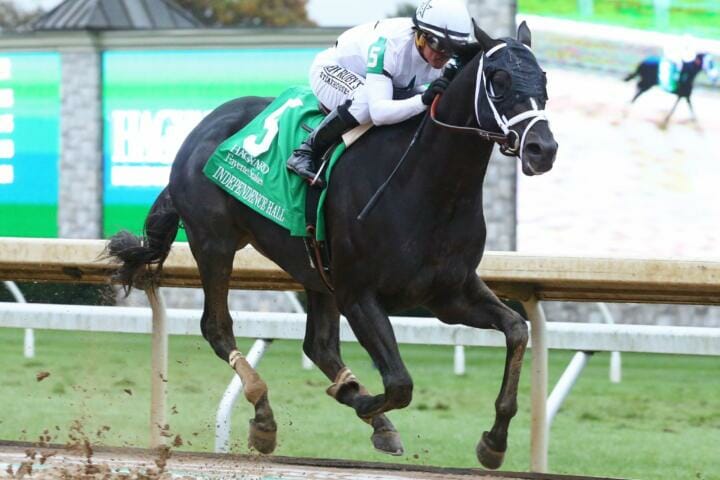 Independence Hall Closes Out Racing Career in Cigar
By: By Bob Ehalt  BloodHorse
When Independence Hall   makes his final career start this weekend at Aqueduct Racetrack, to say he's come full circle would be a tad off.
Considering that he started his career with a victory at Parx Racing, closing out his career Dec. 4 in the Cigar Mile Handicap Presented by NYRA Bets (G1) at Aqueduct would be more akin to a 358-degree turn than 360.
Yet in terms of the son of Constitution  's rise to prominence, that did indeed start at the Big A, where the 4-year-old will spend Saturday trying to add an exclamation point to his career in the form of an initial grade 1 victory.
Now owned by Eclipse Thoroughbred Partners, Robert and Kathleen Verratti, Twin Creeks Racing Stables, and WinStar Farm, it was at Aqueduct in the Nov. 3, 2019, Nashua Stakes (G3), when he won by 12 1/4 lengths, and then the Jan. 1, 2020, Jerome Stakes, which he captured by four lengths, where he first gained a reputation as one of the best runners in his crop, adding to the emotional significance of his career finale at the same Queens racetrack.
"To win the Nashua in the brilliant manner that he did, was a quick rise to the top. It was one of the more brilliant and breath-taking performances we've seen out of a 2-year-old in quite some time," said Aron Wellman, founder and president of Eclipse Thoroughbred Partners. "It thrust him into the limelight through such a blockbuster performance. Everyone was so taken by it that it put him on everybody's radar for the Kentucky Derby (G1) the following year."
Now, in the final chapter of what will be a 14-race career, he's back at Aqueduct chasing an elusive grade 1 prize.
"In a sense, he's come full circle and it would be incredibly meaningful and important for him to go back two plus years later to the scene of his huge win in the Nashua and have him win a race like the Cigar," Wellman said. "It's a track and distance he has displayed some brilliance at and we're hoping to see that again Saturday."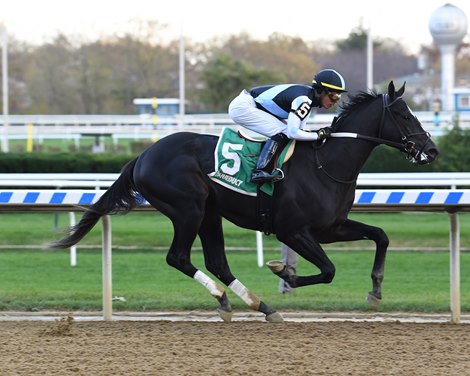 In so many ways, Independence Hall's career has been as tumultuous as his unruly pre-race antics in the paddock during his last trip to the Big A. For all of the attention he gained after his two Aqueduct stakes wins, some souring after a fifth-place finish in the Curlin Florida Derby (G1) and the shifting of race dates due to the COVID-19 pandemic kept him sidelined for seven months during the height of his 3-year-old season.
Since moving to trainer Michael McCarthy's barn and returning to the races in November 2020 with an allowance optional claiming win at Del Mar, he's competed in some of the sport's top races. He was third in the Pegasus World Cup Invitational (G1), fourth in the Santa Anita Handicap (G1), and second to Pegasus winner and likely Horse of the Year Knicks Go   in the Lukas Classic Stakes (G3), but was winless for six straight starts until his last effort when he resurrected memories of the Nashua by notching a 7 1/4-length score on a sloppy track in the Hagyard Fayette Stakes (G2) at Keeneland over Cigar starter and $2.9 million earner Code of Honor  .
As the song goes, oh what a strange trip it's been.
"He's been an emotional rollercoaster to be associated with," Wellman said, "but we would love to see him go out with a crowning achievement like a win in the Cigar Mile."
Bred by Woodford Thoroughbreds, Independence Hall was purchased by the Verrattis through their Charlestown Investments for $100,000 at the 2018 Keeneland September Yearling Sale. They purchased him back for $200,000 at the Fasig-Tipton Florida Select 2-Year-Olds in Training Sale, and it was his maiden win that enticed Eclipse and Twin Creeks to buy shares of Independence Hall.
Through all of the ups and downs, what has remained unchanged is interest in Independence Hall, especially as a stallion prospect. Speedy milers are coveted by breeders and there's no getting past the dazzling 1:34.66 clocking for eight furlongs that he recorded in the Nashua. That kind of speed and bloodlines that include hailing from the first crop of a hot, young sire in Constitution and a dam in Kalahari Cat (Cape Town) who had previously produced a grade 3 winner and a grade 2-placed runner are precious commodities.
That appeal, along with an immediate family that includes 1995 Breeders' Cup Sprint (G1) winner Desert Stormer and multiple grade 1 winner Better Lucky , brought WinStar Farm on board for Independence Hall's 4-year-old season and beyond as a stallion at its Versailles farm, where Constitution stands along with other top stallions such as More Than Ready   and Speightstown  .
The third in the Pegasus quickly justified WinStar's faith in the colt, but the decisive victory in the Fayette has created a new level of excitement with a career in stud just a few months away.
"Independence Hall's last race confirmed the ability that we saw in him as a 2-year-old," said Elliott Walden, WinStar's president, CEO, and racing manager. "He has run a couple of very good races in the Pegasus and the Lukas Classic against Knicks Go, but it was nice to see him put it all together in the Fayette. We're looking forward to Saturday."
Off that victory in the Fayette, the Cigar offers a final chance for Independence Hall to add to his career earnings of $874,000 and send a message to breeders that they were wise to book their mares to him.
"He has been extremely well received by breeders and is close to having a full book," Walden said. "We held back a few seasons to see what happens (in the Cigar). So we sold all we wanted to before the race. Being by Constitution, and him being so good-looking, has made him very popular amongst breeders."
The Cigar promises to be a formidable test for Independence Hall with a field that includes Big Ass Fans Breeders' Cup Dirt Mile (G1) runner-up Ginobili , Code of Honor, and the Todd Pletcher-trained duo of Following Sea  and Americanrevolution . Yet the way he has recently thrived with McCarthy's division in Kentucky and his perfect 2-for-2 record at Aqueduct bodes well for his chances.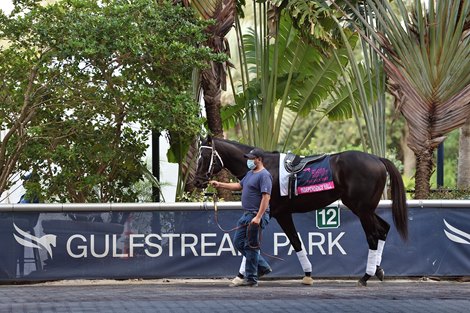 "He belongs right up there with the best of them this year. He's always trained like a horse with a ton of ability," McCarthy said. "He put it all together last time. He's doing as good as we could possibly ask him to be. We're hoping to end with a grade 1 stakes win over a track where he had one of his best performances. I think things are in his favor and we all hope he puts it all together and behaves in the paddock."
Behaving has indeed been an issue that has shadowed Independence Hall ever since his last trip to Aqueduct. In the Nashua and especially the Jerome, Independence Hall kicked up a storm in the paddock, leading original trainer Michael Trombetta to say after the race: "He was a wild man."
Wellman said, "He was a naughty boy that day."
Though he has matured a bit since then, McCarthy finds himself holding his breath each time the 4-year-old is led into the paddock.
"The last few times he was more professional and took things in stride but you never know. It hasn't affected how he trains," McCarthy said. "It's affected the trainer on race day never knowing what to expect. He's a gentleman around the barn. I don't know what gets into him when he gets to the paddock but we'll be ready for it."
For Wellman, dealing with Independence Hall's pre-race angst has become a way of life.
"There's some of his behavioral issues, but he's an incredibly athletic and smart horse," Wellman said. "For some reason, when it's game time, he becomes quite a handful. He has matured. He's nowhere near what he showed at 3 and the early part of this year, like before the Pegasus. He's just a good-feeling horse and likes to flaunt what he has. It will be interesting to see how that Type A personality will translate into the gene pool because he has the look, the pedigree, and the on-track success which gives him a great chance to be a stallion."
After the Jerome, jockey Jose Ortiz voiced concern that the fit Independence Hall tossed in the paddock before the race might sap some of his energy on the racetrack, and his next two starts resulted in a second at 3-5 odds in the Sam F. Davis Stakes (G3) and a fifth in the Florida Derby behind Tiz the Law.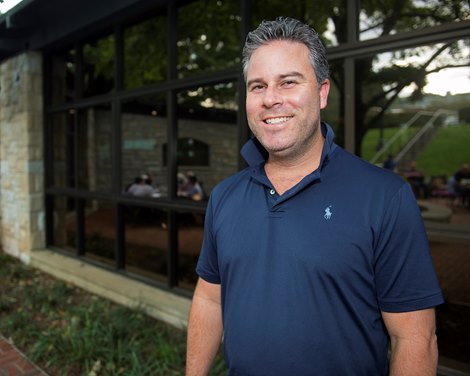 "He took care of business in the Jerome and then, while I don't like making excuses for horses, it was one of those things where he was a horse who got caught in the mix of the shuffling due to COVID-19. While I applaud the industry for the way it kept going during the height of the pandemic, it was a time where things did not fall into a comfortable rhythm for him after the Jerome," Wellman said. "After the Florida Derby it was apparent he was battling some minor issues, so we gave him time and the plan was to try and win a grade 1 before the end of the year."
That plan targeted the Dec. 26 Runhappy Malibu Stakes (G1) at Santa Anita Park and led to sending Independence Hall to McCarthy in California to prepare for the seven-furlong stakes.
The allowance victory raised hopes for a solid effort in the Malibu, but he wound up fifth in a tough field topped by Charlatan  .
"We tried two turns and we thought he would be at his best at seven furlongs, and that's why we transitioned from Mike Trombetta, who did a great job with him, to a West Coast trainer so we could win the Malibu. We got a good prep race into him and then we couldn't get him untracked," Wellman said. "He ran a tremendous race behind Knicks Go in the Pegasus, then put in a couple of good efforts at Santa Anita, which is a track we do not believe he cared for that much. Then it was supremely gratifying to see the performance we saw in the Fayette.
"Michael McCarthy has done an exceptional job with him," he added, "allowing him to be an individual and getting him to run such a huge race in the Pegasus and win another graded stakes race is a testament to Michael's horsemanship. It was gratifying to have a win like that for a horse who had so much promise at an early age and had showed so much brilliance. We had a hard time figuring out the right trip, but It's been a wonderful partnership surrounded by wonderful people."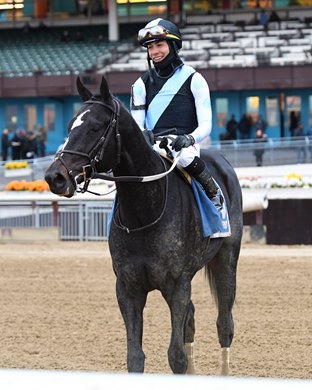 Off the sharp second in the nine-furlong Lukas Classic, there was cause to consider the Dirt Mile, but instead the focus became the Fayette and then the Cigar for a shot at grade 1 laurels. Helping to make that decision easier was that the powerhouse 3-year-old Life Is Good , who is also co-owned by WinStar, had his sights set on the Dirt Mile.
"Since the Fayette the entire ownership group and Michael have had tunnel vision over having him as good as we can for the Cigar, which is such an important stallion-making race," Wellman said. "To return to a one-mile distance and show the brilliance he showed in the past and win a grade 1 like the Cigar in his final start would just catapult him into a different hemisphere as far as his stallion career is concerned. WinStar has been so loyal to this horse, believing he would earn his way into their stallion barn, and, thankfully, the Fayette allowed that to become a reality."
And so, as Independence Hall's racing career comes to an end, he'll return to a familiar setting in New York with fresh, warm hopes of finally realizing the grade 1 potential that was so vividly and memorably on display on a chilly, winter day there some two years ago.
"He's been a tough horse to manage and the fact he got a win in the Fayette and is a major contender for a race like the Cigar speaks to his overall talent, class, and constitution, no pun intended," Wellman said. "He's a hearty racehorse; a fast racehorse. We're all excited about the race. We've had a great ride with him."