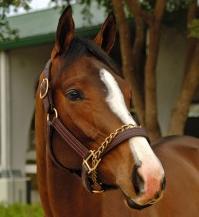 In Lingerie Gets Acid Test In Grade 2, $300,000 Black-Eyed Susan
IN LINGERIE GETS ACID TEST IN GRADE 2, $300,000 BLACK-EYED SUSAN
EMPIRE MAKER FILLY TACKLES SUPER GROUP OF 8 SOPHOMORE FILLIES
TODD PLETCHER AND JOHN VELAZQUEZ WILL TEAM UP IN BALTIMORE
PRESTIGIOUS FRIDAY FIXTURE IS FEMALE EQUIVALENT OF PREAKNESS
ECLIPSE GAL WILL BREAK FROM POST 7; MORNING LINE PEGS HER 5-1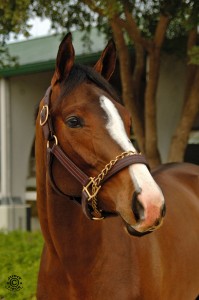 Eclipse Thoroughbred Partners andGary Barber's prized filly, In Lingerie, will take her act to the big stage on Friday afternoon when she lines up versus 8 other 3 year-old fillies in the Grade 2, $300,000 Black-Eyed Susan Stakes at Pimlico Racecourse in Baltimore,Maryland. The historic fixture is the female counterpart of the Preakness Stakes, the middle jewel of the Triple Crown.
In Lingerie has drawn cozily in post 7 of 9 andTodd Pletcher will give a leg up to his main-man, John Velazquez, who will be on board for the 9-furlong tour of the Pimlico oval. The Black-Eyed Susan, which will be televised live on NBC Sports and HRTV, is carded as race 10 and the starter will spring the latch at4:46pmEDT,1:46pm PDT.
In Lingerie was acquired by Eclipse privately after she debuted auspiciously at TurfwayParkin mid-January. The stable then turned the controls over toTodd Pletcher, who has primed the striking filly for 2 runs, including a rousing 6-length victory 8 weeks ago in the Grade 3, $100,000 Bourbonette Oaks inKentucky.
"We flirted with the idea of running In Lingerie in the Kentucky Oaks," Pletcher remarked. "But for a filly who has had just 3 races, we decided that the Black-Eyed Susan was a more natural progression. I am confident we made the correct choice in bypassing the Oaks and the hope is that our discretion will pay off by way of a big performance out of In Lingerie in the Black-Eyed Susan."
In Lingerie has breezed 6 times since her Bourbonette score, including 3 "bullets" at Palm Meadows and a sharp :47 4/5 drill at Belmont Park a week ago, which ranked second fastest of a 47-horse sample on the morning.
"In Lingerie has trained well," Pletcher noted. "The body of her workouts have very much been to our satisfaction. There were a couple weeks where she was not quite as enthusiastic as we'd prefer for her to be in terms of her gallop-out, but all in all, she's trained forwardly and we're pleased with her condition heading into this race. Her energy is good and her attitude is very positive."
The main question surrounding In Lingerie to this point in her career is whether she's a synthetic track "freak," or if she can be as effective on a conventional dirt surface. Her lone dirt try came at Gulfstream Park in late February when she misbehaved in the starting stalls and cost herself early position. She battled bravely despite encountering adverse conditions and finished a respectable second behind the highly regarded 1-turn specialist, Zo Impressive.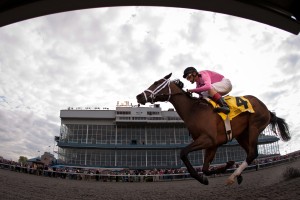 "We thought her dirt race was credible, especially considering the circumstances," Pletcher added. "We know she loves the artificial surfaces, so this race will be a good opportunity to get a gauge on how she stacks up against some of the best fillies in the division on the main track. She trains well enough over it, but this will be a true test. If she performs well over this surface it will open up a whole array of important options for her throughout the season and beyond."
The Black-Eyed Susan is headlined by the Bob Baffert-trained, Mamma Kimbo. The daughter of Discreet Cat is wicked-fast and has an unblemished 2 for 2 scorecard, including a convincing score in the Grade 2 Fantasy 5 weeks ago. She has blazing speed and is unquestionably the filly to catch, and consequently, the filly to beat. Mamma Kimbo is the prohibitive choice on the morning line at 6-5 with Mike Smith in the irons.
The second choice on the morning line is the Chad Brown-trained, Welcome Guest. Like In Lingerie, this daughter of Unbridled's Song has just 3 races under her girth. All of her races have come around 1 bend and she was a fast closing second behind Oaks runner-up Broadway's Alibi in the Grade 3 Comely last month. Brown is a tremendous conditioner and he's been aiming this gray filly for this race for 6 weeks, which makes her a serious danger to all involved. The morning line maker is showing a lot of respect to this filly, as she's been labeled the second choice at 4-1.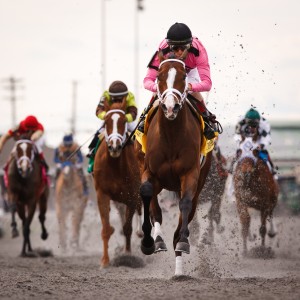 In addition to In Lingerie, Pletcher sends out Grade 2-winner, Disposablepleasure. This Giacomo soph was stellar at age 2, but has somewhat disappointed in the afternoons so far this year. She continues to train well and it would be no surprise to see her bring her A-game toBaltimore. The Pletcher fillies are the co-third choices at 5-1.
Glinda the Good, Oaks Lily,Plum, Wildcat's Smile and Zucchini Flower round out the field.
Eclipse President,Aron Wellmanoffered, "The lure of the Kentucky Oaks was extremely tempting. And it was no easy task informing our racing partners that we had subjectively opted to bypass that race. But, at the end of the day, we always put the best interest of the horse first, and after huddling up with Todd, it became apparent that sitting tight for another 2 weeks and targeting Baltimorewould be in In Lingerie's best interest, which translates into the best interest of the partners who own the filly.
"While the Black-Eyed Susan is certainly no cake-walk, it is a considerably more realistic race for us to test In Lingerie's proficiency over a traditional dirt racetrack," Wellman said. "In the Kentucky Oaks, In Lingerie would have been 15 or 20-1 and we'd be leading her over there hoping she could handle the atmosphere and hoping she'd make a decent account of herself. Come Friday, we'd be leading her over there with conviction that she has a legitimate shot to win the Black-Eyed Susan. We are honored to have a contender in such an important and prestigious race as the Black-Eyed Susan and we're taking our crew to Baltimore with confidence and looking to enjoy the experience to the fullest."