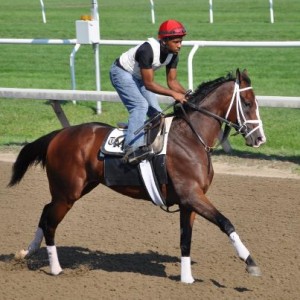 In Lingerie Essays Grade 1, $600,000 Alabama Stakes At Saratoga
In Lingerie had a trip she and her connections would rather forget when sent off as the 8-5 favorite in last month's running of the Grade 1 Coaching Club American Oaks when she checked in a well-beaten third.
On Saturday, the Grade 2 winning daughter of Empire Maker will have every opportunity to turn the tables on a handful of fillies who have knocked down Grade 1's this season and take control of the3 year-old filly division.
In the CCA Oaks, In Lingerie had an eventful trip, which found her far behind on a speed-biased racetrack and mired down on a dead rail. She was asked to make an unconscionably difficult sustained run from the 5 furlong marker and while she tried resolutely to muster the energy, one could not blame her for fizzling in the stretch.
Come Saturday, with her regular rider, John Velazquez back on her back, In Lingerie will be seeking a smoother journey over the taxing distance of 10 furlongs at Saratoga.
"Nothing went according to plan in the CCA Oaks," conditioner Todd Pletcher reflected. "Our strategy went out the window early in the game and she never was comfortable at any point in the race. We've always viewed the Alabama as the major race this summer for In Lingerie and with the race under her belt and a solid month of training since, we're confident she's going to put forth an effort capable of winning the Alabama.
"There is a salty bunch of fillies in the race, so we're going to have to bring our A-game," Pletcher acknowledged. "But we've always felt that 1 ¼-miles would be to In Lingerie's liking and she's trained really, really well for us recently. Having Johnny back on her is a huge plus as well, as he knows her and understands how she needs to be ridden."
With the last minute defection of Kentucky Oaks winner, Believe You Can, there remain 3 Grade 1 winners in the Alabama, including Grace Hall, Zo Impressive and Questing. Via Vileggio is a Grade 3 winner and Sea Island is a Phipps filly on the rise. The Alabama is being billed as the premiere race of the year for the sophomore filly division and the word on the street is that whoever takes down this prestigious renewal will rise to the head of the class.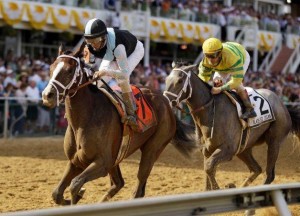 "The division is fair game," Eclipse President Aron Wellman noted. "The Alabama has been our focal point since the Black-Eyed Susan and now it's up to us to execute and go after a Championship. In Lingerie is doing exceptionally well and although we'll be slightly more overlooked in this race than in the CCA Oaks, we are cautiously optimistic that our filly is peaking for this important race. Looking back on the rich history of the Alabama it really is humbling to see the horses, trainers and owners who have won this traditional fixture on the Saratoga Stakes schedule. It's an honor to have a filly in the race and we think she'd be a worthy crown holder."