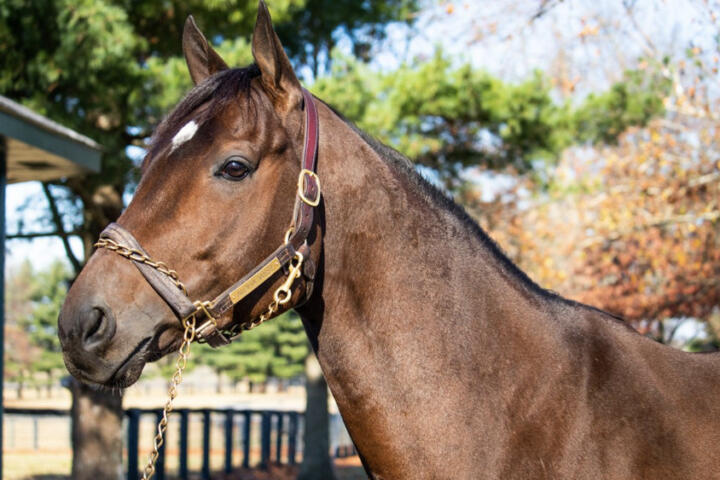 Gone West Legacy Renewed at Mill Ridge with New Addition
By Katie Petrunyak TDN
After a short hiatus from the stallion business, Mill Ridge welcomed GI Breeders' Cup Juvenile Turf winner Oscar Performance to their farm in 2019. Four years later, they now add a second stallion to their roster in Aloha West (Hard Spun – Island Bound, by Speightstown), who claimed the 2021 GI Qatar Racing Breeders' Cup Sprint for Eclipse Thoroughbred Partners and Wayne Catalano.
With breeding shed doors opening soon, what has this newcomer's initial reception been like with breeders?
"A lot more positive than the Oscar Performance reception was," said Price Bell with a laugh.
These days, Mill Ridge Farm's general manager is happy to joke about the challenge of launching an American turf horse's stud career if it means talking about Oscar Performance, who just received a fee bump from $12,500 to $20,000 after he wrapped up 2022 as the leading sire of all 2-year-olds on the turf by progeny earnings with his first crop.
As for Aloha West, the champion has drawn a steady stream of visitors at Mill Ridge after he retired to stud following this year's Breeders' Cup.
A son of Hard Spun, Aloha West is out of the Speightstown mare Island Bound, who won the 2012 GIII Winning Colors S. Bell said the new stallion has a physical that reflects both sides of his pedigree and will fit a variety of mares.
"Physically, he's a beautiful horse. Hard Spun is a son of Danzig, who is as influential of a sire line as there exists. Aloha West it from the family of Fappiano and then within that, you've got Speightstown, who is a son of Gone West out of a Storm Cat mare. I think the Speightstown side has really balanced him and polished him up."
Aloha West fulfills an important roll at Mill Ridge in carrying out the legacy of breed shaper Gone West, who joined Mill Ridge's first stallion Diesis at the farm in 1988 and went on to produce 98 stakes winners.
After the remarkable success of Gone West, whose sons and grandsons are influential on a global scale today, the farm added several more stallions that failed to follow in their predecessors' achievements.
"We were more active in the stallion business through the 1990s and the 2000s," Bell explained. "We took on a strategy–and not a unique one–that we needed to retire a stallion every year. We stood Bien Bien, Valiant Nature, Binalong, and really a series of stallions that didn't work. I think at times we might have gotten over our skis in feeling like we had to stand a stallion and we got away from believing in a stallion. As the dust settled, our strategy changed because we couldn't afford to make mistakes. So we never felt like we were out of the stallion business, but rather that we were waiting for the right opportunity."
That first opportunity came with Oscar Performance, who is the product of a Nicoma Bloodstock mating suggestion and was foaled and raised at Mill Ridge. Next came Gone West's descendant Aloha West.
"Our belief in him was the fundamental driver," Bell said. "I think if we were to have learned anything after Gone West with the other stallions that we tried, it is that we have to get back to believing in the horse, his ability, his ability to become a stallion and the team around that horse."
One chapter of Aloha West's story that Bell said they aim to impress upon breeders is that while the Maryland-bred did not race until he was four due to an injury that required surgery, he did have all the potential to be a top-class juvenile.
"Although he didn't race at two, you can look back at his works and see that he was putting in bullets at San Luis Rey and Santa Anita. So it would be easy to bypass that, but when you understand that he was a very good 2-year-old, and then he breaks his maiden at Oaklawn Park by making this big move passing horses around the turn, you think, 'Wow, that's a serious racehorse.'"
Purchased by Eclipse Thoroughbred Partners shortly after that debut win, Aloha West won five of his nine starts in 2021. He was the runner-up in the GII Phoenix S. at Keeneland and then got his signature win in the GI Breeders' Cup Sprint, where he defeated the likes of champion Jackie's Warrior (Maclean's Music) and MGISW Dr. Schivel (Violence). He furthered his success at five with a win in the Kelly's Landing S.
"He had a tremendous desire to win," Bell said. "He was tough and fast and wanted to get to the finish line first. He ran speed figures comparable to Munnings and other great stallions, so that gives us the belief that he can pass that on to his offspring."
Aloha West will stand for a fee of $10,000 in 2023. Eclipse Thoroughbred Partners has stayed in on the stallion and recently signed tickets on several mares at the Keeneland January Sale.
"Eclipse Thoroughbred Partners are our friends and clients that we hold in the highest regard," Bell said. "Their motto is to believe big and he certainly achieved the highest results for their partners. For me, he is as exciting a sire at this price point that has come out in the last few years and we've had a positive reception not only from previous clients, but also from new clients. We feel so blessed because this is a game of hopes and dreams and we want to share it with as many people as possible. We're all in this together and we hope that we can launch a successful stallion career."