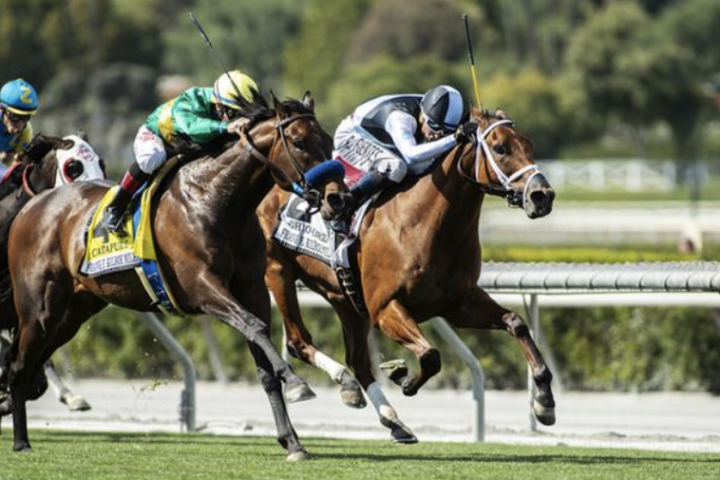 G1 Winner Ohio Moves On To Next Career
By Margaret Ransom
Maggie House-Sauque recently welcomed 2019 Kilroe Mile winner Ohio to her ranch where the Brazil-bred son of Elusive Quality will be transitioned to riding horse duties. The 10-year-old gelding, who was sixth in the San Francisco Mile in April for trainer Michael McCarthy, was retired by owners Eclipse Thoroughbred Partners. He ended up in House-Sauque's care thanks to a lifelong connection to one of Eclipse's managing partners, Aron Wellman.
"Aron got my number from my dad and asked me if I knew of a good place near him in the San Diego area so they can visit Ohio," House-Sauque said. "I've known Aron since he was nine years old (from family connections in the racing industry) so I said, 'well, me.' I told him I own this ranch now and invited him to come out and see it and he did. Two hours after he left, he called me and said I could go pick Ohio up. He has always thought Ohio would make a great riding horse for his daughter."
So far Ohio has exceeded House-Sauque's expectations, and she believes he will make a great horse for the Wellman family. She also received his history from McCarthy, which she was pleasantly surprised by.
"He's sweet, smart and sound," House-Sauque said. "We're just planning to take our time and give him a good foundation and good education, get him used to just being a horse. He's really nice and he's special to their family and I'm so happy to help them do the right thing for this horse, which I know is has always important to them. Now I talk to Aron every week and I send him pictures and he's been out to visit. It's obvious that he means a lot to him.
"When (McCarthy) called me I was so surprised. He was in New York, getting ready for the Belmont Stakes with his Preakness winner and anyone would have to figure that calling me about Ohio was low on his priority list, but he wanted me to know the horse's entire history. He wanted me to know everything he'd done or any minor issues he had.
"I have been getting horses off the racetrack since before I was 10 years old and this was the first time a trainer told me a horse's entire history, vet and otherwise. I wish more trainers did that."
Ohio earned $639,748 from a record of 37-11-5-4.