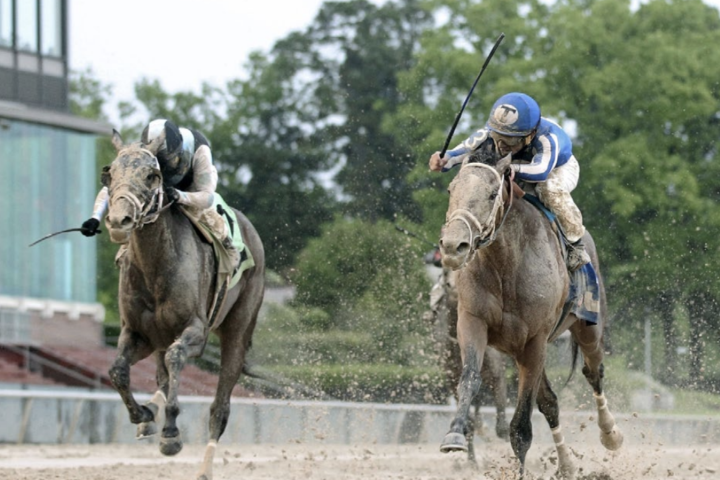 Farmington Road Becomes 2nd Eclipse Colt To Make Haskin's Derby Dozen for 2020
1 | TIZ THE LAW Trainer/Owner: Barclay Tagg/Sackatoga Stable Pedigree: Constitution—Tizfiz, by Tiznow Breeder: Twin Creeks Farm (NY) With back-to-back dominating performances and negative Thoro-Graph figures added to his dominating score in last year's Champagne Stakes (G1), he is a legitimate Derby favorite, but it looks like we won't be seeing much more of him until he re-embarks on the Derby trail. Remains in light training with :52 4/5 breeze April 11 at Palm Meadows.
2 | MAXFIELD Brendan Walsh/Godolphin Street Sense—Velvety, by Bernardini Godolphin (KY) Now that he's back working at Keeneland, with a half-mile April 10 in a solid :49 1/5, the truth is he is only two races behind the top 3-year-olds and should be able to get three races in before the Sept. 5 Kentucky Derby Presented by Woodford Reserve (G1). There is no reason to think he won't return as the same horse we saw turn in the most explosive move of the season last year.
3 | AUTHENTIC Bob Baffert/SF Racing, Starlight Racing, Madaket Stables, Frederick Hertrich III, John D. Fielding, and Golconda Stables Into Mischief—Flawless, by Mr. Greeley Peter E. Blum Thoroughbreds (KY) Even though his demeanor and his galloping style suggest he will be able to rate off the pace, and even though he is a late foal and could be a monster come September, we now have to wait before he shows it on the racetrack. It's not as if his pedigree is loaded with stamina. So we wait for him to return, possibly in the June 14 Affirmed Stakes (G3) at Santa Anita Park.
4 | HONOR A. P. John Shirreffs/C R K Stable Honor Code—Hollywood Story, by Wild Rush George Krikorian (KY) "Solid as a brass ring." That's how John Shirreffs described Honor A. P. The San Felipe Stakes (G2) runner-up will not be going to Oaklawn Park as Shirreffs is confident Santa Anita will be back running in May. If so, we will have to wait to see how Santa Anita readjusts its stakes schedule, especially the Santa Anita Derby (G1).
5 | SOLE VOLANTE Patrick Biancone/Reeves Thoroughbred Racing, Andie Biancone, and Limelight Stables Karakontie—Light Blow, by Kingmambo Flaxman Holdings (KY) He was scheduled to run in the May 2 Arkansas Derby (G1), where we were looking forward to seeing him compete away from Tampa Bay Downs, but those plans have been scrapped because of too many regulatory hurdles, so now he and stablemate Ete Indien will get some time off and point toward summer campaigns.
6 | KING GUILLERMO Juan Avila/Victoria's Ranch Uncle Mo—Slow Sand, by Dixieland Band Carhue Investments, Grouseridge, and Marengo Investments (KY) As long as he remains on target for the Arkansas Derby, he will have to stay fairly high in the rankings because anything close to a repeat of his Lambholm South Tampa Bay Derby (G2) victory will make him extremely tough to beat May 2. He has the tactical speed, closing punch, and pedigree to be one of the top 3-year-olds.
7 | GOUVERNEUR MORRIS Todd Pletcher/Team Valor International and WinStar Farm Constitution—Addison Run, by Unbridled's Song Machmer Hall, Carrie Brogden, Craig Brogdan, and James Miller (KY) He continues to keep on edge, breezing a halfmile April 11 in a solid :49 2/5 at Palm Beach Downs. There's no other place for him to go, so until a decision is made regarding training at Keeneland and Churchill Downs, he will remain where he's been training all winter. He is trending upward, and we won't see the best of him until summer.
8 | FARMINGTON ROAD Todd Pletcher/Eclipse Thoroughbred Partners, Chrysalis Stables, Robert LaPenta Quality Road—Silver La Belle, by Langfuhr Chrysalis Stables (KY) Despite the addition of blinkers, he again found himself at the back of a big field in the April 11Oaklawn Stakes, breaking from post 12 and jockey Martin Garcia bouncing up off the saddle. The colt still turned in another powerful wide rally and looked like he was going to win until he started drifting in several paths and lost his momentum.
9 | CHARLATAN Bob Baffert/SF Racing, Starlight Racing, Madaket Stables, Stonestreet Stables, Frederick Hertrich III, John D. Fielding, and Golconda Stables Speightstown—Authenticity, by Quiet American Stonestreet Thoroughbred Holdings (KY) He needs a race and a test for class, but what he might really need is a split Arkansas Derby to have enough earnings to get in the race. He was flattered by the gutsy allowance victory by Shooters Shoot at Oaklawn April 11, having trounced him by 5 3/4 lengths in his debut.
10 | NADAL Bob Baffert/George Bolton, Arthur Hoyeau, Barry Lipman, and Mark Mathiesen Blame—Ascending Angel, by Pulpit Sierra Farm (KY) I'm sure Baffert doesn't want to see him and Charlatan in the same race with their early speed, so he no doubt is hoping for a split division Arkansas Derby and to get Charlatan into the field with only $67,200 in earnings. The key to Nadal is getting him to relax early and come home faster,something he hasn't been able to do so far. All we know is that he is a fast, talented horse.
11 | ETE INDIEN Patrick Biancone/Linda Shanahan, Sanford Bacon, Dream With Me Stable, Horse France America, D P Racing, and Patrick L. Biancone Racing Summer Front—East India, by Mizzen Mast Robert B. Tillyer and Eric Buckley (KY) There is so much early speed this year, with Baffert's big three and Wells Bayou and Shivaree. This one's best bet would be to show he can come from off the pace because he does seem tractable, but so far he has either been on a clear lead or battling head and head. With the time off now, look for Biancone to try to teach him to sit off the pace. That would make him an even more dangerous foe.
12 | MAJOR FED Greg Foley/Lloyd Madison Farms IV Ghostzapper—Bobby's Babe, by Smart Strike Lloyd Madison IV (KY) This one is another who appears to be pointing for the Arkansas Derby. He needs to erase that bad trip in the TwinSpires.com Louisiana Derby (G2) when he was forced to come from last in a 14-horse field and still rallied to finish fourth, despite having to go wide and getting bumped in the stretch. He is more of a midpack horse who likes to sit three to four lengths back.