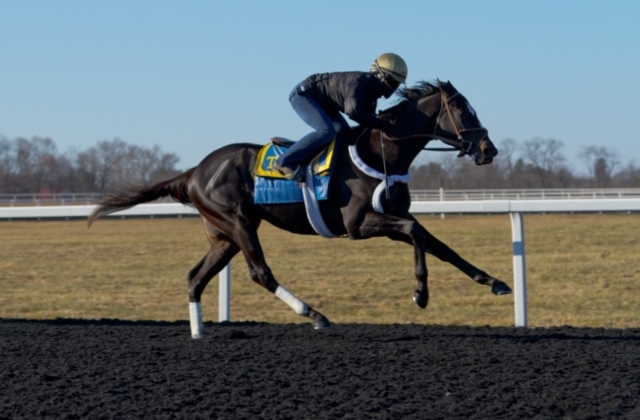 Eclipse, Twin Creeks Seek Derby With Independence Hall
By Byron King BloodHorse
A few years after teaming with Destin —sixth in the 2016 Kentucky Derby Presented by Yum! Brands (G1) and second, beaten a nose, in the Belmont Stakes Presented by NYRA Bets (G1)—owners Eclipse Thoroughbred Partners and Twin Creeks Racing Stables have joined forces again, and with Independence Hall they hope to be back on the Triple Crown trail.
The trail they're starting with co-owners Robert and Kathleen Verratti is the most traveled for a leading Derby hopeful. After a pair of blowout victories, including the Nov. 3 Nashua Stakes (G3) by 12 1/4 lengths, Independence Hall's connections opted to bypass the more prestigious Remsen Stakes (G2) in December. Instead, they chose more spacing, settling on the $150,000 Jerome Stakes going a one-turn mile on New Year's Day at Aqueduct Racetrack.
The race is a means to an end, which they hope brings them to Churchill Downs for the Derby on the first Saturday in May.
"We felt as far as the Remsen was concerned, we can't win the Kentucky Derby in December, but we can certainly compromise our chances or lose the Kentucky Derby in December if we were to run him too quickly off such a monstrous performance," said Aron Wellman, the president and founder of Eclipse Thoroughbred Partners.
The owners, in discussion with trainer Mike Trombetta, are in part trying to avoid a "bounce," a regression handicapping theory that was popularized by users of speed-figure products like the Ragozin Sheets and Thorograph, which graph the performances of horses on charts.
The fact the owners are "bounce" believers should come as no surprise. Twin Creeks director Steve Davison purchased the Ragozin Sheets with longtime Ragozin employee Jake Haddad in 2012.
Other factors in choosing the Jerome include the ability for the colt to remain in his usual setting, training at Trombetta's base at Fair Hill in Maryland. Then he is left with only a short van ride to Aqueduct, where he excelled on the surface at the mile distance. In the Nashua there, he blitzed the mile in 1:34.66.
"I think you have to be careful about getting these horses too good at the wrong time," Twin Creeks team manager Randy Gullatt said. "I think when you stack these races four or five weeks apart, these horses tend to get extremely sharp. As much as you want to see these horses win these big races, we have even bigger goals."