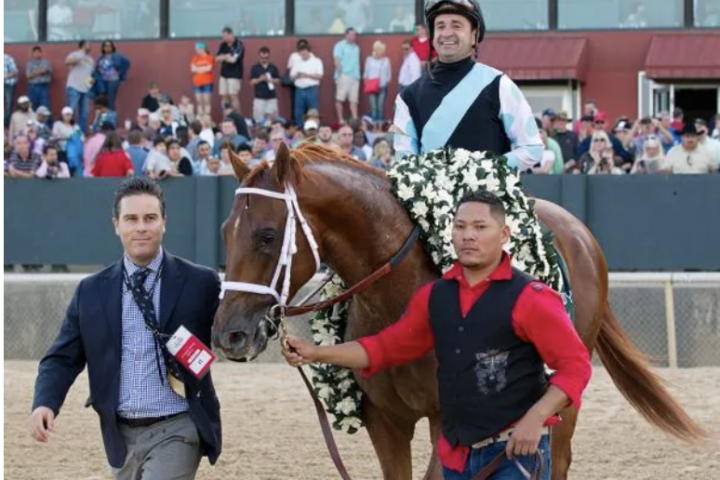 Eclipse Thoroughbred Partners loaded for this year's Breeders' Cup
Blame the enthusiasm of youth, but Aron Wellman hoped to conquer American racing when he launched Eclipse Thoroughbred Partners in 2011.
"Naively and ambitiously, we wanted to build the stable to have runners in every division of the Breeders' Cup," Wellman recalled with a laugh Thursday.
Having horses good enough to run in all 14 Breeders' Cup races is nearly impossible, but Eclipse Thoroughbreds and the limited partnerships it forms have plenty to look forward to when the Breeders' Cup races are run Nov. 6-7 at Keeneland. Earlier this week, Eclipse pre-entered seven horses in six Breeders' Cup races, though a few are stuck on also-eligible lists and may not start.
Considering their success last year, the stable's runners could merit attention this year. In 2019, Sharing gave Eclipse its first BC win in the Juvenile Fillies Turf.
This year, Eclipse and partners have Spanish Loveaffair for the Juvenile Fillies Turf, Gretzky the Great for the Juvenile Turf, Speech for the Filly and Mare Sprint, Bulletproof One for the Turf Sprint, Point of Honor and Valiance for the Distaff, and Dirty Dangle for the Juvenile Turf Sprint. Bulletproof One and Dirty Dangle are not certain to run.
"To be able to bring this type of contingent to Lexington is pretty cool," Wellman said. "We're honored to have this deep of a group."
The horses are trained by Mark Casse, Michael McCarthy, Peter Miller, Todd Pletcher, and George Weaver, and represent 10 percent of the approximately 70 horses Eclipse has spread across the continent.
Gretzky the Great, trained by Casse and owned in partnership with Gary Barber, won the Grade 1 Summer Stakes on Sept. 20 at Woodbine, earning a fees-paid berth to the Juvenile Turf.
"Our best win chance is Gretzky the Great in the Juvenile Turf," Wellman said. "He's such a good mover and he should handle any type of going."
Eclipse Thoroughbred Partners is one of dozens of limited partnerships operating at various levels throughout the nation. The number of such partnerships has risen in the last 20 years, and allow wider participation for owners with reduced financial risk. Eclipse typically has four to 12 partners invested in each horse.
Wellman, 43, grew up in racing, the son of longtime California owners and breeders Michael and Cory Wellman.
"Rumor has it I was on my mother's back on the Del Mar backstretch a few days after I got out of the hospital," Wellman said.
Through his youth, Wellman's weekends frequently included trips to Southern California tracks. In the 2000s, while practicing law, Wellman and a few longtime friends formed a partnership that raced the graded stakes winners Three Degrees and Valbenny.
The success of those horses led to Wellman's decision to interrupt his law career and join Barry Irwin's management team with the Team Valor Racing partnership, an arrangement that lasted until spring 2011. By the end of that summer, Wellman had launched Eclipse Thoroughbreds.