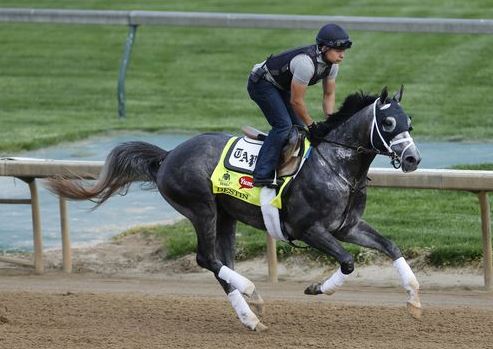 Eclipse Runners Making Headlines Coast To Coast
DRF Belmont: Stradivari may join Pletcher stablemate Destin
By: David Grening
ELMONT, N.Y. – Todd Pletcher has participated in 12 runnings of the Belmont Stakes, and five times he has run more than one horse in the third leg of the Triple Crown. There's a strong possibility he'll run two horses in the 147th Belmont Stakes on June 11.
Destin, the sixth-place finisher in the Kentucky Derby, is a definite starter for the Belmont. With each passing day from last Saturday's Preakness Stakes, Stradivari is making his case to run back in the 1 1/2-mile race.
Pletcher, a two-time Belmont Stakes winner, said he has yet to discuss the Belmont with Stradivari's owners – John Gunther, Derrick Smith, Michael Tabor, and Susan Magnier – but he sounded Friday like he would like to get the green light to run.
"If he continues to do well, I think we'll have that discussion," Pletcher said Friday morning. "But I'd be happy with what I'm seeing."
Pletcher said Stradivari's "appetite is good, he's been galloping good" since the Preakness. He is scheduled to breeze next Friday or Saturday.
Meanwhile, Destin, the Tampa Bay Derby winner, had his first breeze since the Kentucky Derby on Friday. He went five furlongs in 1:01.67, working in company with Stanford, the Charles Town Classic winner and a candidate for the Grade 1 Metropolitan Handicap.
Destin, under exercise rider Hector Ramos, was on the outside of the pair and the two went head-and-head through splits of 13.38 seconds, 25.23, 36.83, and got their last quarter in 24.84 seconds. Stanford had a head in front at the wire. The two basically galloped out together in 1:15.13 for six furlongs and 1:29.25 for seven eighths.
"I wouldn't call him a horse that's overzealous in his training," Pletcher said of Destin, who works in blinkers. "He's an honest work horse, but you would have to put him in company to keep him focused."
By design, Destin had eight weeks between his victory in the Tampa Derby to the Kentucky Derby. He broke a bit slowly in the Derby and found himself 11th going across the finish line the first time. He moved into third in upper stretch, but flattened out in the final furlong and was beaten seven lengths by Nyquist.
"We wanted to be closer than we were," Pletcher said. "Unfortunately, he didn't break very well, got shuffled back a little further. We spent a lot of our energy making a move to get to that point where we should have already been and paid the price for that the last eighth of a mile and flattened out a little. I thought it was a respectable effort, for sure."
Pletcher has had some success in the Belmont with horses who ran in the Kentucky Derby and then skipped the Preakness. In 2013, Palace Malice won the Belmont after running 12th in the Derby. In 2006, Bluegrass Cat ran second in both the Derby and Belmont. In 2011, Stay Thirsty ran second in the Belmont after running 12th in the Derby. In 2009, Dunkirk was second in the Belmont after finishing 11th in the Derby. Pletcher's other Belmont winner, Rags to Riches, won the Kentucky Oaks and had five weeks between starts.
Pletcher believes Destin has the pedigree and the temperament to get 1 1/2 miles.
"I think he's got enough pedigree to suggest that he's going to stay that far," Pletcher said. "I think he's got the right type of personality, too. You don't want a horse that's going to run off the first part. He'll put himself in a spot but he generally is not going to get rank early. I think you need a horse that will turn off and gallop, and I think he'll do that."
Also at Belmont Friday, Governor Malibu, second to Unified in the Grade 2 Peter Pan Stakes, worked five furlongs in 1:00.72 over the main track in preparation for the Belmont Stakes. Jockey Joel Rosario was aboard for the move.
Equipped with blinkers, equipment he has worn in his last three races, Governor Malibu broke off at the half-mile pole and went his opening quarter-mile in a solid 24.05 seconds. He went from the quarter pole to the wire in 23.92 and then from the wire to the 1 3/8-mile pole in 12.75 seconds.
"The most important thing is he was moving well, he was very willing, and he looked well," trainer Christophe Clement said. "Pedigree-wise you'd be worried about the mile and a half" he's by Malibu Moon out of a Langfuhr mare "but he's always run like a horse that wanted to run longer."
Preakness winner Exaggerator just walked the shed at Pimlico Friday morning. It was his second straight walk day.
"If one day of rest is good, two has got to be better," trainer Keith Desormeaux said. "He's earned his rest. We're just trying to help him recover the best way we know how."
Exaggerator was scheduled to train at Pimlico on Saturday morning and then ship by van to Belmont early Sunday morning.
Illuminant's Turn to Shine in Gamely?
By: Steve Andersen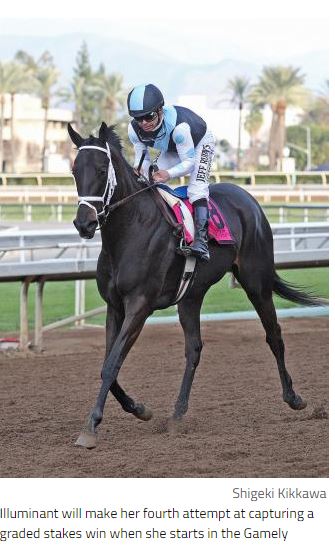 ARCADIA, Calif. – Perhaps it is Illuminant's turn to win a major turf stakes for fillies and mares in Southern California in Monday's $300,000 Gamely Stakes at Santa Anita.
Since Jan. 1, 2015, 17 different fillies or mares have won graded stakes around two turns on turf at Santa Anita and Del Mar. There have been no two-time winners during that span.
Illuminant has the credentials to win Monday's Grade 1 Gamely Stakes, run at 1 1/8 miles on turf. Owned by Eclipse Thoroughbred Partners and trained by Michael McCarthy, Illuminant was third to Tepin in the $350,000 Jenny Wiley Stakes at Keeneland on April 16 in her first start in a Grade 1 race.
"Anytime you can run third to a mare like Tepin, it's a feather in her cap," McCarthy said of Illuminant.
Tepin, the winner of the Breeders' Cup Mile at Keeneland last October, was the champion grass female of 2015. She has won her last six races, including the Grade 2 Churchill Distaff Turf Mile on May 7, and is the future-book favorite for the Group 1 Queen Anne Stakes at Royal Ascot in England on June 14.
Illuminant was 37-1 in the Jenny Wiley and will be a much shorter price in the Gamely Stakes. The competition is led by Wekeela, a stakes winner in France last year who was second in the Jenny Wiley in her American debut.
McCarthy knows Illuminant must be at her best to win on Monday. A 4-year-old, Illuminant has won 3 of 10 starts and earned $187,650. The Gamely will be Illuminant's fourth try at winning a stakes.
"It will be really nice to win one," he said. "This is a suitable spot for us leading into the summer."
Comfort Capable of Firing Fresh
By: David Grening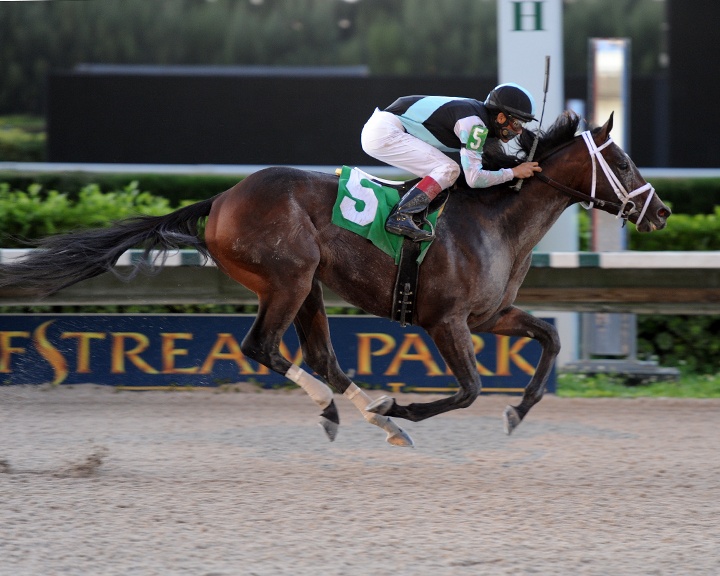 ELMONT, N.Y. – If you're looking for a fresh face in the second-level optional $62,500 claiming ranks on this circuit, then you'll want to take Comfort in Sunday's feature at Belmont Park.
The 4-year-old Comfort, trained by Todd Pletcher, has not run since winning a first-level optional claimer at Gulfstream Park West last November. That performance came off a seven-month layoff, following a fourth-place finish in the Grade 3 Lexington Stakes at Keeneland in April 2015.
"He had time off, ran well in an allowance race, and unfortunately had to have more time off," Pletcher said. "This is a pretty competitive race."
The 1 1/16-mile race drew a field of seven, but it's not the most consistent group of older males.
Our Caravan, in for the $62,500 claiming price, won at this level over Aqueduct's inner track last December and then finished second in January at a higher level. He has not run since finishing fourth in the Stymie Stakes on March 13.
Trainer Rudy Rodriguez said he has been entering Our Caravan at several venues, but has been unable to get a dirt race to go for this 5-year-old gelding.
Farhaan, second at this level in March, hasn't won since pulling a 7-1 upset in the Alydar Stakes at Saratoga in 2014.
Race 8
Bet Belmont Park with DRF Bets and get FREE access to this article and all of DRF Plus, including Belmont selections, video, and real-time analysis.
KEY CONTENDERS
Our Caravan, by Daaher
Last 3 Beyers: 93-94-93
Has run three decent races since he was claimed for $62,500 last October.
Biggest negative is he's 0 for 2 at Belmont, but one of those races came in the Grade 2 Peter Pan in 2014.
Gets rider change to Irad Ortiz Jr.
Comfort, by Indian Charlie
Last 3 Beyers: 80-90-82
Is 2 for 3 on dirt, with his lone loss coming in a graded stakes 13 months ago. Has a steady string of works for return.
"I think we got enough in him," Pletcher said. "This hopefully will tell us which direction we need to be going. Pedigree-wise you'd think he'd run this far."
Mills, by Any Given Saturday
Last 3 Beyers: 90-95-78
A well-beaten third in the slop last out at this level, but he broke poorly and found himself farther off the pace than he prefers to be.
Two starts back, in the Stud Muffin Stakes, he finished second to Toledo Eddie, who was in the midst of a five-race winning streak.