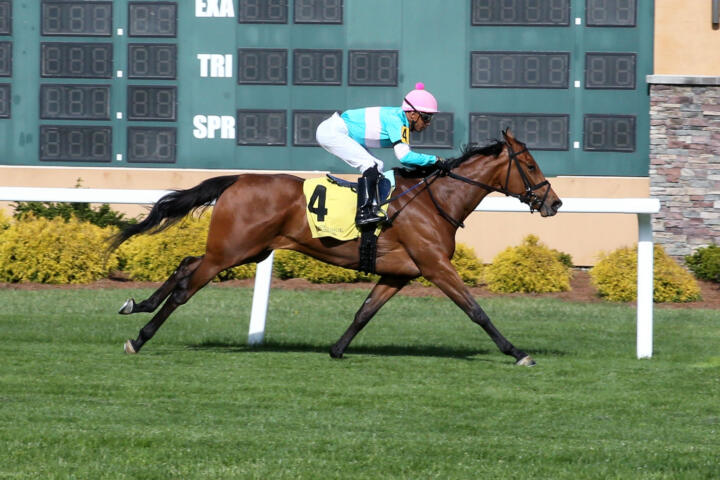 Eclipse Hits 500 Win Milestone
When winning 2 out of every 10 races you run in might be a high enough standard to qualify an owner, trainer or jockey for the Hall of Fame, any stakeholder in this wacky world of horse racing must take stock and celebrate when milestones are achieved.
On Wednesday at Horseshoe Indianapolis in Shelbyville, Indiana, Eclipse won our 500th race when Selenaia, a filly scouted by Eclipse as a yearling at Tattersalls in England, ignited up the pine like she was shot out of a cannon in an Allowance going long on the lawn.  Selenaia may have stamped herself a serious future #EclipseFilly in the making with the performance, which was extra-special seeing as though it was the 500th time Eclipse partners have visited the Winners' Circle.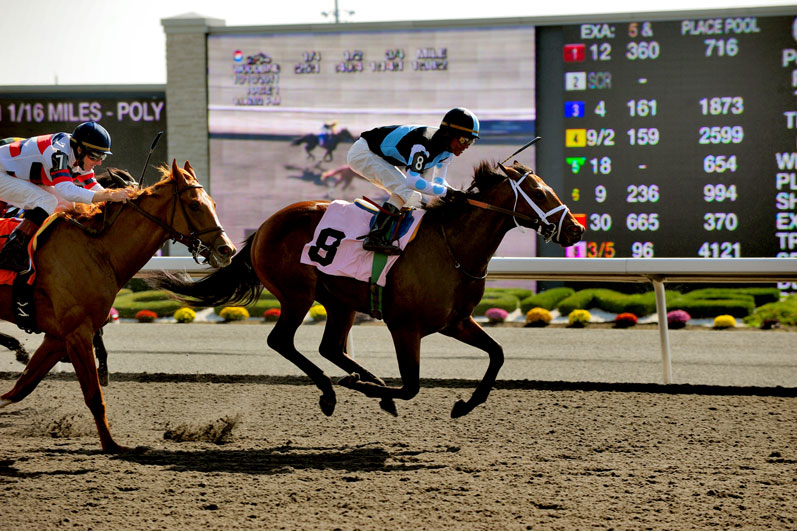 Since Patrioticandproud represented the baby blue and black as our 1st runner, and, simultaneously, our 1st ever winner, on October 10th, 2011, the squad has delivered 499 more W's for our partners, including 128 Stakes victories, 58 of which came in Graded events and 22 Grade 1's, all to the tune of nearly $44 million in purse earnings.  All the while we've managed to maintain a stout 20% win strike rate, which is an elite standard, particularly considering that 742 of our 2,469 lifetime starts have come in Black Type events (435 of those coming in Graded Stakes races), which equates to 30% of our runners competing at the highest level from our career trips to Post to date.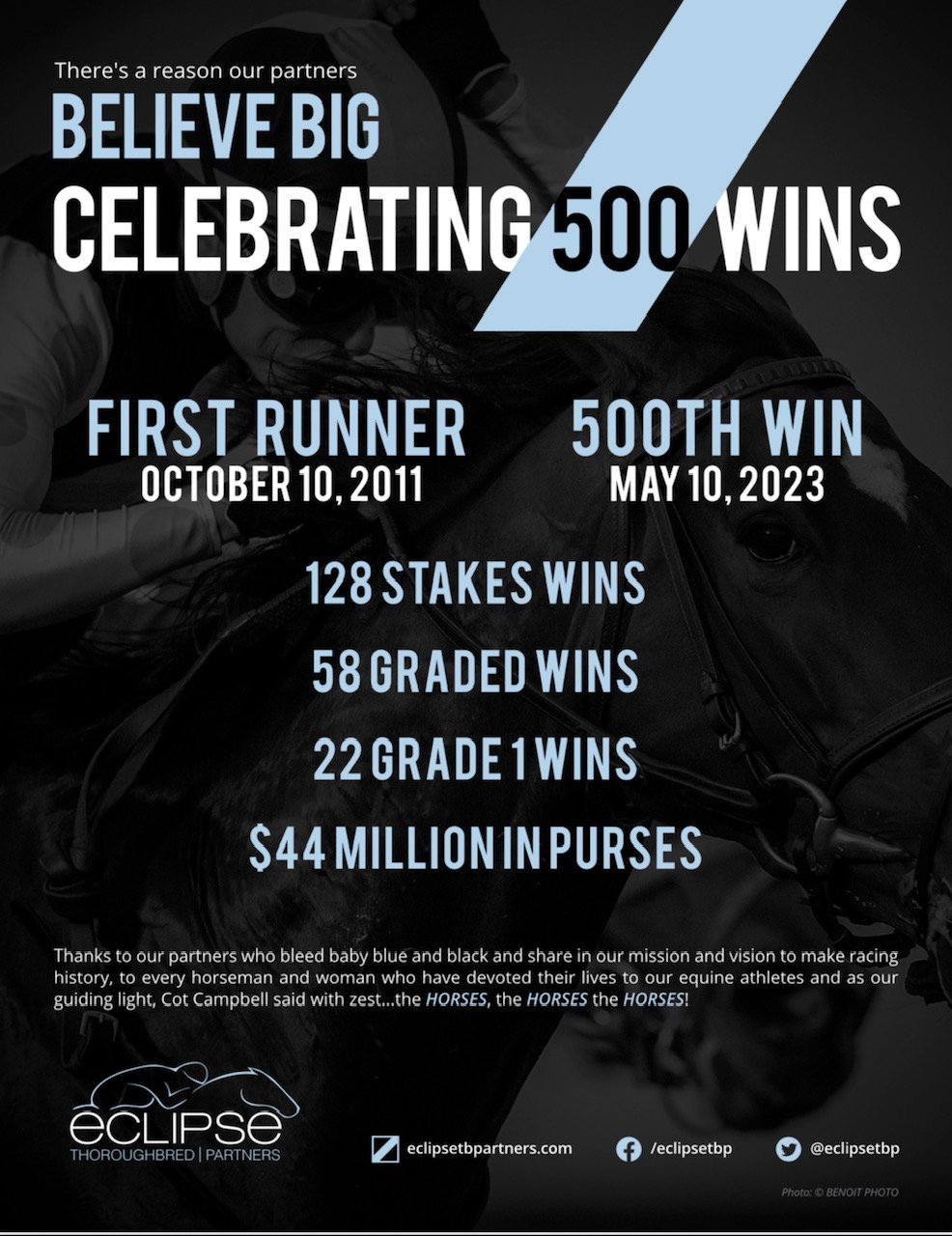 During the relatively narrow time span it's taken for Eclipse to hit the 500 win mark, we have won races in 17 States, 6 countries and at 44 different racetracks.  More than 500 partners have shared a win with Eclipse, the vast majority of whom have experienced double-digit wins and a handful belonging to an exclusive 100-win club.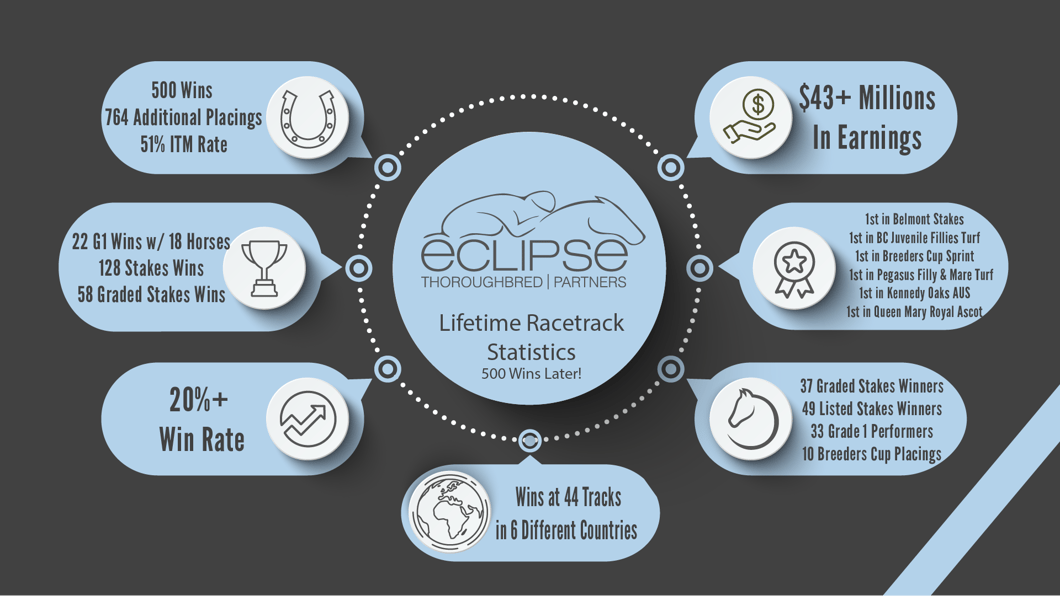 In addition to the 500 wins, Eclipse has also run second 414 times, meaning we've been in the Exacts 914 times out of 2,469 starts and tack on another 352 show placings and we're at 1,264 times in the Trifecta, good for a 51% in-the-money clip.  Put it all together and we've earned close to $44 million with an average earnings per start at a lofty $17,718.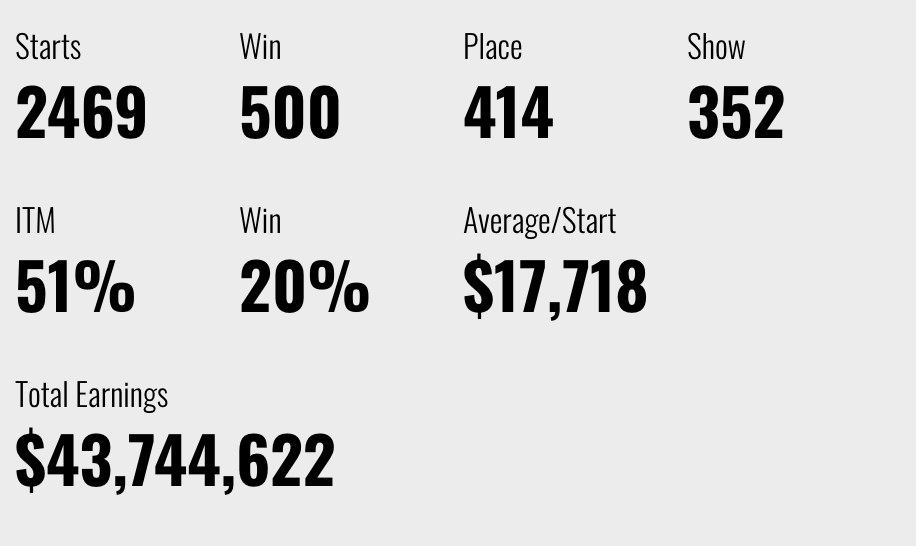 This is why people looking to win and with an appetite to win at the upper echelon of the sport of horse racing join Eclipse.
This is why our partners Believe Big!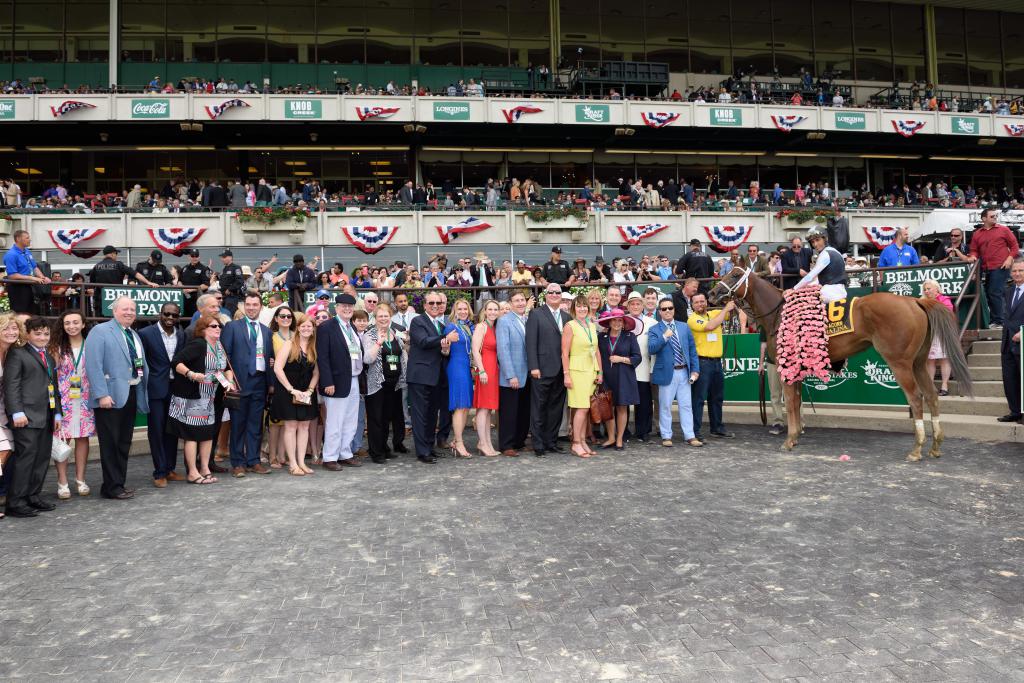 As always, we must give credit where credit is due and if not for our partners who generously devote their hard-earned dollars into the Eclipse program and bleed baby blue and black, there would never have been Win #1, let alone Win #500.  So, we are forever thankful, grateful and appreciative of every partner, not just those who have won races with us, but every single individual who has put their faith into Eclipse at any level.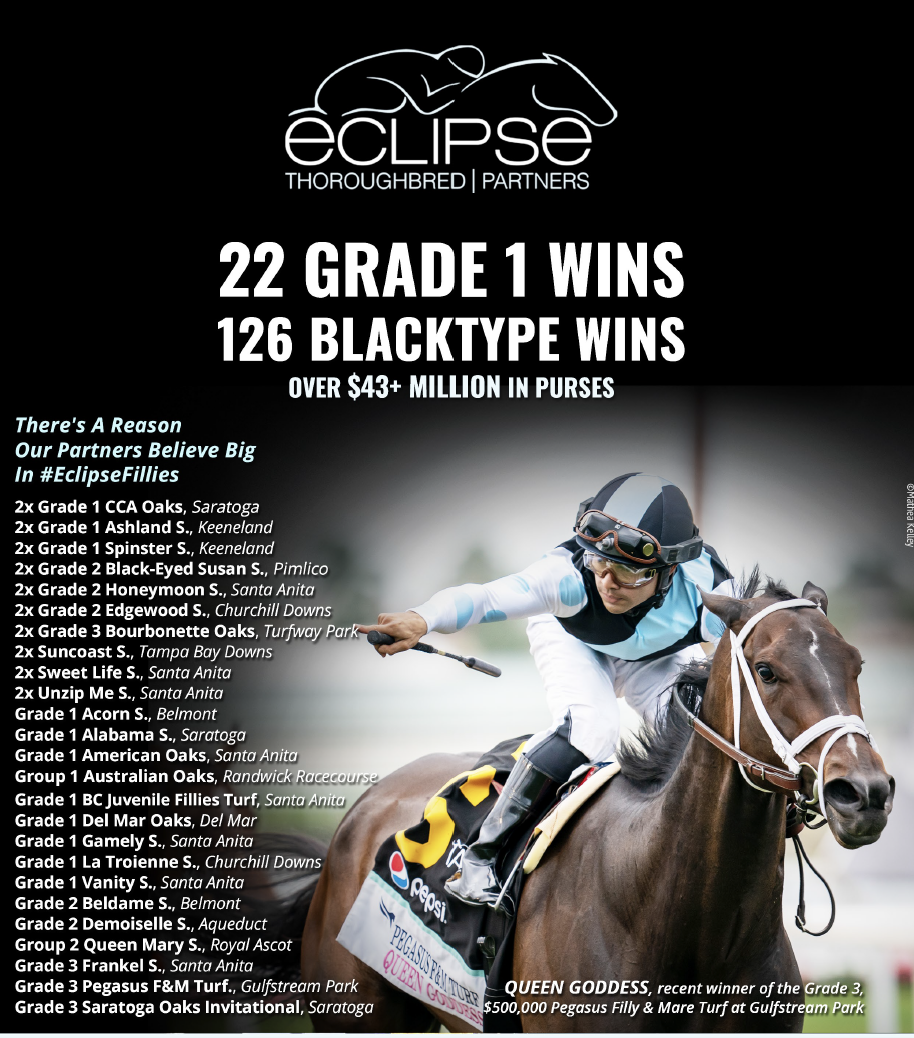 In that vein, a wonderful Eclipse partner, Mike Tudor, who along with his wife Natasha, are the proprietors of Genet Farm in Midway, Kentucky and are shareholders in 20 current Eclipse partnerships, having captured a Grade 1, multiple Graded and Listed events and a coveted win at Royal Ascot, provided this awesome tribute at the link below.  Mike eloquently chronicles his overall Eclipse experience since joining the family in 2017 and, specifically, his journey to attend 3 races of his Eclipse runners the past 2 weeks from Keeneland in Kentucky, to Leopardstown in Ireland and back to Horseshoe Indy…a feat we reckon no horse owner has ever ventured!
To view Mike's video, click on this link:
There are also an immeasurable amount of horsemen and women who devote their lives to our equine athletes, many of whom never receive any recognition as behind-the-scenes players, but all of whom deserve kudos for their skill and dedication to the animals who provide us with such thrills and enjoyment.  From the breeding farms, to the breaking and training facilities, racetracks and everywhere in between, we cannot adequately express our admiration and gratitude.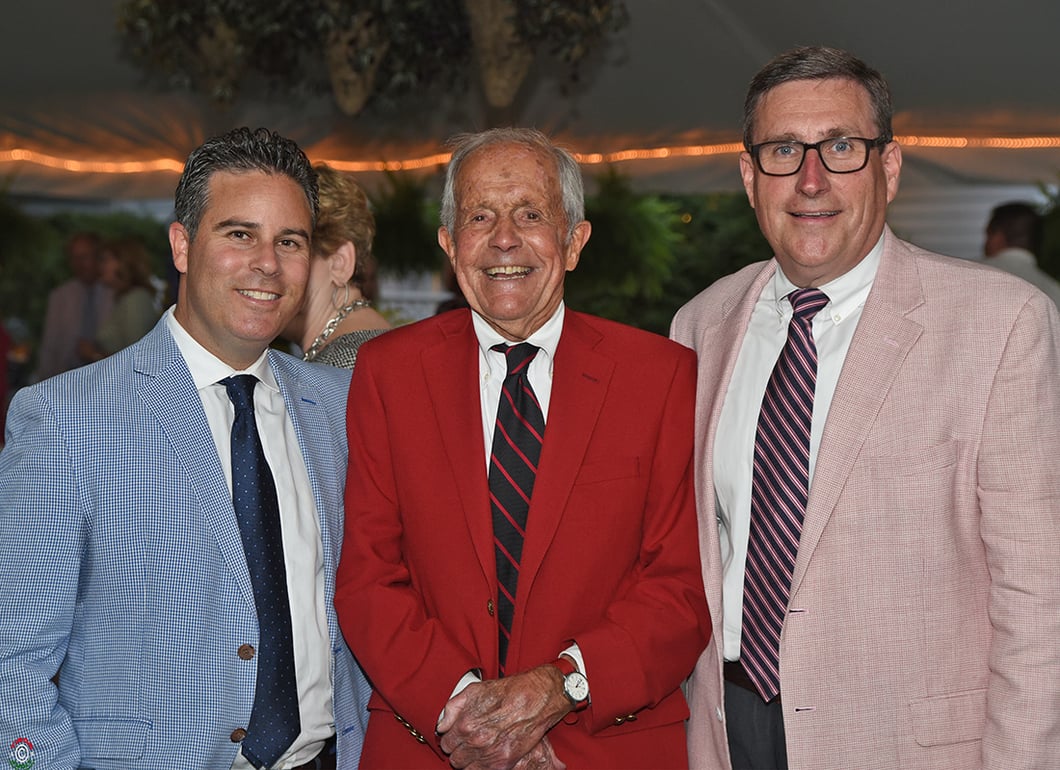 And, of course, as our guiding light, Cot Campbell so eloquently and charismatically coined, the HORSES, the HORSES…the HORSES!