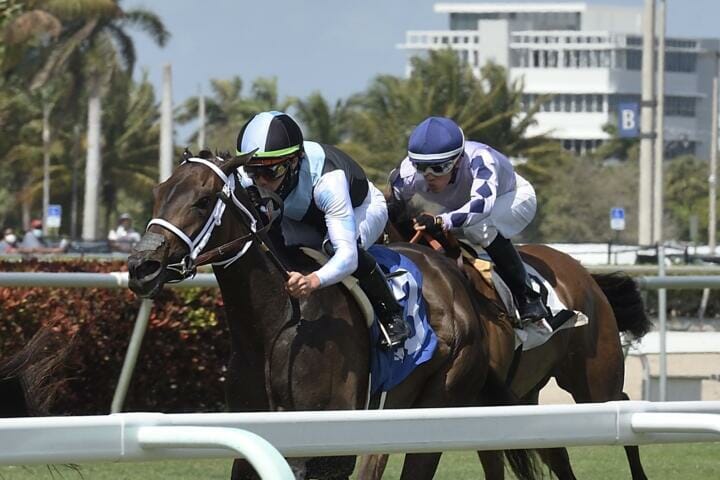 Eclipse Has Colossal 4-Win Day At Gulfstream Including 2 Stakes and 5-Win Weekend Overall
By: Jack Sadler
Eclipse Thoroughbred Partners had a day to remember at Gulfstream Park on Saturday, January 27. The baby blue and black garnered victories in two Stakes, an Allowance and an Allowance Optional Claiming race! Con Lima was declared the winner of the Grade 3 $100,000 Herecomesthebride Stakes, Annex captured the $100,000 Palm Beach Stakes, Nocturnal won his second in a row in an Allowance race and Sayyaaf found his way to the winner's circle.
Longtime Eclipse trainer Todd Pletcher saddled Con Lima, Nocturnal and Sayyaaf. Todd became eligible for the Thoroughbred Racing Hall of Fame this year and he will surely be inducted this summer. Bill Mott, already in the Hall of Fame, is the trainer of Annex, a winner of both of his lifetime starts.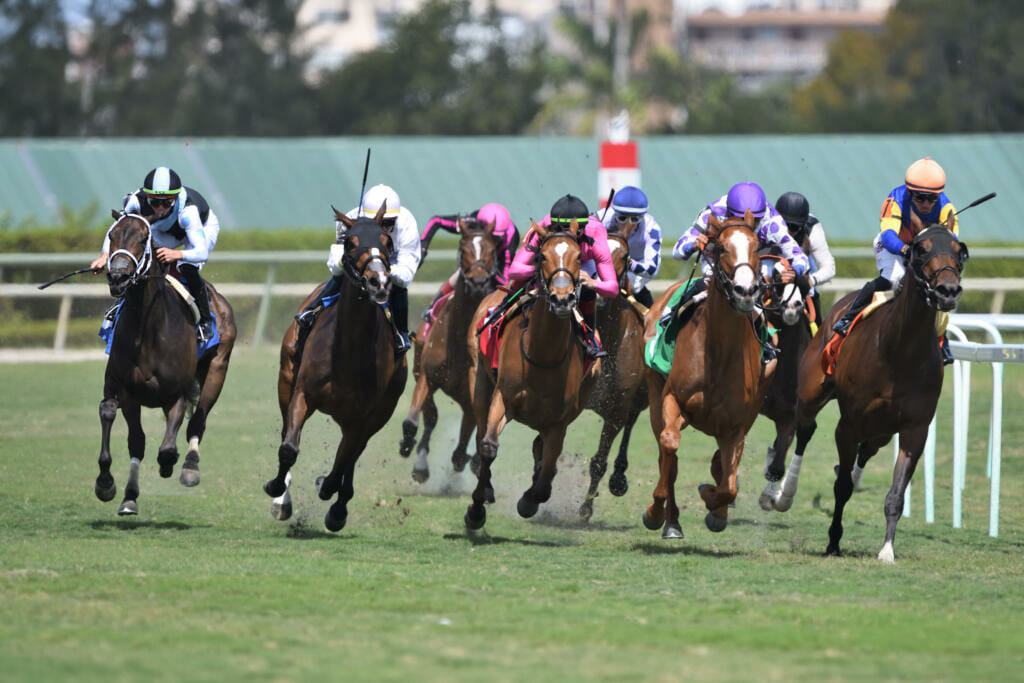 In his summary of the Herecomesthebride Stakes, Eclipse President Aron Wellman began with saying this was, "…one of the most bizarre unexpected turn of events that I have ever seen in my life, in racing, my career in racing professionally or even as a fan.". This Stakes produced many mixed emotions. Spanish Loveaffair, a filly Eclipse purchased an interest in last August partnering with Michael Hernon and Gary Barber, encountered traffic before breaking free in the stretch and crossing the finish line 2 3/4 lengths in front of her stablemate, Con Lima. Ridden by Tyler Gaffalione and trained by Mark Casse, Spanish Loveaffair was involved in a bumping incident with a filly to her inside causing that foe to steady in the stretch. In a call that could have gone either way, the stewards made the decision to disqualify Spanish Loveaffair and place her fourth. She was arguably the best filly in the race so this was a disappointing development. Thankfully for Eclipse, the major benefactor was Con Lima. We expected Con Lima to follow her recent form and set the pace but she hopped outwards at the start and bumped the gate and thus was 7th after the opening 1/2 mile. While five wide into the stretch, jockey Irad Ortiz urged her to make a beautiful strong rally to be second under the wire. Due to the disqualification of Spanish Loveaffair, Con Lima was declared the winner of her second Stakes capturing the Ginger Brew at Gulfstream on January 2. The Con Lima partnership was put together last August when Eclipse bought an interest in her along with three others. In six starts for Eclipse Thoroughbred Partners, Con Lima has two Stakes wins, an Allowance win and three second place finishes, two in Stakes.
The final time for the 1 1/16 over the grass was 1:41.30
Bill Mott had Annex expertly prepared for his second career start in the Palm Beach Stakes. Annex came from well off the pace in his debut and did so again on Saturday. He was 22 1/2 lengths behind the leader with just over a 1/2 mile to run. Jockey Junior Alvarado had Annex 7 wide entering the stretch and in a determined effort, this colt got up in the shadow of the wire to win by a head. Aron Wellman hit the nail on the head saying, "This is a serious, serious colt with unlimited ability and upside." Eclipse purchased an interest in Annex just last month from LNJ Foxwoods. The Eclipse Annex partnership was quickly put together and has a lot to look forward to. The 1 1/16 distance over the Gulfstream turf course was covered in a fast 1:40. 62.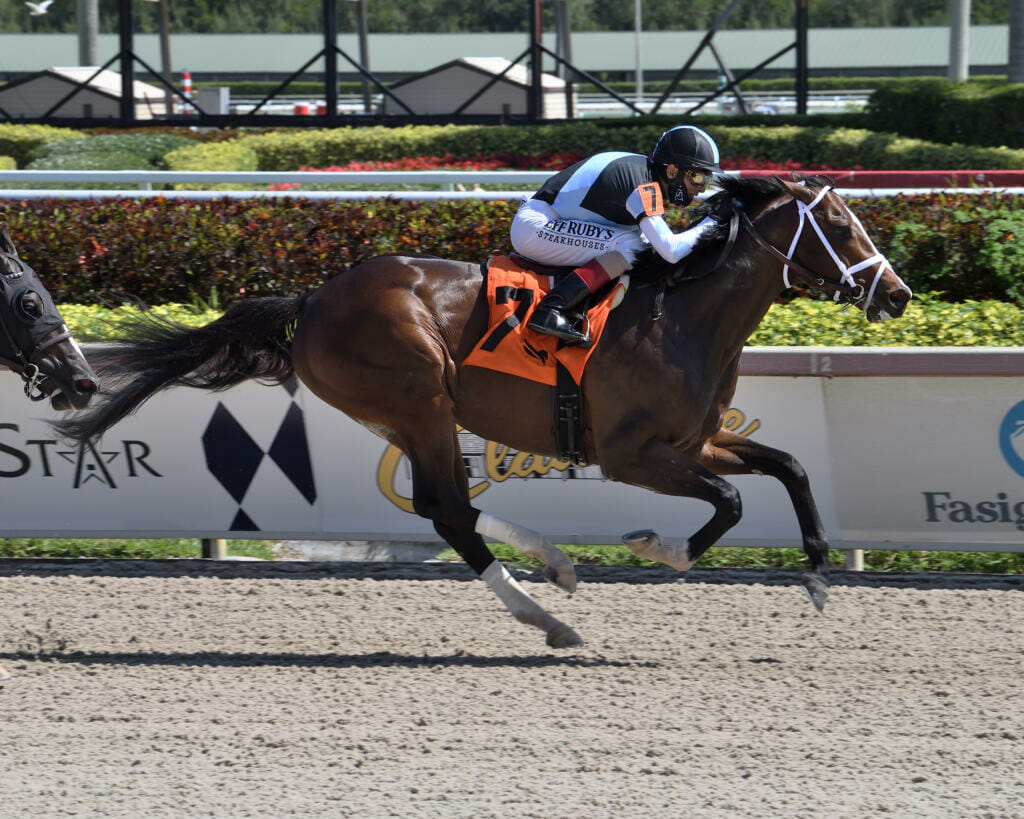 Nocturnal has raced three times. He finished 2nd in his debut to a colt who eventually ran 2nd in the Belmont Stakes-G1. Nocturnal has been a convincing winner in his past 2 outs. On Saturday, Nocturnal, under Hall of Fame jockey John Velazquez, stalked the leader the opening 1/2 mile before taking control and winning by 1 1/4 lengths. The 1 1/16 was run in 1:35.63. Eclipse entered into a partnership with Everett Dobson, the breeder of Nocturnal in August of 2017 while the colt was a weanling. The Eclipse partnership subsequently formed has four members who were a part of Cot Campbell's Dogwood Stable partnership that campaigned this colt's dad, Classic-winner Palace Malice. In summing up the race Wellman said, "Today's race had the look and feel of a bit of a trap but good horses find their way out of traps and that's what Nocturnal did today."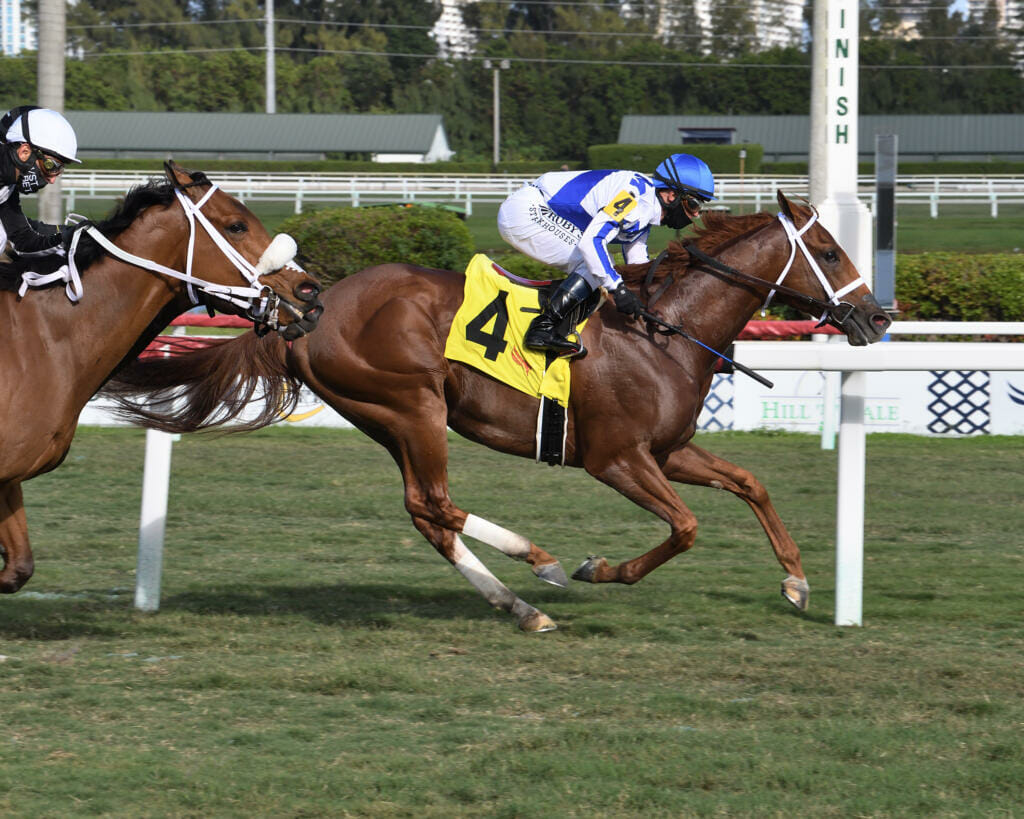 Sayyaaf showed his love for Gulfstream Park's turf course. A winner over this course in December of 2019, Sayyaaf quickly opened up daylight recording fast fractions against a salty Allowance/Optional Claiming field. While foes were trying to close the gap in the stretch, Sayyaaf would not be denied under Hall of Fame jockey Javier Castellano, winning by 3/4's of a length. The final time over the 1 1/16 distance over the grass was 1:39.88.
Sayyaaf, along with 3 other horses, was purchased in a private transaction from Shadwell Stable this past November. The four horse partnership is called Quartet.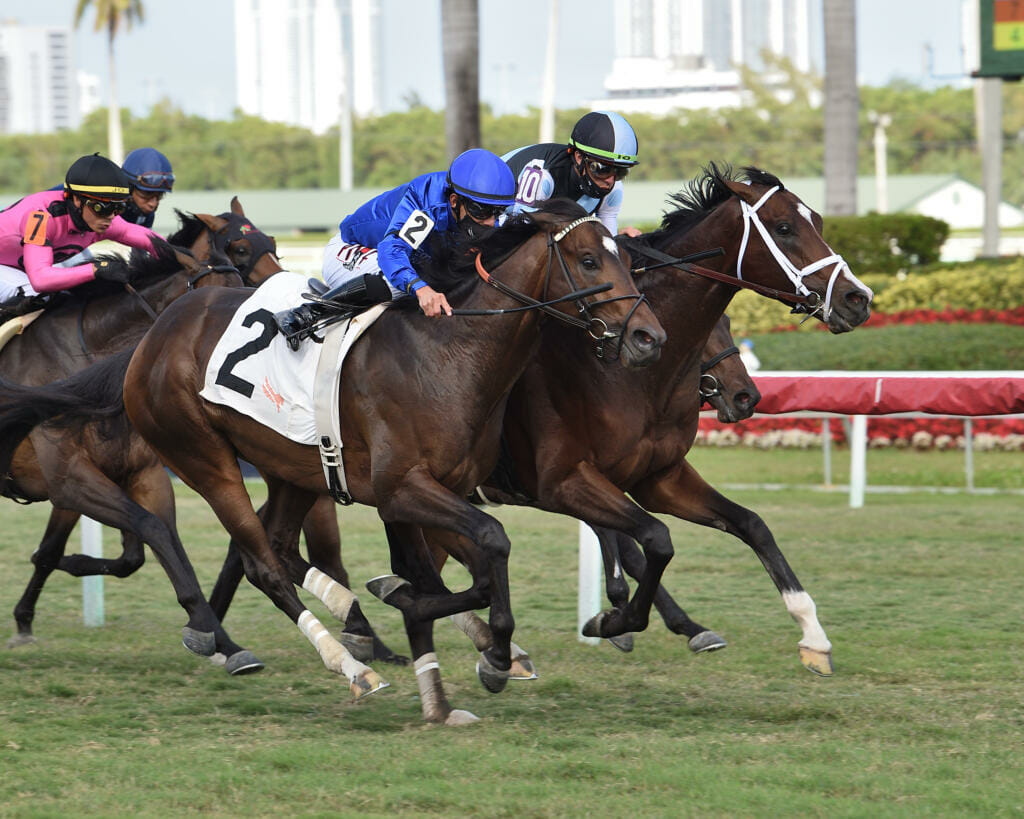 The good times continued to roll on at Gulfstream Park on Sunday, February 28 as Aviano notched his first career win in a Maiden Special Weight defeating several well-bred foes. With Irad Ortiz in the irons, this Todd Pletcher-trained colt had only one beat early on. He then weaved his way through traffic and in an exciting stretch run, got up just in time to win by a neck. Eclipse along with Bill Freeman and Michael Valdes who are Eclipse partners, purchased Aviano at the Fasig-Tipton Saratoga Sale for select yearlings in 2019. In four career starts, Aviano has a win, twice finishing second and a third.
Eclipse Thoroughbred Partners has had a tremendous meet at Gulfstream Park. We have recorded 13 wins including 4 Stakes in 32 starts. We also have finished second 6 times and third 3 times. Con Lima won the Ginger Brew Stakes and the Herecomesthebride Stakes-G3. She also finished 2nd in the Sweetest Chant Stakes-G2. Largent captured the Ft. Lauderdale Stakes-G2 and Annex finished 1st in the Palm Beach Stakes. Two other major highlights were Largent finishing 2nd in the Pegasus World Cup Turf Invitational-G1 and Independence Hall finishing 3rd in the Pegasus World Cup Invitational-G1, At Gulfstream alone, Eclipse has earned $1,043,822 during the meet.
Eclipse Thoroughbred Partners now has 18 wins including 4 Stakes and just shy of $1.2M in earnings this year.