By: Steve Haskin
Todd Pletcher's once seemingly powerful army of 3-year-olds has pretty much disbanded, with some of the troops retreating from the battlefield, others spending time in sick bay, and two transferred to another outfit.
By mid to late March, Pletcher's Kentucky Derby hopefuls included Zulu, Outwork, Destin, Gettysburg, Stradivari, Rally Cry, Mo Power, Donegal Moon, Azar, Prospectus, and Battery.
It is now Travers week and the only one left to contest the Midsummer Derby is Destin, a horse with a great deal of talent, but still not fully mature mentally on a consistent basis. In short, he has his good days, which are very good, and he has his off days, which still are good, but below what he is capable of.
All indications for Destin point to a good – no, make that very good – in the Travers, and a chance to catch the Tampa Bay Derby winner and Belmont Stakes runner-up at an enticing price, especially in what looks to be an extremely wide-open full field.
Just when it appeared as if Destin had matured into a professional racehorse, just getting nailed in the final stride of the Belmont Stakes, he displayed some of that immaturity of this past winter in the Jim Dandy Stakes when he, in one person's opinion, simply got a little bored chasing an agonizingly slow pace and, although he seemingly tried his best to catch the perpetrator of the theft, Laoban, he attempted to lug in a couple of times, with his head cocked to the outside and let Governor Malibu narrowly outfinish him for second.
It would have been a lot to ask of him to catch Laoban, who, after getting away with a sluggish :49 half, came home his final three-eighths in a swift :35 4/5, his last two splits in :23 3/5 and :12 1/5. For Destin to match those fast-closing splits despite not being totally focused indicates the colt did not run the race he is capable of running.
The only thing that needed to be confirmed was how he came out of the race and how much the race took out of him, which would indicate how hard he used himself. If Destin gave his all and came out of the race tired, and this was the best he had to offer, then there was no reason to believe he would be ready to beat such a deep, talented field in the Travers. But if the race took little out of him, then one would have to believe he indeed was not totally focused and did not give 100 percent, suggesting he will be more professional and competitive stretching out to 1 1/4 miles with a faster, more contentious pace. His race in the Belmont indicated he is capable of tracking a decent pace and accelerating off it, especially at a distance at which most of the Travers horses are unproven.
The only person who would provide me the answer how Destin really came out of the Jim Dandy was co-owner Randy Gullatt, who purchased the colt as a yearling for $400,000. I just happened to run into him at the jockey karaoke for the Permanently Disabled Jockeys Fund on Aug. 1 and I asked him how Destin came out of the race. When he said he was full of himself after the race and acted as if he hadn't run, I had my long-range Travers horse. I attempted to get further information from Gullat following the colt's final work for the Travers last Friday, but wasn't able to. Regardless, if you're looking for a potential overlay on Saturday, Destin appears to be a very bettable horse.
So who's to say that Destin will not run greenly once again? I have watched this colt mature from the winter to his track record-equaling victory in the Tampa Bay Derby. At Tampa he was a totally different horse – more brilliant and more professional – than the goofy, immature colt who was beaten at Gulfstream and Fair Grounds over the winter and no doubt underachieving. Although he finished a lackluster fourth in the LeComte Stakes and was a mess turning for home, showing little interest in the race, it was as if the light bulb went on at the eighth pole and he suddenly leveled off and was moving with power and authority to and past the wire.
Todd Pletcher, who had put blinkers on him for the LeComte, made an adjustment, putting little peep holes in them to allow him to look around a little more and see other horses, and whether or not that made the difference, he was a different horse next time out in the Sam F. Davis Stakes. It was if he had grown up in that final eighth of the LeComte.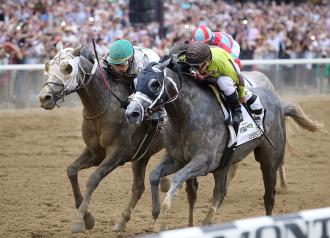 He looked sensational winning the Sam F. Davis, and his time of 1:43 3/5 was a fifth of a second off the stakes record, with a final sixteenth in a rapid :06 1/5.
After he came back to win the Tampa Bay Derby in a track-record 1:42 4/5 over eventual Wood Memorial winner Outwork, earning a triple-digit Beyer speed figure, I thought enough of him to move him from No. 12 on Derby Dozen to No. 2 in one week; a very unorthodox move.
Although I don't like 3-year-olds running too fast early in the year, he had matured faster than any horse I'd seen in a long time and I felt we hadn't seen the best of him; that there was still room for further improvement. His fractions of :24 2/5, :23 2/5, :23 3/5, :24 2/5 and :06 2/5 in the Tampa Derby were very strong and he once again came home his final sixteenth in fast time. When (Javier) Castellano reared back and hit him right-handed about 50 yards from the wire, he jumped back to his left lead, indicating he doesn't need or want any encouragement. What was most impressive was the 7-length gap between runner-up Outwork and the third horse, and in spite of his lack of experience, Outwork was always thought to be something special, as he showed in the Wood Memorial.
This colt has always possessed the physical tools to be a top-class horse. He just needed his mind to catch up. Ever since he was a baby, he's been quick, strong, and athletic. But when those attributes are combined with a stubborn streak, it often results in exercise riders being tossed on their fanny, as was the case with this colt. But now that he apparently had matured mentally and become a professional racehorse, there was no telling how high he could ascend. To demonstrate how much he improved in a short time, he beat Rafting by 2 1/4 lengths in the Sam Davis and beat him by 10 1/4 lengths in the Tampa Derby. Castellano tried pulling him up on the turn, but he wanted no part of that either, tossing his head around, and actually took off again nearing the backstretch. In short, he had shown the class, toughness, pedigree, speed, and foundation you want to see in a Derby horse in a year when few can boast that.
But as it turned out, by winning the Tampa Bay Derby as impressively as he did, he won the battle but lost the war. In April, 2012, Twin Creeks co-owner Steve Davison purchased the Ragozin Sheets speed figures, and when he discovered Destin's Ragozin figure was through the roof, with a monstrous jump, as was his Thoro-Graph figure, which jumped from a "7" in the Sam Davis to a "negative 3/4" in the Tampa Derby, it turned the colt's path to the Derby completely upside down. He had done too much too early and was now in danger of regressing big-time.
That forced his connections to re-evaluate his schedule, and, as speed sheets pundits, they had little choice but to change their original plan of prepping for the Kentucky Derby in the Blue Grass Stakes. Going by the "bounce" theory, that would have been a disaster and might have knocked him out for the big race and the entire Triple Crown. The lesser of the two evils was to buck history and go straight into the Derby off an eight-week layoff, something that hadn't been done in modern times. And horses don't win the Derby having never run farther than 1 1/16 miles.
Their chances would be severely compromised either way. By training up to the Derby off such a long absence, they likely would have a short horse at Churchill Downs, but at least this way they would have a shot at the Belmont Stakes, where he could get back on a good pattern, coming off the Derby and five weeks.
As it turned out, Destin, in finishing a respectable sixth in the Derby, beaten seven lengths, ran a "2" on Thoro-Graph, a bounce of 2 3/4 points even with the eight-week layoff, but not a bad number by any means.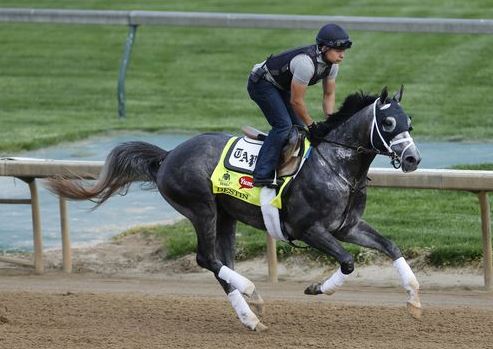 That set him up for his monster effort in the Belmont Stakes, in which he looked like a sure winner in mid-stretch, only to be caught by Creator right on the wire.
Now, with the Jim Dandy under his belt, that brings us up to date going into the Travers. It's been a strange path getting here, with a great deal of adjusting, whether it was his schedule or his equipment. Pletcher even put a shadow roll on him for his final work; anything to get him to focus more.
Assuming Destin did not fire his best shot in the Jim Dandy and didn't have his mind fully on the race, and assuming that with or without a shadow roll he will be more focused with a faster, more contentious pace, a larger field, and stretching out to a more favorable distance of 1 1/4 miles, there is a good chance we will see the real Destin in the Travers…at a good price.
This is a tough race to handicap, because almost every horse pointing for it has a shot to win, and we'll see what happens if Exaggerator, by far the most accomplished horse I the field, gets a rare fast track. Bob Baffert has two talented and rapidly improving colts in American Freedom and Arrogate, and Chad Brown is loaded with three horses, Connect, Gift Box, and My Man Sam, all of whom are still unfinished products, but in excellent form. And who knows what the hard-hitting Governor Malibu is capable of if he finally gets to the outside with a clear run. Many feel he was the best horse in the Belmont Stakes and should have been right there in the Jim Dandy with a clean trip. Of course, you can never throw out Gun Runner and Belmont Stakes winner Creator. And will they leave Laoban alone on the lead again? Not likely.
So, with all this talent, can one be that confident in Destin's chances? He should get a good trip, sitting just off the pace, he's fast enough to beat these horses, and we know he'll love the mile and a quarter. It all depends on where his mind is. At the odds he's likely to be, it's worth banking on Destin being at his best. And how about a Destin – Governor Malibu exacta box if you really want to make a killing?
I'm posting this column now, not even waiting for Tuesday's post position draw, as I don't believe post position will affect him whether he's on the inside or outside. Plus, I can always update after the draw if need be.
This is strictly a handicapping column, looking for a live overlay in the Travers, and has nothing to do with rooting interest. It's just that if Destin runs the race he's capable of, at the price he's likely to be, I would hate not having him. We have too much history, going back to the early days of the Derby Dozen.
http://cs.bloodhorse.com/blogs/horse-racing-steve-haskin/archive/2016/08/22/destin-best-in-travers.aspx