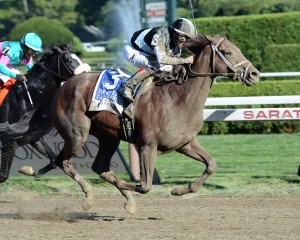 Capo Bastone Returns to So Cal for Breeders' Cup Tilt
Capo Bastone has drawn post 9 of 14 horses set to do battle over 6 1/2-furlongs on turf for a purse of $1 million.
Joel Rosario will reunite with the son of Street Boss, who has been installed at 8-1 on the morning line in which the co-favorites are posted at a tepid 5-1.
Post time for the Grade 1 Breeders' Cup Turf Sprint is set for 2:05pm PT on Saturday at Santa Anita.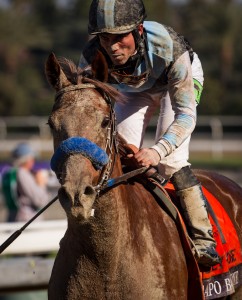 "To win any race, let alone a Championship Grade 1 affair, everything must go absolutely right and all of the pieces to puzzle must slide into place accordingly," Eclipse President Aron Wellman acknowledged. "From the time Capo Bastone won the King's Bishop in late August we have targeted this race and as we sit here today, 5 days out, absolutely everything has gone as smooth as one could hope for, including the post position draw.
"If we had the 1st draft pick of the 14 post positions available, the 9-hole would have been our selection," Wellman said. "It's an ideal slot and we're pleased as can be with the draw. Joel (Rosario) knows Capo Bastone (teamed up for a 3rd in last year's $2 million Breeders' Cup Juvenile) and he know the unique hillside layout, so we anticipate a good trip in which Capo can find his rhythm early and wind up to swoop by the field when it matters most. We are very enthused about his prospects in this important race."
Trainer Todd Pletcher chimed in and provided, "Capo Bastone could not be coming into the Breeders' Cup any better. He has worked consistently well for the past 6 weeks in New York. Physically and mentally he's on top of his game. We breezed him on the turf a few times over the summer and he really took to it, so while it's always a question about surface until a horse runs over it, we are confident Capo will relish the grass as well as the downhill configuration at Santa Anita. We are really high on him."
The full field, including post positions and Daily Racing Form comments, is as follows:
Breeders' Cup Turf Sprint, $1 million, about 6 1/2 furlongs turf, 3-year-olds and up
Post: 1
Horse: Jeranimo
Trainer: M. Pender
Jockey: V. Espinoza
Comment: Will love getting back on turf as he won a Grade 1 on it three starts back; has no downhill experience
Odds: 12-1
Post: 2
Horse: Rock Me Baby
Trainer: C. Dollase
Jockey: J. Talamo
Comment: Had a tough trip when seventh in the Eddie D., but that hardly means this will automatically be easier
Odds: 30-1
Post: 3
Horse: Chips All In
Trainer: J. Mullins
Jockey: D. Moran
Comment: Prevailed in a blanket finish in the local prep for this; merits respect on his fine downhill course record
Odds: 5-1
Post: 4
Horse: Reneesgotzip
Trainer: P. Miller
Jockey: E. Maldanado
Comment: Was a good third in this last year in her first and only start on turf; also been away, also runs big fresh
Odds: 5-1
Post: 5
Horse: Caracortado
Trainer: M. Machowsky
Jockey: G. Stevens
Comment: Beaten less than a length when fourth in the Eddie D. off a near 21-month layoff; can improve off that
Odds: 8-1
Post: 6
Horse: Boat Trip
Trainer: M. Pender
Jockey: R. Bejarano
Comment: Ran his best race yet when nosed by Chips All In in the Eddie D.; deep closer would need a good trip
Odds: 8-1
Post: 7
Horse: Tightend Touchdown
Trainer: J. Servis
Jockey: J. Castellano
Comment: Hasn't finished worse than second in seven starts since the claim, but might prefer a shorter distance
Odds: 12-1
Post: 8
Horse: Handsome Mike
Trainer: D. O'Neill
Jockey: M. Gutierrez
Comment: His four starts since his Poly win at Keeneland went from dull to dreadful; way too erratic to endorse
Odds: 30-1
Post: 9
Horse: Capo Bastone
Trainer: T. Pletcher
Jockey: J. Rosario
Comment: Idle since his shocking King's Bishop upset; has never raced on turf, but won on Polytrack in his debut
Odds: 8-1
Post: 10
Horse: Havelock
Trainer: D. Miller
Jockey: J. Graham
Comment: Rebounded from unsuccessful trip to England with a decisive Woodford score; added distance helps
Odds: 10-1
Post: 11
Horse: Spring to the Sky
Trainer: B. Brown
Jockey: J. Velazquez
Comment: A steady sort when properly spotted, but he would be way out of his element in this; no thanks
Odds: 30-1
Post: 12
Horse: Mizdirection
Trainer: M. Puype
Jockey: M. Smith
Comment: Away since June, but won this race last year off a longer layoff and is 5 for 5 on the downhill course
Odds: 4-1
Post: 13
Horse: Dimension
Trainer: C. Murphy
Jockey: D. Moran
Comment: Overcame a slow start to win a turf sprint stakes at Woodbine two back, but against lesser company
Odds: 12-1
Post: 14
Horse: Unbridled's Note
Trainer: S. Asmussen
Jockey: C. Nakatani
Comment: A narrowly beaten second in this last year as the tepid favorite; eligible to improve on recent return
Odds: 8-1