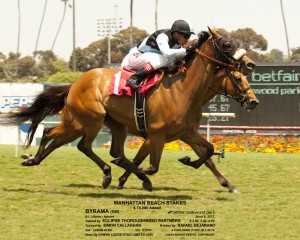 Byrama Live In $85,000 Sandy Blue Stakes at Del Mar Friday Night
Byrama will be well fancied in Friday night's running of the $85,000 Sandy Blue Stakes at Del Mar. Seven sophomore fillies will line up to face the starter and traverse the flat-mile circuit of the spinach Where The Turf Meets The Surf. Simon Callaghan will provide a leg up to Garrett Gomez, who will do his best to navigate a beneficial journey from post 2.
Coming off her lone off-the-board result of her career when fourth in the Grade 2 San Clemente last month, Byrama has trained well in recent weeks and holds a class edge over many of her rivals on Friday evening.
"Look, Byrama is a legitimate Stakes caliber filly who is arguably unlucky not to have a Graded win on her resume as well," stated Callaghan. "She's honest as the day is long and is a fantastic filly to train and send out to race. Last time in the San Clemente she was a bit lazy and dropped herself way too far behind a moderate pace and although she turned in her typical flourish at the end, it was too little, too late. We're hoping to get a more tractable trip for her on Friday while still preserving her finishing kick.
"Byrama has trained with loads of energy of late and I think she's coming up to the race in fine form," Callaghan added. "She always inspires confidence and we're hopeful that she'll put forth one of her top efforts. She's a lovely, talented filly who's deserving of the success she's achieved because she tries so hard and is a true professional."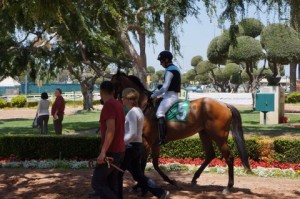 While Byrama is the lone Stakes winner in the Sandy Blue field, she will have to bring her best to get the better of some up and coming fillies, including Customer Base, who was impressive while defeating a group of nice older fillies in a second level allowance race earlier in the stand, as well as Graser, Lady Ten, Cozze Up Lady and the upstart filly, Jolly days.
"We adore Byrama for her talent, tenacity and fantastic disposition and sturdy constitution," Eclipse President, Aron Wellman admitted. "She's been a heck of a campaigner for our stable and she's a true pleasure to be associated with. We're hoping she provides us with another thrill on Friday with one of her wicked explosions to reel in her competition in the lane."