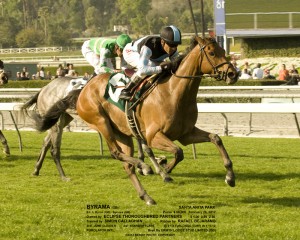 Byrama Essays Grade 3, $100,000 Senorita Stakes In Inglewood
BYRAMA ESSAYS GRADE 3, $100,000 SENORITA STAKES IN INGLEWOOD
GRADED-PLACED DAUGHTER OF BYRON WILL BREAK FROM POST 5 OF 7
JOSE VALDIVIA, JR. TAKES OVER THE CONTROLS FOR SIMON CALLAGHAN
SOPH WILL GET HER FIRST TASTE OF HOLLYWOOD PARK LAWN SATURDAY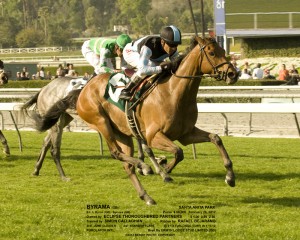 Byrama has been an extremely productive member of the Eclipse Thoroughbred Partners racing stable since the filly was acquired from Europe last year. On Saturday at Hollywood Park, she will have her best opportunity yet to win a Graded Stakes race when she goes to battle versus 6 other sophomore fillies scheduled to traverse a flat-mile on the Hollywood Park spinach in the Grade 3, $100,000 Senorita Stakes.
Jose Valdivia, Jr. gets the call for trainer Simon Callaghan and he will be faced with the constant challenge posed by Byrama to convince her to settle in the early stages of her races. Knowing that Valdivia would be riding Byrama for the first time in the Senorita, Callaghan and Eclipse President, Aron Wellman, made certain that the Panamanian journeyman got a feel for the frisky filly by breezing her the past 2 weeks.
To the team's delight, Byrama has seemed to quite like Valdivia on her back and the filly has put forth 2 of her best workouts since arriving on American soil in recent weeks leading up to her tilt at the Senorita.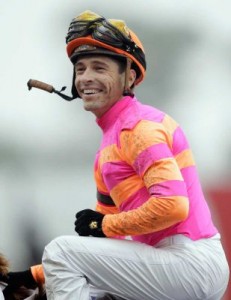 "Byrama is in tremendous form at the moment," assured Callaghan. "Jose seems to really get on well with her, which is a really good sign, as she can be pretty tough on jockeys. A mile is probably her ideal trip and if she gets a bit of pace to run at and she relaxes early, I'd like to think she'll be coming home like a rocket. We're going into the race with confidence, Jose has studied her races and knows her preferred style and we are hopeful of a positive result."
Wellman said, "It's been interesting managing Byrama's race placement the first half of the year and we've asked a lot of her and she's never disappointed. The Senorita, because of its timing and the flat-mile distance, has always been a race we thought she'd have a really good shot to win. There are some really nice, unexposed fillies in this race, so it will be no easy task, but if Byrama brings her A-game, it could be an exciting final quarter-mile. She's a filly who has lived up to every challenge and it would be the icing on top of the cake for her to notch a Graded race."
Post time for the Senorita, which is carded as the 5th race on Saturday at Hollywood Park is 1pm PT, 4pm ET.