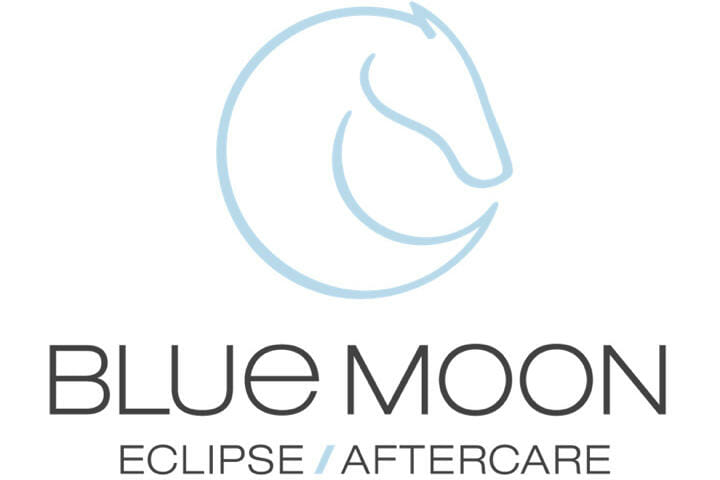 Blue Moon 2021 Happenings
It was business as usual for our Eclipse Blue Moon Aftercare in 2021.  Eclipse's in-house Aftercare Program was busy helping retired Eclipse horses, 3rd party thoroughbreds in need as well as participating alongside charities which contribute to the overall well-being of our industry.
For those partners who are new to Eclipse, Blue Moon Aftercare, which was launched in July of 2018, is essentially a 401k to insure the safety of our past and present horses that need to be retired.
Thanks to our partners, who make a contribution to Blue Moon every time an Eclipse partnership is formed, which is matched by Eclipse, Blue Moon has devoted significant funds towards meaningful causes, including donating to relevant charitable organizations, claiming horses in "danger zones" and also responsibly retiring numerous horses to Thoroughbred Aftercare Alliance accredited facilities.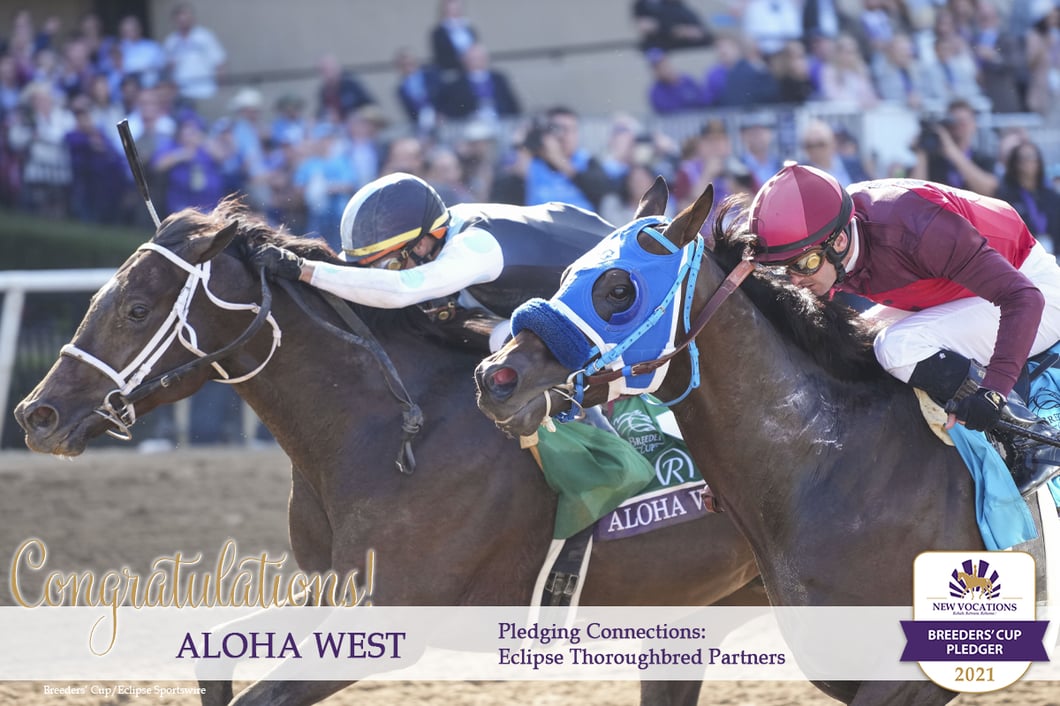 Here's a look back at what Blue Moon was able to accomplish this year:
Retiring Our Horses
Pipes was claimed from Eclipse and Dogwood Stable at Saratoga in September of 2019. Pipes was the last horse to carry the Dogwood colors. While he had several wins since he was claimed from us, we continued to follow his career and ultimately decided that we needed to claim him to retire when he was in for $5,000 at Laurel Park. It was only fitting that the last Dogwood horse returned to Aiken, SC. He received a hero's welcome at the Equine Rescue of Aiken where he was greeted by Mrs. Anne Campbell and Jack Sadler. Pipes was eventually adopted and has stayed in Aiken, SC where he belongs. Pipes retired with 22 starts and over $200,000 in earnings.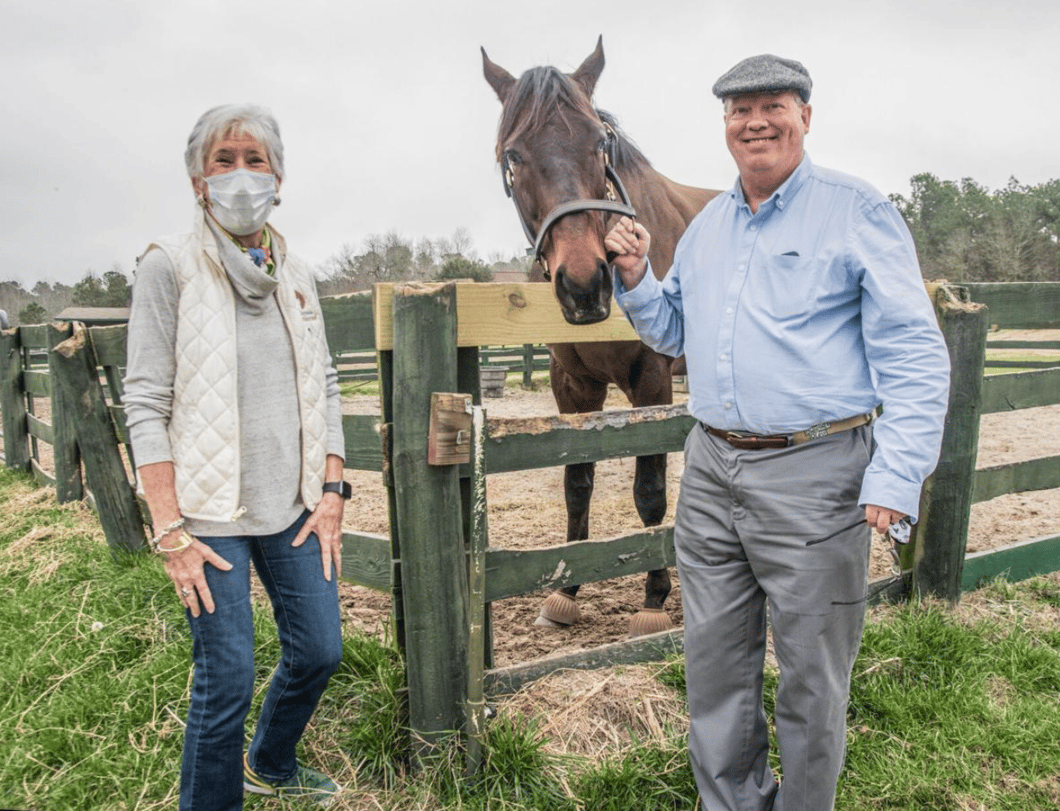 Demon was donated to New Vocations in February after he was not the "speed demon" we had hoped after 4 starts for Eclipse. Unfortunately, he just wasn't cut out to be a racehorse. After a few months at New Vocations settling into life after the track, he was adopted by a young family in Eugene, Oregon. His new owner said she cried with joy seeing him step off the trailer noting how beautiful he was and all the things he could be. He is now known as Rolly around the barn. We are very happy for the Boose family and look forward to seeing how he progresses.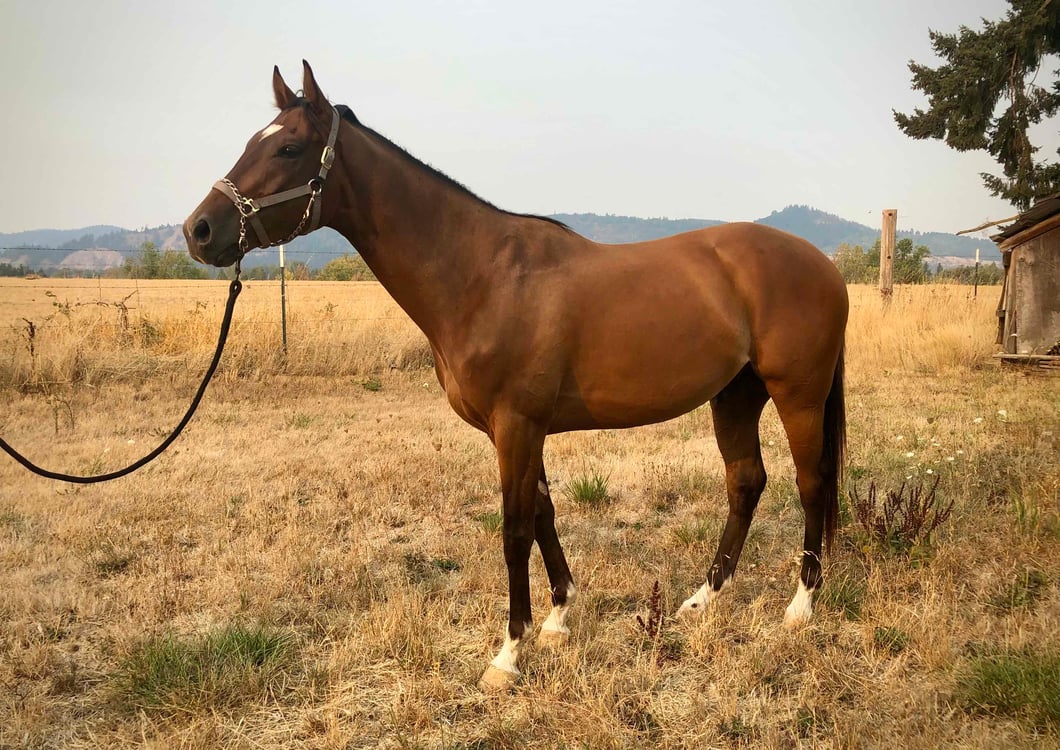 Ohio, rare $50,000 claim in partnership with Bruce Treitman just shy of 3 years ago, would go on to capture the G1, $400k Frank E. Kilroe Mile at Santa Anita in 2019 and 3 consecutive editions of the Cotton Fitzsimmons Memorial at Turf Paradise, including a win this season at the age of 10. Ohio retired sound and calls Lucky Kid Farm in East County San Diego home where he is now a part of the Wellman family. Both Aron and his daughter, Sadie, have ridden Ohio and while we aren't sure the showring will be his thing, he is a good lesson horse as he is patient and kind to all that are around him. Ohio and his trainer, Michael McCarthy, represented all that is good about this wondrous sport and he will forever be part of the Eclipse family.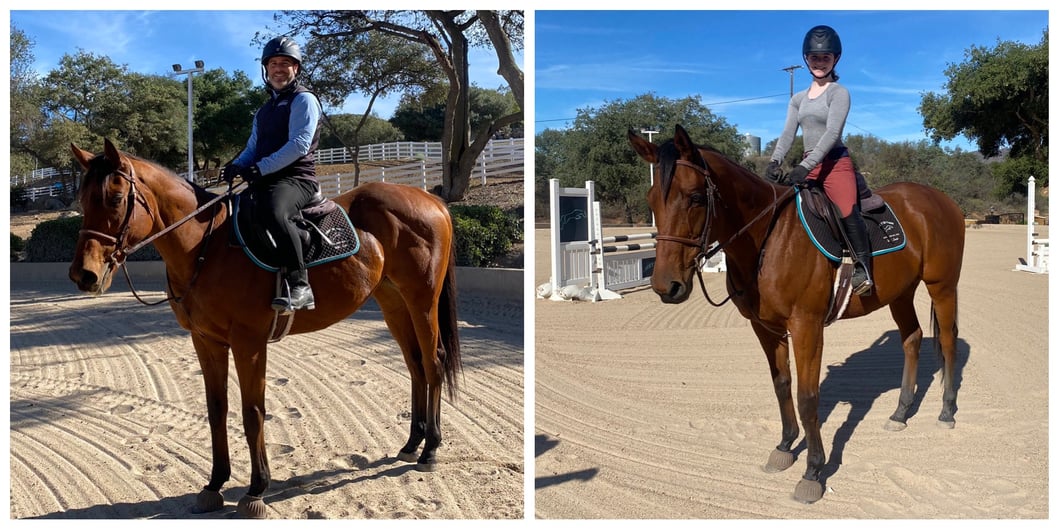 Gesture, claimed from Eclipse in the summer of 2020, had gone through the claiming ranks from Belmont Park to Mountaineer. After trying to make contact with the trainer several times, we put a plan in motion to claim her back with the help of a trainer from Lexington. Gesture was in for $4,000 on May 17th at Mountaineer and everything was set for Blue Moon to claim her, but there was a 3 way shake and we lost. I tried to offer her new owners $5,500 to take her off their hands that night, but they wanted to run her. Needless to say, we claimed her back the next race and she is now at New Vocations. She is the queen of the paddock and enjoys hanging out with the other retired girls. She will be starting training soon for a secondary career and hopefully find her forever home.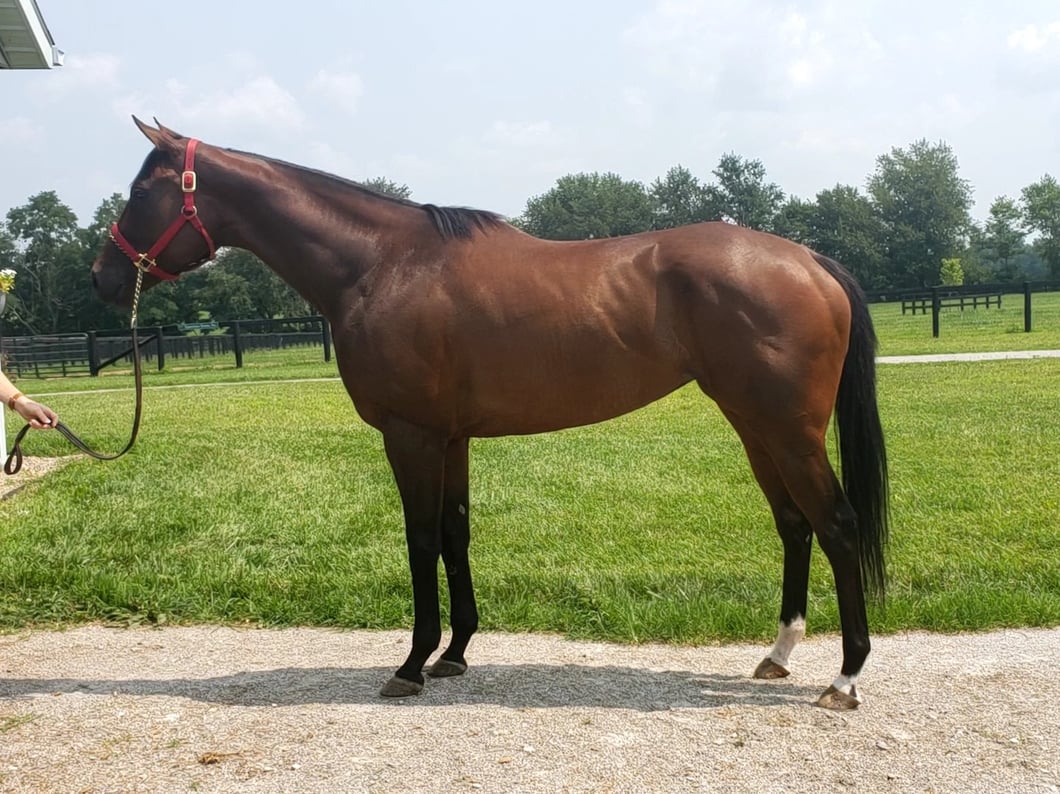 McCovey Cove was retired and found a new home with the one and only Olympic rider, Phillip Dutton. He was a member of Australia's Gold Medal Three-day Eventing Team in the 1996 Atlanta and 2000 Sydney Olympic Games, and also won a Bronze medal as an individual for the United States in the 2016 Rio Olympic Games. McCovey Cove's trainer, Graham Motion, and his wife, Anita, are very close with the Dutton family and everyone agreed that McCovey Cove would be great for his program. We are excited about his future. You can read more about Phillip and Evie Dutton at this link: https://phillipdutton.com/phillip-dutton/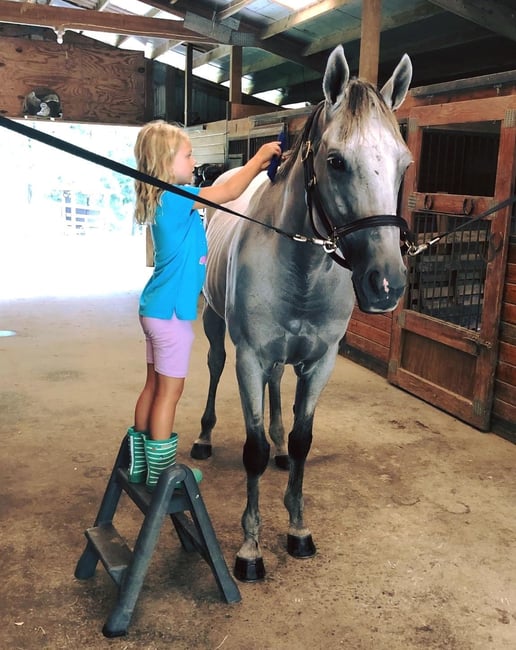 Cowboy Rhythm was a horse we had in our 2020 edition of Blue Moon, but I wanted to give an update as he was officially adopted this past summer. After making his way to the US from Puerto Rico with the help of the Caribbean Thoroughbred Aftercare, he landed in Ocala to rehab at SBM with Susan Montayne. Over a 3 month period, Cowboy Rhythm gained weight and his x-rays were looking good, so he then made his way to WinStar where he was born and raised, to do 90 days of turn out. Once given the green light, he was donated to the Secretariat Center to find his new home. He quickly turned into a barn favorite. He now resides in South Carolina with Andrea and her 2 little girls. They LOVE him and it seems that he loves them too.

Mubarmaj was retired this summer in Saratoga and is now under the tutelage of NYRA outrider, Pepe, who was responsible for taking another Eclipse retiree, Curlingo, and making him a rockstar pony. Mubarmaj caught on quickly and really enjoys his new job. I was at the Belmont training track one morning in October and he caught 2 loose horses within 30 minutes of each other. Everyone kept asking Pepe who is that horse? Where did you get him? He is now turned out for some R&R and will come back to Belmont in the spring for more lessons.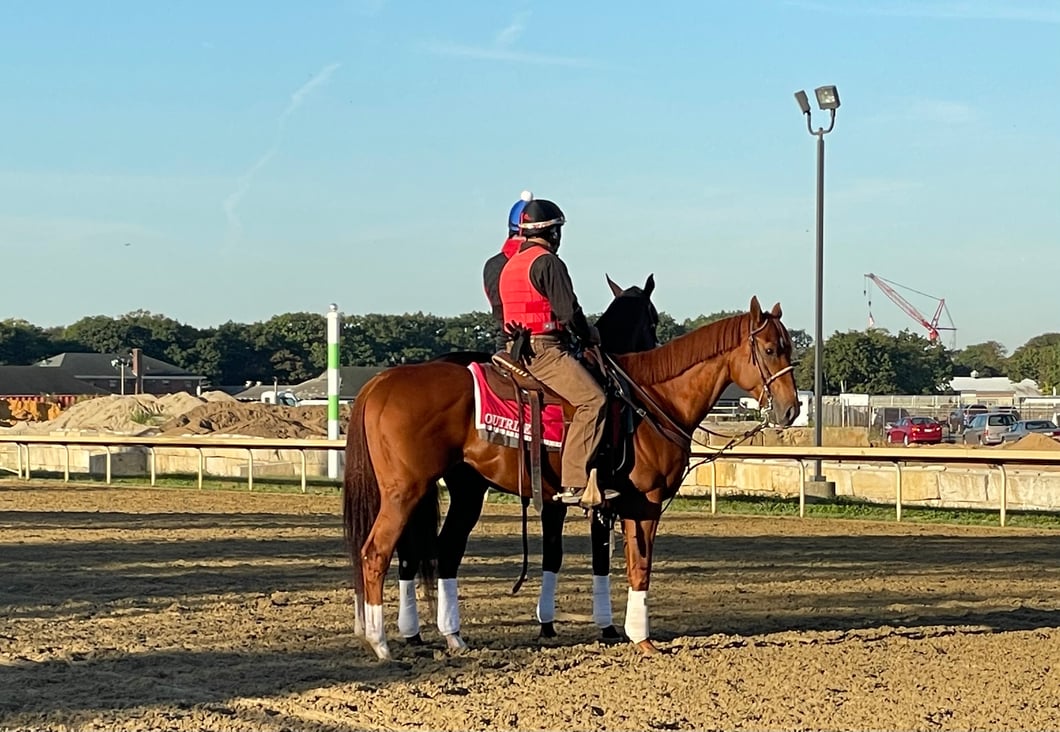 Mission Driven was a horse I followed for years, had several talks with his owner and several trainers he employed. I FINALLY negotiated a private purchase this August before he was to run at Prairie Meadows in Iowa. My father in law, Scooter Hughes, took his trailer to a pretty rundown training center in Harrodsburg, KY, loaded the son of Awesome Again and off they went to New Vocations. Mission Driven had several weeks of just being a horse with the sun on his back, eating lush hay and all the attention and mints from the girls at New Vocations. After several visits from the vet, it was with a heavy heart we decided to put him down. His ankle had a terrible infection that was not getting better and it was very painful. It was the humane thing to do to prevent our boy from suffering any longer.  I am so thankful he had those few weeks of rest and relaxation and that he was very loved in the end.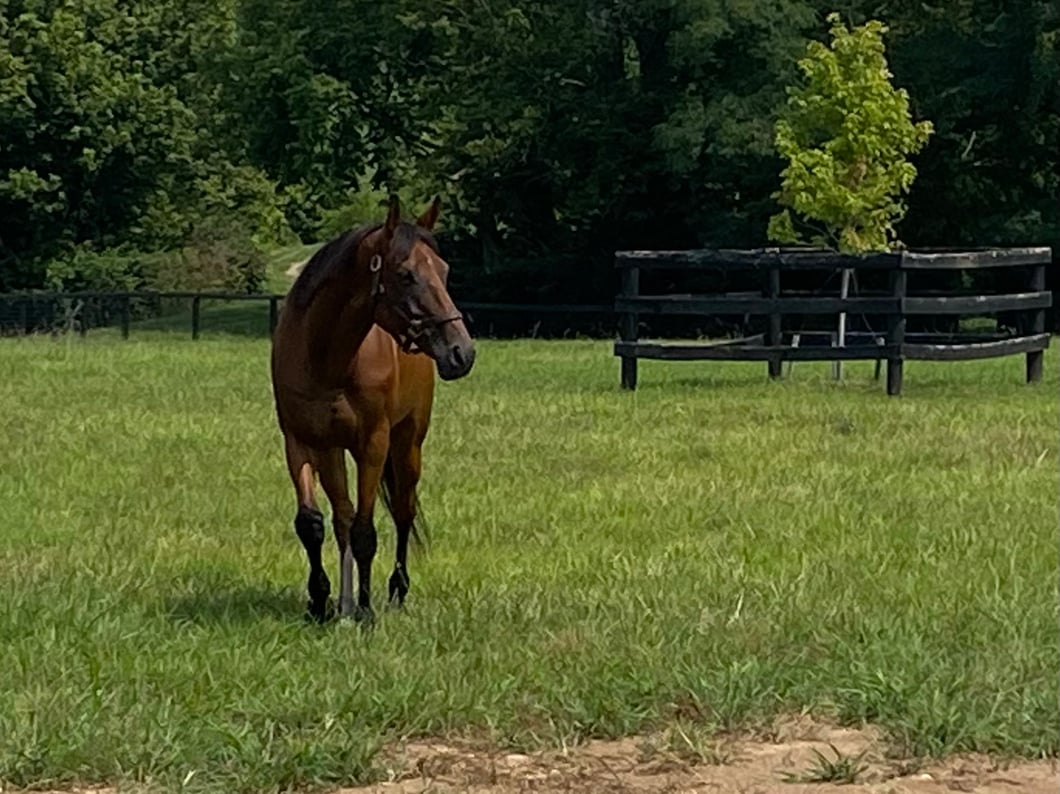 Several other Eclipse horses have been retired this year and have gone to CARMA or New Vocations, including Eagle in the Sky, Courage and Alois. We are grateful to these wonderful organizations who help our Thoroughbreds transition from the racetrack to new careers while providing safe, forever homes. Retirement from racing for many of these Thoroughbreds is just the beginning and it is our duty, our responsibility and our passion to ensure that we look after them as best we can even when they can no longer race.
Update on Past Horses
Graziano is a son of Verrazano and the fast Eclipse Mare, Undisputed.  He suffered a career ending injury and was placed with one of his mama's original owners and breeder, Alice Bamford. Graziano now lives in Malibu with another Eclipse retiree, Champagne Charlie. Here is Alice's son and Graziano going for a ride this summer.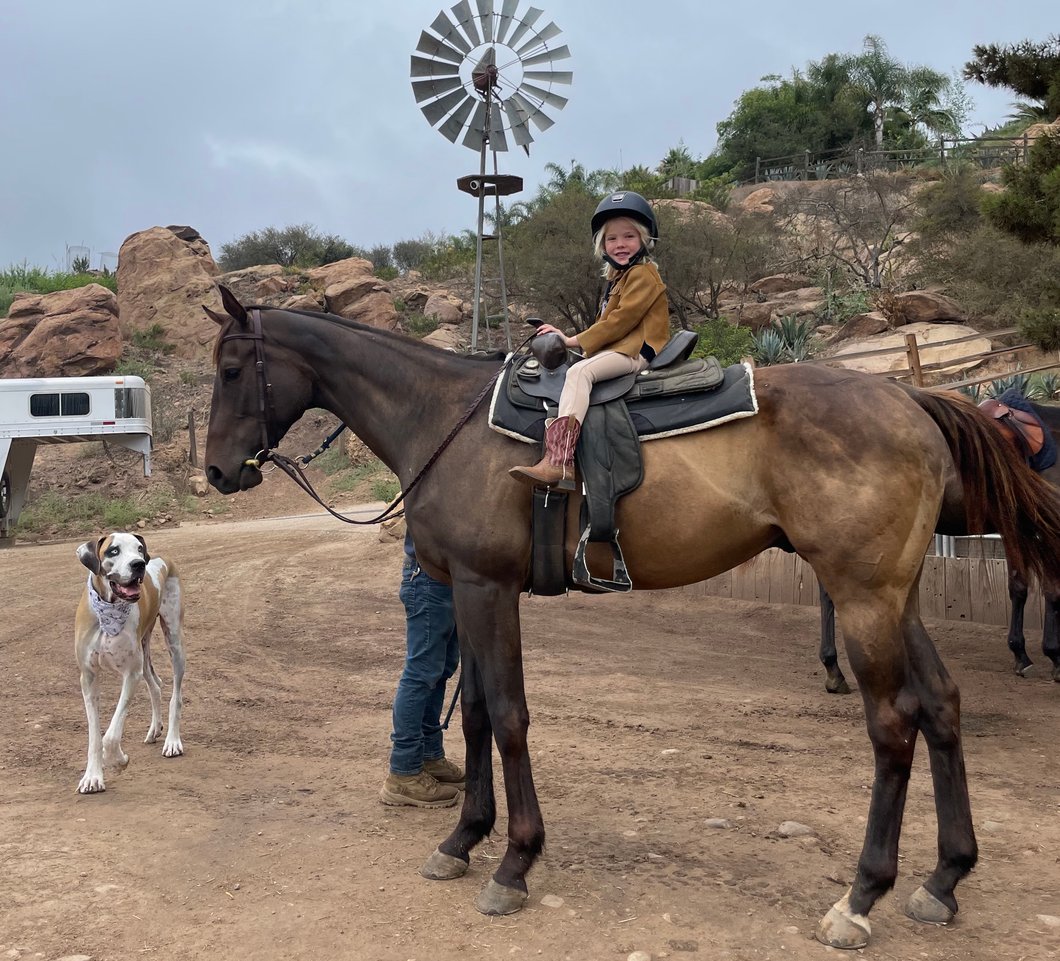 Curlingo has graduated from NYRA outriding pony to Todd Pletcher's full time barn pony at Belmont Park. He has accompanied Eclipse's own Graded stakes winner, Con Lima to the track in the morning, as well as Kentucky Oaks winner, Malathaat. He loves just about any treat imaginable and getting daily pets from Laura the crossing guard at Belmont Park.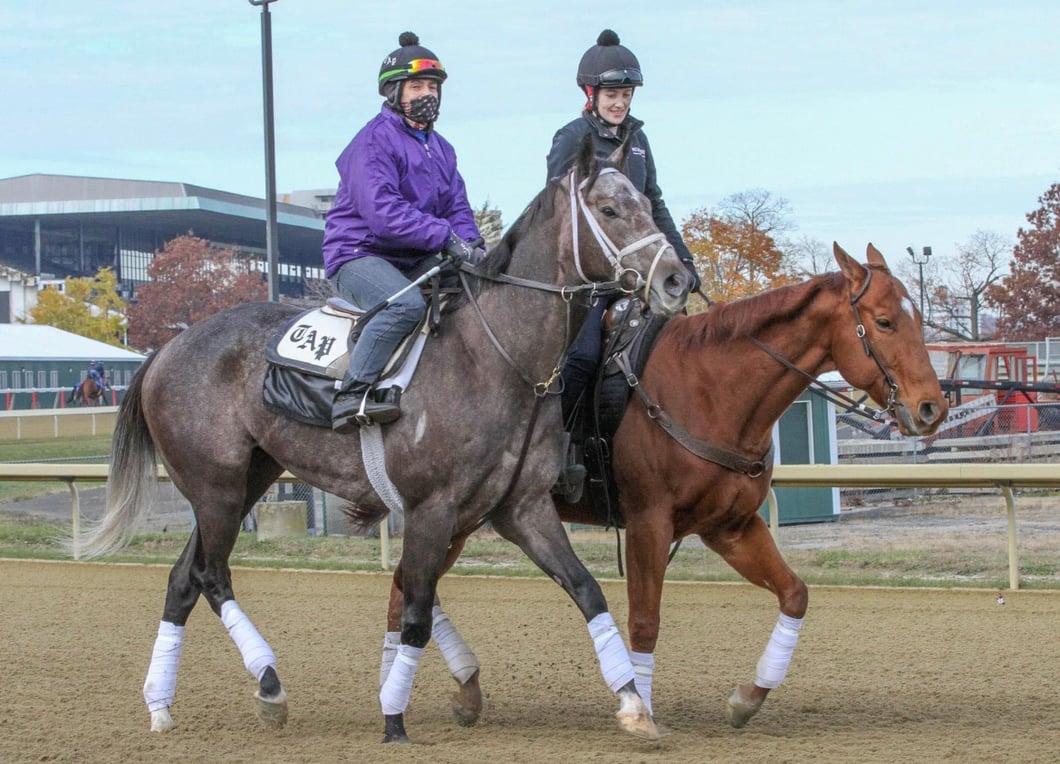 Blue Moon Mama Updates
Camorra was claimed back by Blue Moon is 2020 and has really settled into broodmare life at Stone Farm in Paris, Kentucky. She is currently in foal to Coal Front and we are looking forward to seeing her baby this spring. Here she is fat and happy.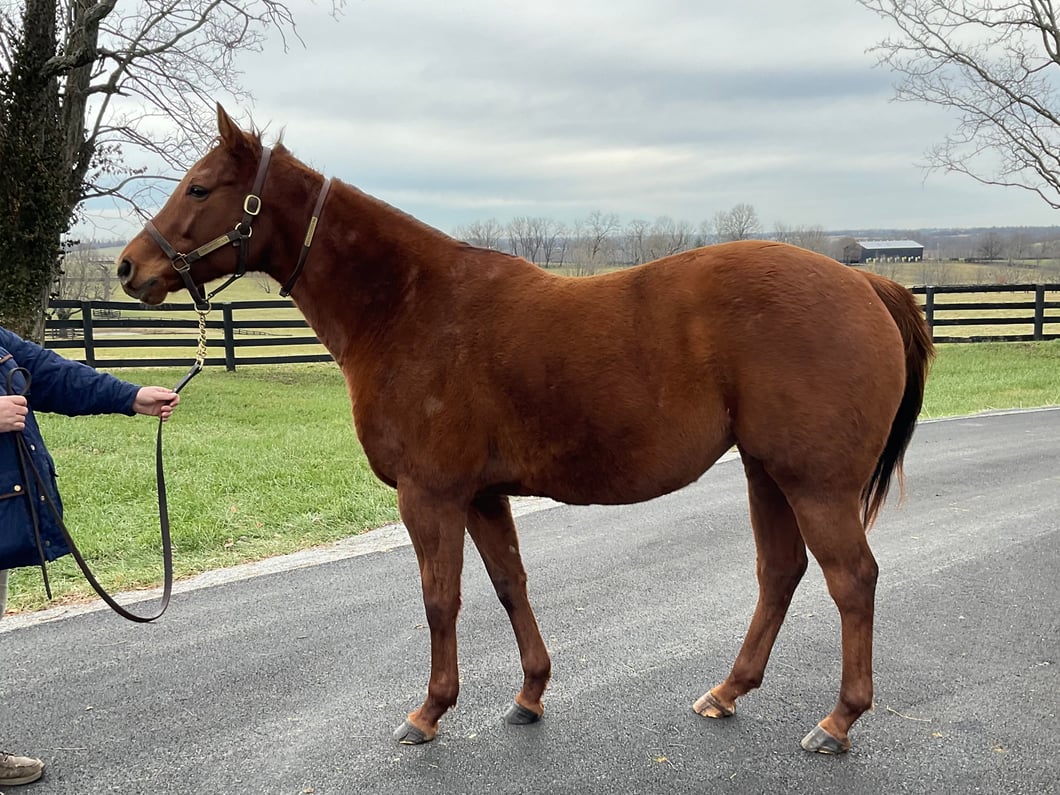 Speakers, our CA-Bred filly that was in a rescue situation last year, is in foal to Sir Prancealot at Checkmate Thoroughbreds in California and will be bred back to him again in 2022. We are excited to see her foals and hope they have talent like their mama!
Whisk was a mare from Washington state we told you about in our Blue Moon memo last year. She had been claimed from us and then retired but after a few years the woman who owned her decided to downsize and could no longer care for Whisk. Since getting her back, she lives at Stone Farm and bred her to Mizzen Mast. She had a really nice filly this past March. She is currently in foal to Mr. Speaker. Below is a photo of her Mizzen Mast filly.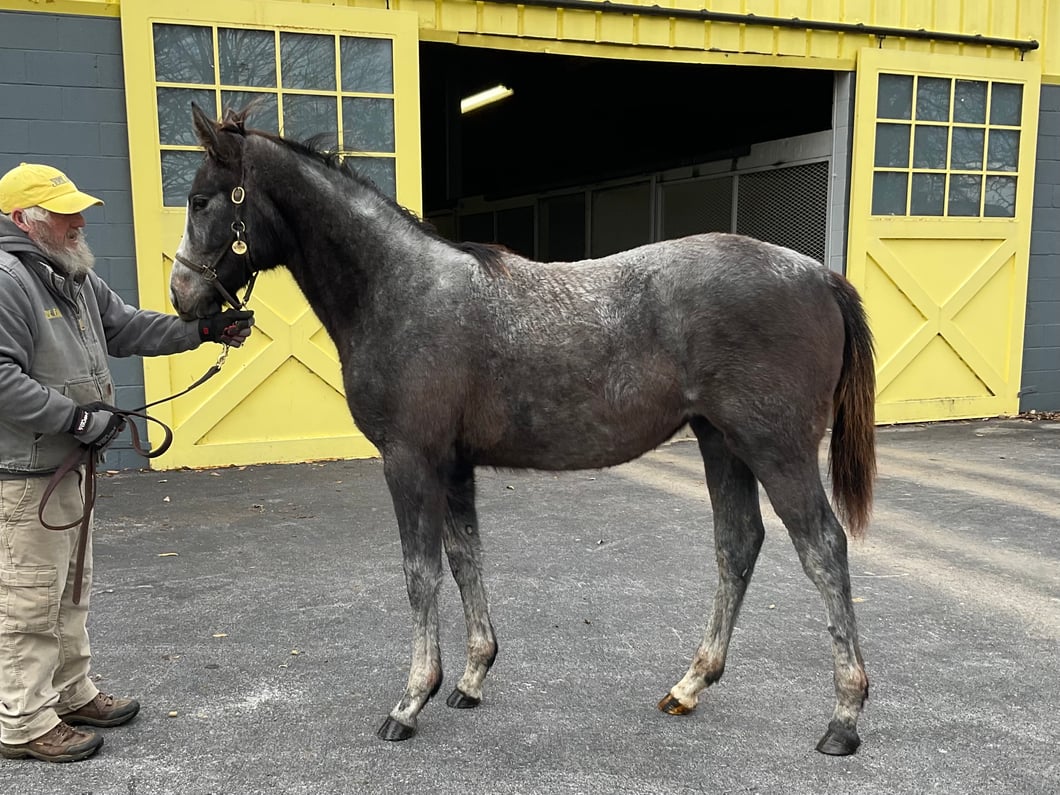 Charity
Since 2018 Blue Moon has donated over $80,000 to several charitable organizations, including the Thoroughbred Aftercare Alliance, New Vocations, CARMA, Win Place Home, Ride On – Therapeutic Horsemanship, New York Racetrack Chaplaincy and the Edwin J. Gregson Foundation in California. It was an extra special Breeders' Cup with Aloha West as Eclipse, the Aloha West Partnership and Blue Moon, donated $20,000 to the New Vocations Breeders' Cup pledge with his Grade 1 Sprint win. We are proud to be able to do our part to keep the industry's horses and human participants who make it all possible safe and healthy on and off the track.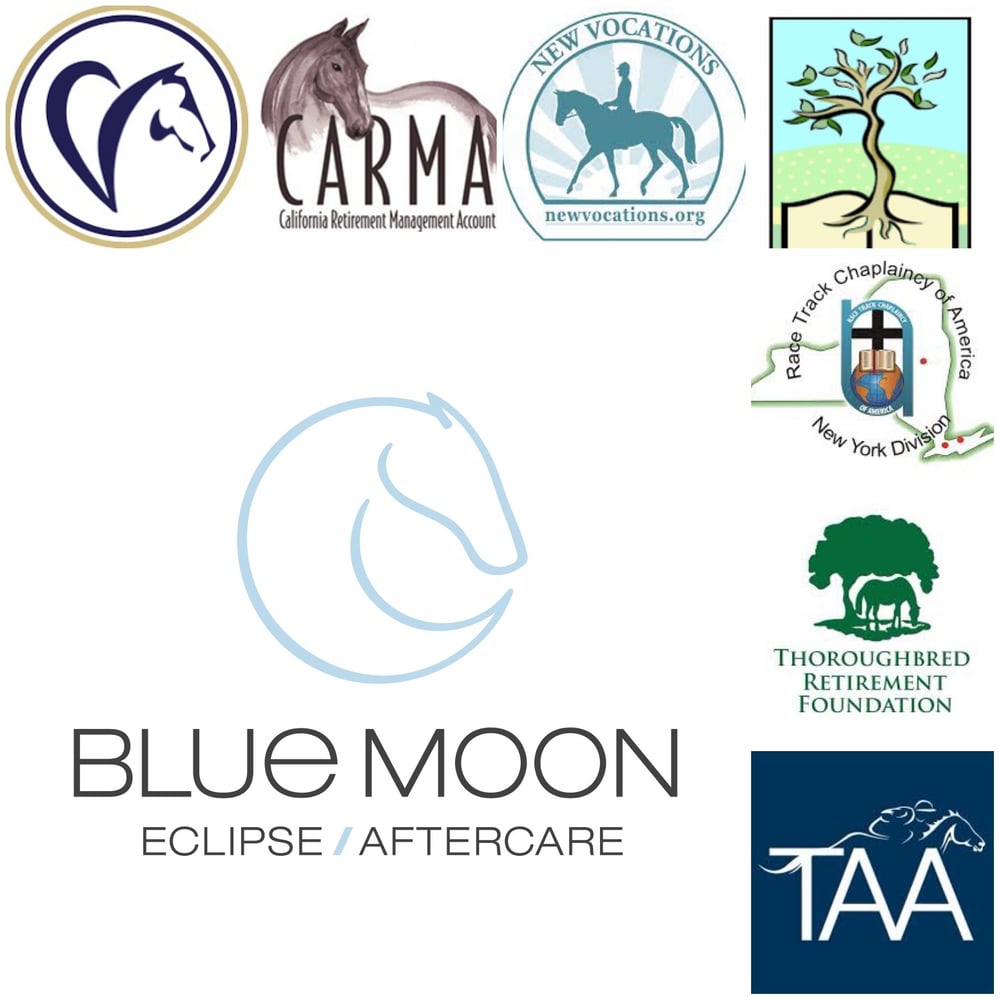 This past October I was elected to the Thoroughbred Retirement Foundation Board of Directors to further my commitment to aftercare. As you know, taking care of our equine athletes after their racing career is over is of the utmost importance to me and I am happy to give back to the industry that has given so much to me.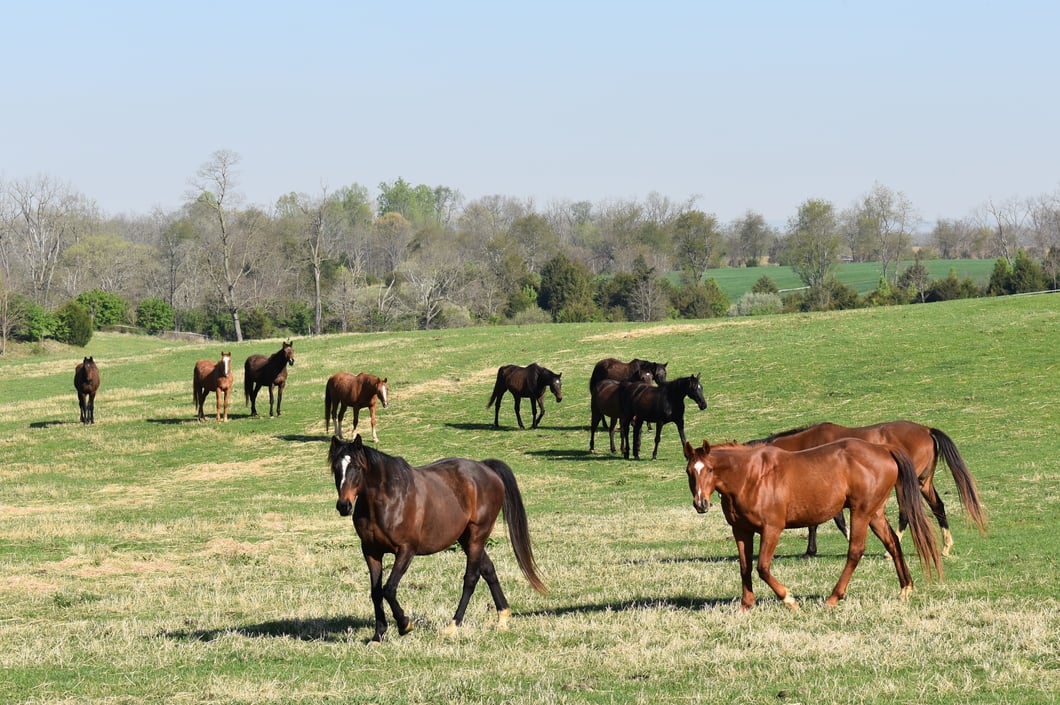 Thank you to all our partners who believe in our program and support the aftercare of our horses. We couldn't do this without all your generosity and for always having your priorities and hearts in the right place! If you would like any suggestions on the different aftercare organizations to donate to this holiday season, please don't hesitate to ask!