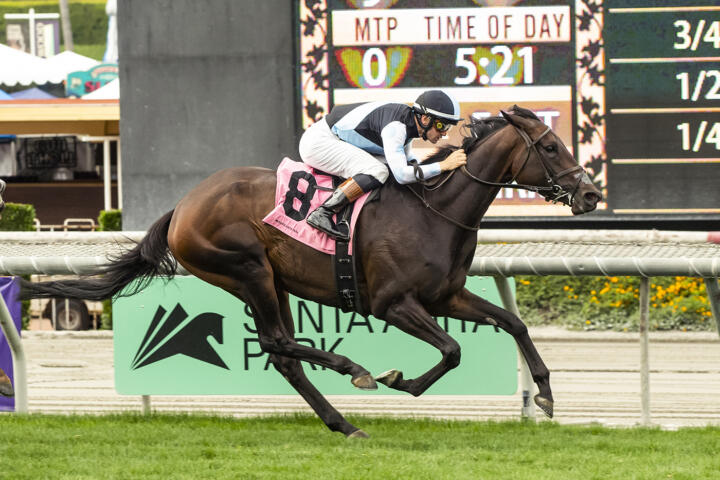 Anisette the one to beat in San Clemente off impressive last start
By Brad Free DRF
On the second day of the Del Mar season, horses, trainers, and bettors are basically starting from scratch and mindful of a summer handicapping precept – fresh horses are preferred at the competitive eight-week meet.
Plenty of fresh horses will run Saturday at Del Mar. They include a lightly raced French import whose impressive U.S. debut stamps her a contender in the Grade 2 San Clemente Stakes; a turf-sprint comebacker who trains as if she will relish two turns in the $100,000 Osunitas Stakes; and a deep field of unraced juvenile fillies that includes a speedy upset candidate.
The aforementioned contenders are all fresh – Anisette will make just her second U.S. start in race 9, the one-mile San Clemente for 3-year-old turf fillies; Honey Pants also makes her second start of the year, in the race 7 Osunitas for turf fillies and mares; debut filly Ashley will try to use her speed to upset first-time starter Dua in the maiden sprint, race 8.
Beyond new faces, an abundance of horses entered 11 races Saturday – average field size is 10.6 not counting also-eligibles. Sixteen entered the San Clemente, 14 can start, and none were more impressive last out than allowance winner Anisette. Her rivals include Grade 3 winner Paris Secret; front-runners Ancient Peace and Flying Connection; horse-for-course stakes winner Comanche Country; and stretch-out sprinter Spicybug.
Leonard Powell trains Anisette for owner Eclipse Thoroughbred Partners. The filly delivered as she was expected to in her U.S. debut. "Our expectations were pretty high," Powell said. "The unknown was to go against older so early in the season [May 29]."
The only 3-year-old in the entry-level allowance, Anisette was rank early, anchored while saving ground, split horses in the stretch, rallied inside, won going away, and galloped out super past the wire. She ran faster each successive quarter-mile – 24.78, 24.26, 23.32, and 23.16 – and it turns out she beat a good field.
Two who finished behind Anisette won next time out; three others returned to finish second. Umberto Rispoli rides Anisette in the San Clemente. With clear sailing and another powerful rally, Anisette can win again. "She's done very well, very straightforward, no hiccups," Powell said. Anisette has won 2 of 4.
The San Clemente pace scenario suits Anisette's late style. Flying Connection, the Sunland Park Oaks winner, set the pace all three routes including a sixth-place finish in the Kentucky Oaks last out. To her outside is Ancient Peace, a need-the-lead filly who finished second last out on dirt in the Grade 2 Summertime Oaks. Flying Connection and Ancient Peace insure a strong pace.
Phil D'Amato starts a pair in the San Clemente including Paris Secret, third as a favorite last out in a stakes race, with an alibi. After her win in the Grade 3 Providencia in April, D'Amato planned to sit on Paris Secret until Del Mar. "I was really pointing her for the San Clemente, but the [Grade 3 Honeymoon] came up so weak, I kind of threw in at the last minute," D'Amato said.
Paris Secret raced evenly and finished a distant third. D'Amato will add blinkers to Paris Secret, who sometimes loses focus. "Blinkers on, she's 100 percent fit and training extremely well. I expect a much better performance from her this weekend." Edwin Maldonado rides Paris Secret.
D'Amato also adds blinkers to Comanche Country in an attempt to put her closer to the pace. The filly is 2 for 2 on Del Mar turf; she won maiden and stakes races last summer. Her rider is Ramon Vazquez.
Wed will make her U.S. debut for Powell with top rider Juan Hernandez. Others in the San Clemente include Delight, a Grade 2 winner last year; And Tell Me Nolies, a Grade 1 dirt winner last year; dirt stakes winner Infinite Diamonds; synthetic-surface stakes winner Ocean Club; and stakes winners Olivia Twist and Fast and Shiny. Broadway Girls and Justique are also-eligibles.