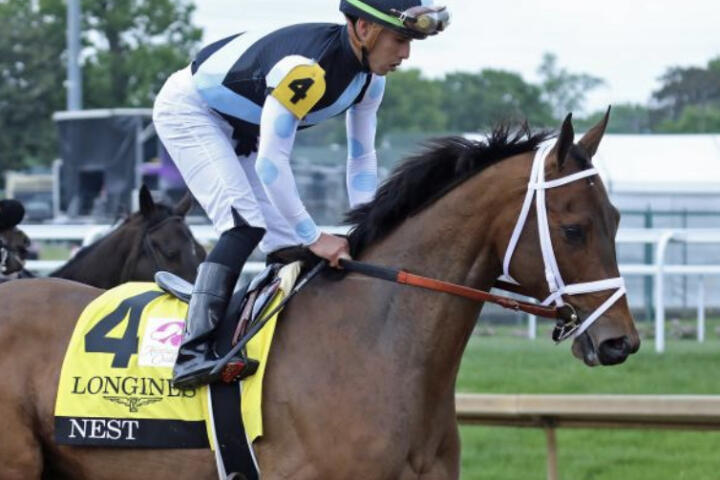 2022 Belmont Stakes: Nest makes her case with show of stamina
ELMONT, N.Y. – When it comes to the 154th Belmont Stakes on June 11, the connections of the filly Nest are letting her try to sell them on the idea of running.
Friday, after the fog had lifted at Belmont Park, Nest took another step toward making that decision a little clearer with the way she went in a stamina-building workout alongside stablemate and possible Belmont Stakes favorite Mo Donegal.
The pair went five furlongs in 1:03.18, according to Daily Racing Form, with a final quarter of 25.15 seconds over the Belmont main track. While the time won't wow anyone, it was the gallop-out after the wire that impressed Todd Pletcher, the trainer of both horses and a three-time Belmont Stakes winner. Nest, on the inside, and Mo Donegal went out six furlongs in 1:16.21, seven furlongs in 1:28.68 and a mile in 1:41.53.
Jose Ortiz, who won the Preakness aboard Early Voting, was aboard Nest for the work and would likely ride her in the Belmont, Pletcher said. Irad Ortiz Jr., who is the regular rider of both Mo Donegal and Nest, was aboard Mo Donegal, whom he will ride in the Belmont.
"What I particularly liked was the three-eighths after the finish line," Pletcher said. "When I told them on the radio to let them go ahead and let them go out another eighth, both riders said both horses jumped up underneath them and showed they still had something left in the tank, so I was happy."
Mo Donegal's participation in the Belmont is a no-brainer. In April, he won the Grade 2 Wood Memorial – beating subsequent Preakness winner Early Voting – and was a creditable fifth with a wide trip in the Kentucky Derby. Pletcher-trained colts Palace Malice (2013) and Tapwrit (2017) both won the Belmont after running in the Derby and skipping the Preakness.
Pletcher's first Belmont victory came in 2007 with the filly Rags to Riches, who dominated that year's Kentucky Oaks.
The decision to run Nest is not clear-cut. Yes, she won the Grade 1 Ashland, but she finished second in the Kentucky Oaks behind Secret Oath, who ran fourth in the Preakness. As a daughter of Curlin – second to Rags to Riches in the Belmont – and with Belmont winners A.P. Indy and Seattle Slew in her pedigree, Nest certainly has the breeding for the 1 1/2-mile race.
"Pedigree-wise it's a no-brainer," Pletcher said.
Last year, Pletcher had considered running Kentucky Oaks winner Malathaat in the Belmont. But she lost a little bit of weight coming out of the Oaks and was given more time.
"With this filly she hasn't done anything to discourage me from continuing to think about it," said Pletcher, who trains Nest for Mike Repole, Eclipse Thoroughbred Partners, and Michael House. "So, I'll get together with the connections later, and we've all been on the same page as far as let's let her sell us on the idea of running."
Below is a link to Nest's breeze: