Gallery
Overview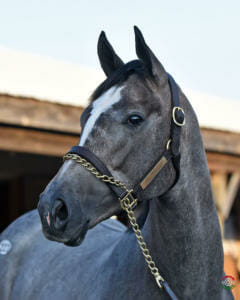 On Monday at the Fasig-Tipton Mid-Atlantic 2 Year-Old In-Training Sale in Maryland, Eclipse believes the company managed to strike gold in the form of a stunning daughter of Tapit, the greatest stallion in North America, if not the world over, having sired countless stars, including Eclipse's own Classic hero, Tapwrit.
This filly, now named Knock, is by the aforementioned super-sire, Tapit, and she is out of the Graded Stakes-winning mare Fencelineneighbor, who has transferred her prowess as a race mare into the breeding shed, having produced a trio of Black-Type performers from just 6 foals to race, an incredible strike rate.
The pedigree requires no further elaboration, as Knock is royally bred and possesses inherent residual value, regardless of whether she delivers on the racetrack.  However, Eclipse is of the opinion that in conjunction with her splendid pedigree, Knock is immensely talented. Her well respected consignor, Niall Brennan, stated in no uncertain terms, "This filly has the ability to develop into an elite race mare.  Eclipse stole one today.  It may prove to be the best buy of the entire 2 year-old sales season."
The Eclipse scouting team feels the same, as Knock's breeze preview was magnificent, streaking through her 1/8-mile circuit in a sharp 10 2/5, zooming through a 1/4-mile in 21 4/5 and then polishing off 3 furlongs in 35 on the money.  Knock was fluid, yet powerful while exhibiting a massive reach, indicative of a filly who possesses speed and the ability to carry it over a route of ground, on any surface.
Eclipse is in a state of sheer astonishment at the value Knock was able to be secured at on Day 1 of the sale, as are numerous major players in the industry who have either offered Eclipse an immediate profit on the filly, or who have requested to join the partnership.  But, Eclipse is intent on presenting the opportunity to participate in a filly with this much "Blue Sky" to its core client base and to allow as many partners as possible to recognize the significant upside a prospect like Knock presents.
No time has been wasted in presenting this genuine filly and no time has been wasted in sending her directly to Todd Pletcher in Saratoga where the Master himself will condition Knock for a fruitful racing career.
Walking Video
Knock is a lovely model, synonymous with the elegance and grace customary of Tapit's best fillies. Although progeny of Tapit can be a bit on the flighty side, this gal is level-headed, intelligent and all class. There is definitely something about this filly that suggests she has "it."
Breeze Video
The Eclipse scouting team has a saying for horses who do what Knock did in her breeze preview, which is, "Wrong lead—right way." Knock stayed on her left lead in the stretch and through the wire, but the manner in which she travelled throughout the workout was highly impressive. Many horses who stay on their wrong lead and fail to switch tend to look sloppy or unathletic, but that was hardly the case with Knock, as she was pure as pure can be throughout her drill and displayed a keen level of agility. Over the years, Eclipse has unearthed some serious gems by recognizing potential in prospects other buyers summarily dismiss, and Knock appears to be that next diamond in the rough.
Her times of 10 2/5; 21 4/5; and 35-sharp ranked among the top tier of not only her "set," but over the course of the entire 3 day preview. This is a quick filly who has the look of a runner who can extend her speed over a route of ground.
Valuation and Costs
| Ownership % | Total Value | Q1 Estimated Expenses | Total Payment |
| --- | --- | --- | --- |
| 6% | $18,000 | $900 | $18,900 |
| 12% | $36,000 | $1,800 | $37,800 |
| 18% | $54,000 | $2,700 | $56,700 |
| 24% | $72,000 | $3,600 | $75,600 |