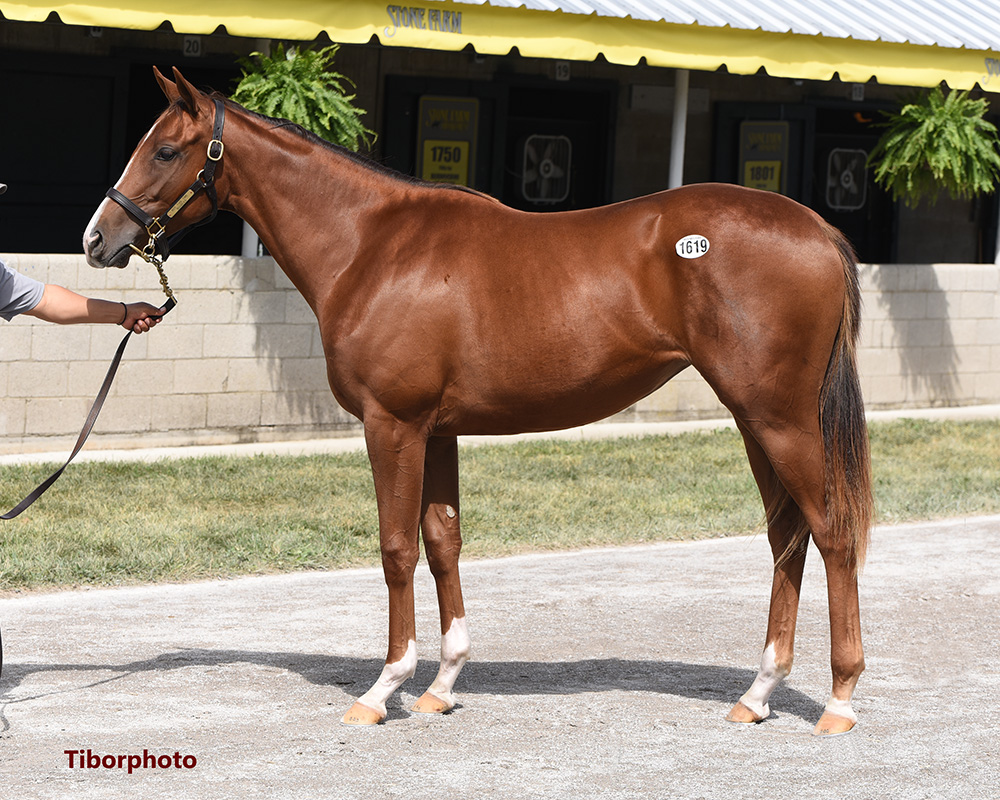 Toodles (Not This Time – Boodles Filly)
Gallery
OVERVIEW & VISION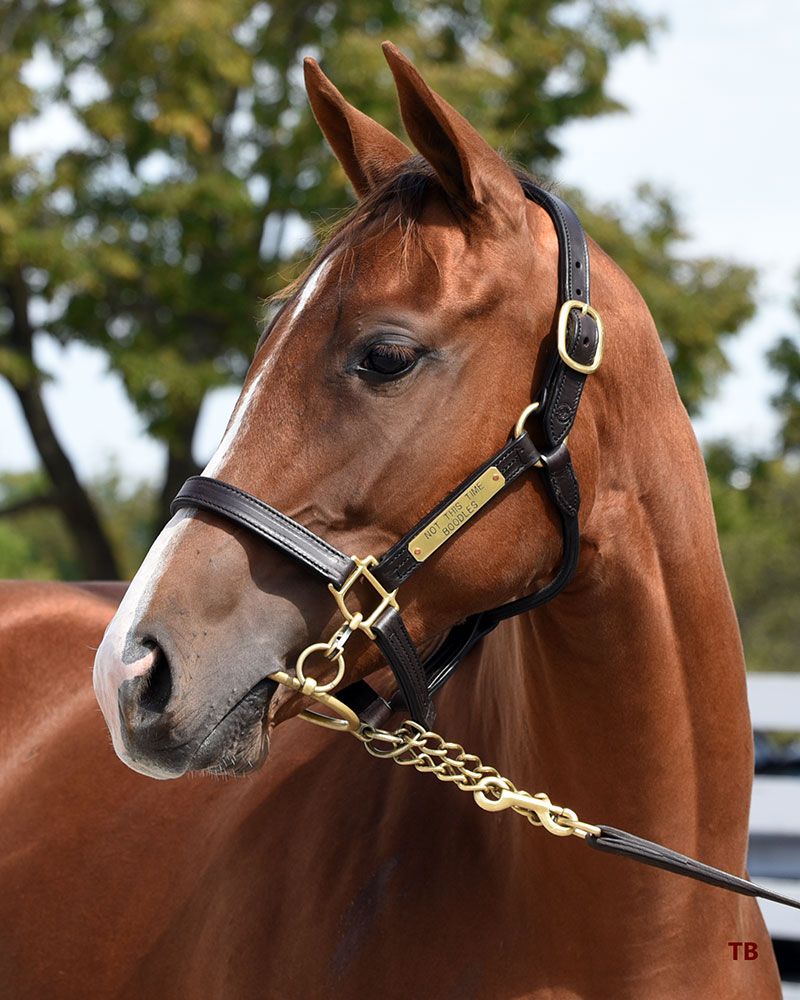 The glitz and glamour come in and out of the 1st week of Keeneland September like the Ocean tide. As over 800 yearlings have already gone through the ring the mammoth sale still has 3,200 yearlings left to offer when Book 3 begins.
Eclipse leaves few stones unturned and we always continue to search for the proverbial diamonds in the rough. Book 3 sees a large influx of the new sires offspring being presented, which gain strong interest and the proven sires offspring can sometimes get overlooked.
Taking a page out of Cot Campbell's playbook, Eclipse struck very early in the 2nd session of Book 3, capturing a beautiful daughter of sensational sire Not This Time within the first 30 hips on the day. This stunning daughter had all the class and presence that you see in top fillies.
Being in Barn 15, she was located directly next to the large sales pavilion. This is the most stressful barn location on the entire Keeneland complex, yet every time we saw her, she could care less about all the excitement and craziness just yards away, oozing exceptional intelligence.
Eclipse has excelled with 2 daughters of Not This Time already in the multiple Stakes-winner, Vacay, as well as the Graded performer and brilliantly fast filly, Procrastination. So, we know a good Not This Time filly when we see one and Toodles certainly matches that criteria in every respect.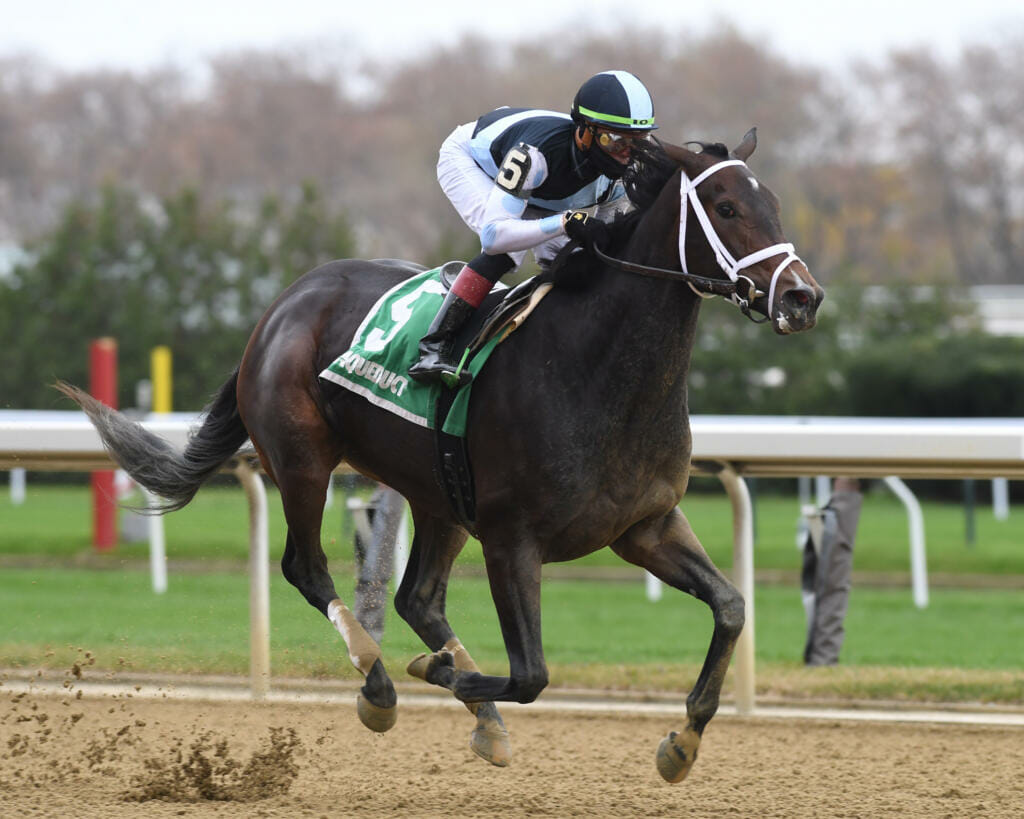 Susan Montanye is a master horsewoman who has a knack with #EclipseFillies during the breaking and training process and when she turns them over to Michael McCarthy at the big track, the synergy is unparalleled.
We cannot wait to see Toodles wave goodbye to her competition when she takes her talents to California next Spring and beyond.
***To access Aron Wellman's in-depth overview and analysis of Toodles, click on this link:
CONFORMATION
Not only did Toodles show all the right mental ingredients, but her physical attributes complimented the cerebral attributes perfectly.
Toodles is ideally balanced with a great hind leg and as good of a shoulder as you can place on a filly with length and a deep heart girth. Her neck ties in nicely to her shoulder and has good length, strengthening her balance and a lovely head with a kind eye.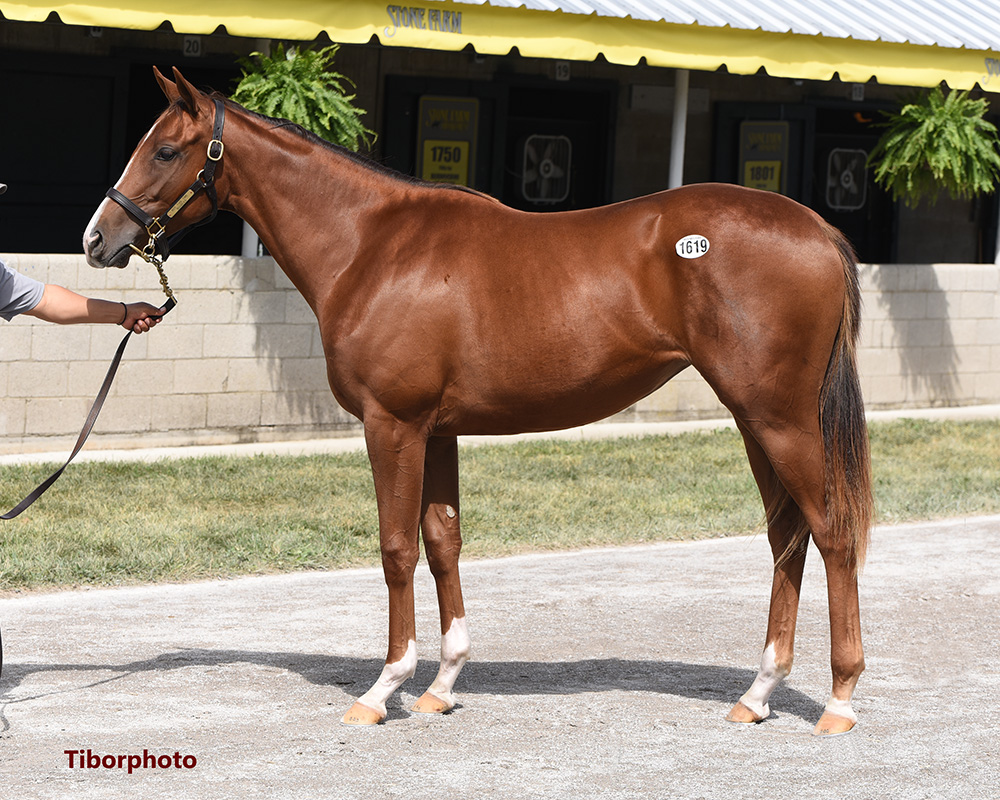 She moves well over the ground with an athletic stride and is very correct.
There is something about this filly which screams loud and clear that she has all the makings of a top caliber racehorse.
PEDIGREE
Not this Time is doing his best to challenge Into Mischief as the greatest heir to the Storm Cat sire line.
Those are big words to use, but Not this Time already has 5 Grade 1 winners, 13 Graded Stakes winners, 2 Champions and multiple millionaires in only 4 crops of racing age! Last season he stood for a gaudy $135,000 stud fee and will see another price hike again this season as he proves he can get fillies, colts, sprinters, routers, turf, dirt, you name…it they just flat out run!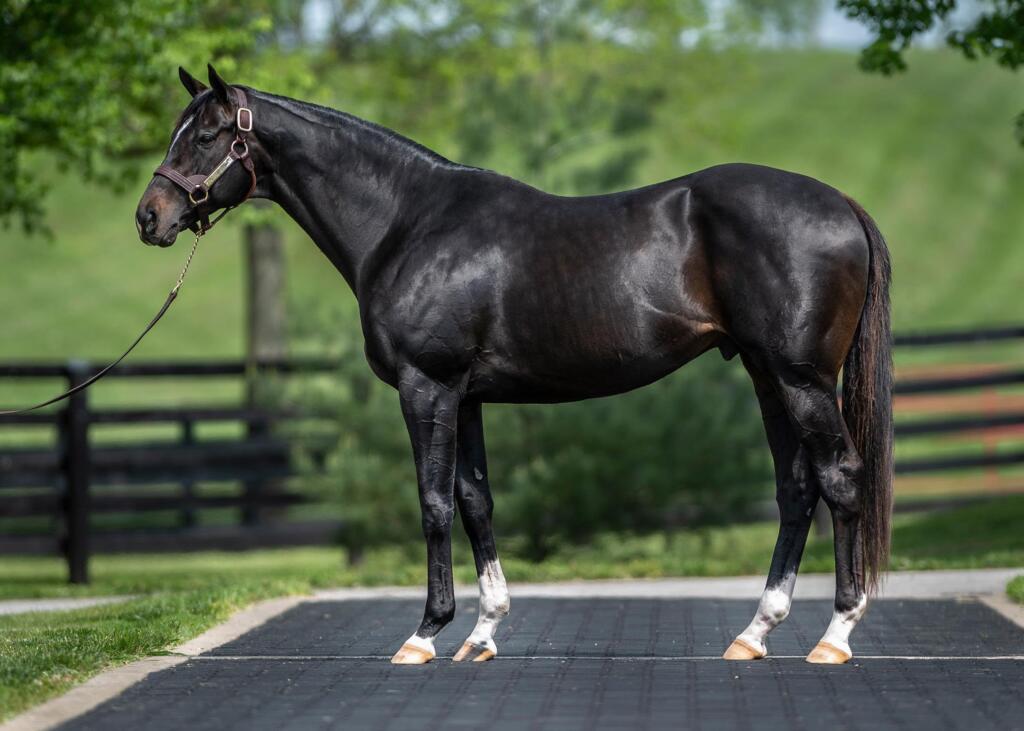 Toodles is bred on a proven cross of Storm Cat over Mr. Prospector, being out of a multiple Stakes-producing Mr. Greeley mare. This is the same cross as Authentic, who was a multiple Grade 1-winning Champion and Horse of the Year who is from a Storm Cat sireline and out of a Mr. Greeley mare.
Boodles has produced 4 winners to date with a 3yo Arrogate knocking on the door of winning, too. Of those winners, 2 are Stakes-winning Graded horses who have earned over $300,000 and $500,000, respectively.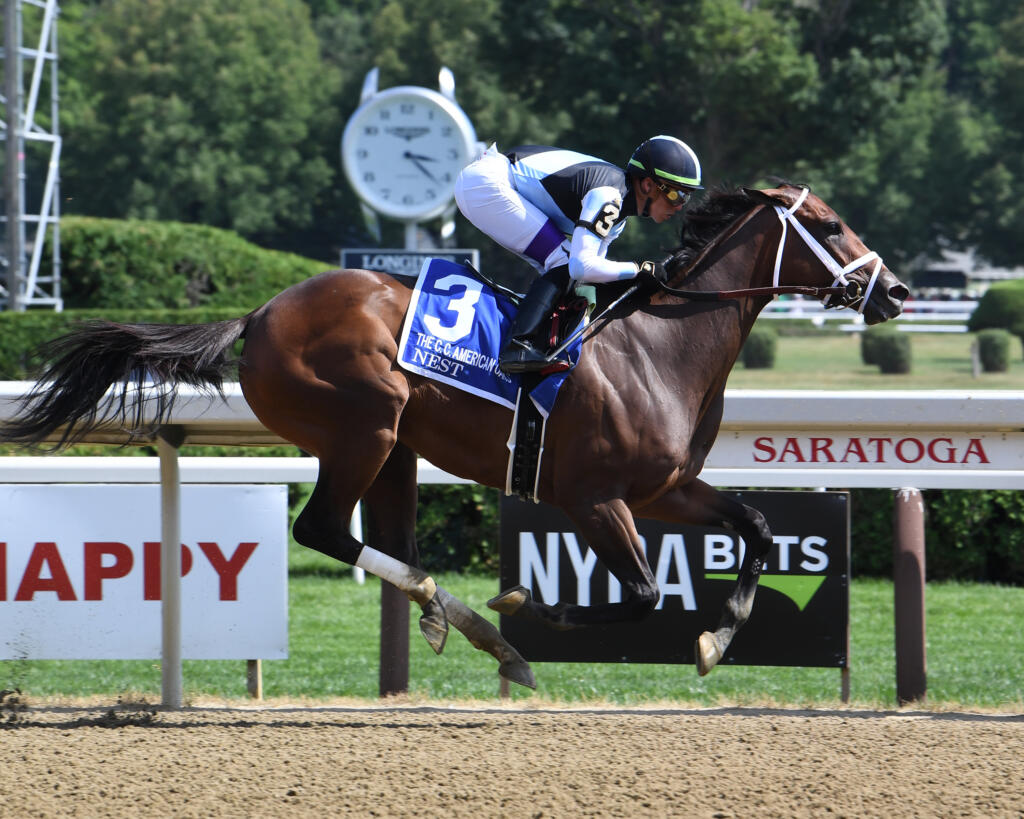 The final key component is where a horse is raised and you would be hard pressed to find a better nursery than Ashview Farm. Located on excellent farmland in Woodford County, Eclipse is one of many buyers who have reaped the benefits of one of the best natural breeding operations in the industry. Just a few years ago Eclipse purchased Nest from Ashview and have enjoyed a wonderful ride including a Championship season. This is just one of many Grade 1 winners to grow on the limestone rich land where they are raised to be racehorses.
To see Toodles' pedigree page, click on the link below:
WALKING VIDEO
To see Toodles' action on the shank:
TRAINER & THE PLAN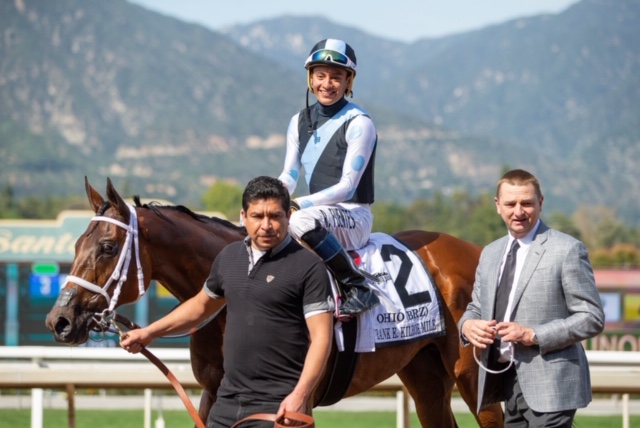 Michael McCarthy requires no introduction, as in a short window of time he's delivered Grade 1 winners and performers for Eclipse such as Illuminant, Ohio, Paved, Vibrance, Speech and Queen Goddess.  Aside from his exploits for Eclipse, he trained the famed City of Light to Breeders' Cup and Pegasus World Cup scores; Rombauer to a Preakness win; and CeCe to multiple Grade 1 wins, including a Breeders' Cup, which propelled her to an Eclipse Award.
Michael is the consummate professional and there's not many trainers in the country who are better at delivering the goods when they have the right horse.
VALUATION
The total 100% valuation for Toodles is $160,000 and we will continue to honor pandemic increments starting at 3%. You can see the chart below for pricing details.
QUESTIONS & COMMITMENT CONTACTS
To ask questions or to make a commitment, please feel free to reach out to any of the following Eclipse team members:

Aron Wellman at Aron@eclipseTBpartners.com or at (310) 968-9559
Jack Sadler at Jack@eclipseTBpartners.com or at (803) 920-9005
Sean Tugel at Sean@eclipseTBpartners.com or at (859) 940-0456
Valuation and Costs
| Ownership % | Total Value | Q1 Estimated Expenses | Total Payment |
| --- | --- | --- | --- |
| 3% | $4,800 | $600 | $5,400 |
| 6% | $9,600 | $1,200 | $10,800 |
| 9% | $14,400 | $1,800 | $16,200 |
| 12% | $19,200 | $2,400 | $21,600 |
| 15% | $24,000 | $3,000 | $27,000 |
| 18% | $28,800 | $3,600 | $32,400 |
| 21% | $33,600 | $4,200 | $37,800 |
| 24% | $38,400 | $4,800 | $43,200 |