Gallery
OVERVIEW & VISION
***To access Aron Wellman & Sean Tugel's in-depth overview and analysis of GOLDEN CANARY, click on this link:
BREEZE VIDEO
Golden Canary had one of the more intriguing workouts of the sale in our scouting team's opinion.
She was prepped by a very conservative consignor not known for cranking up their babies to top the charts and being a daughter of Medaglia d'Oro out of a War Front mare, one would surmise that Golden Canary should be a later-developing type who will ultimately appreciate a route of ground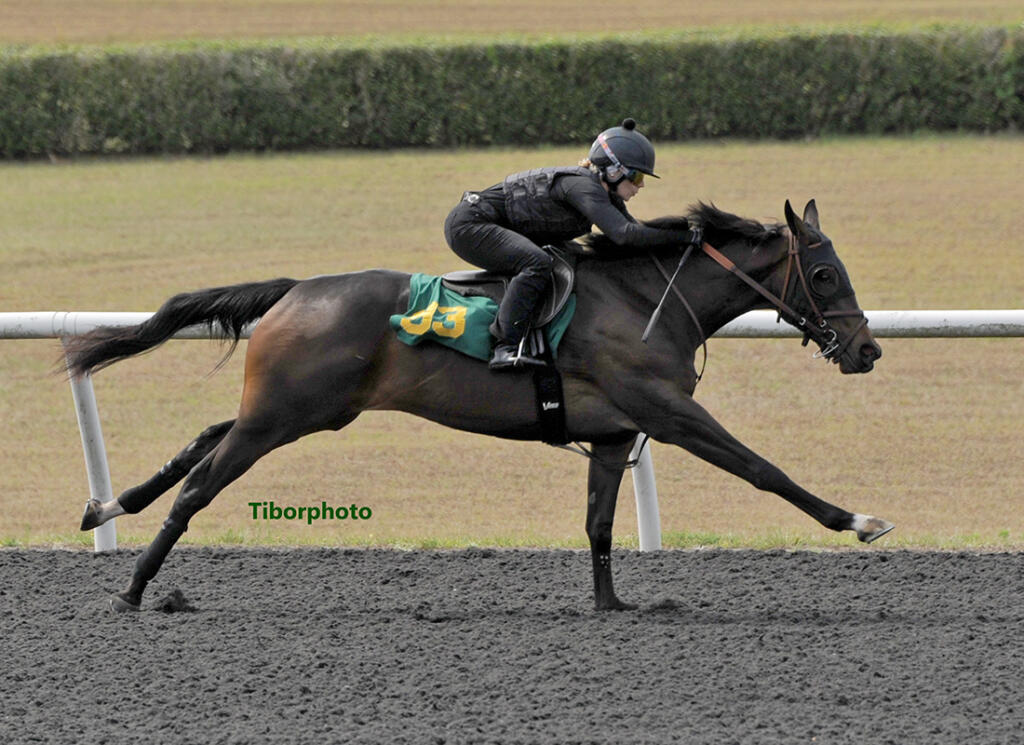 We are huge proponents of appreciating individuals who impress despite not being made to do what that prospect is being asked to do.
And while her splits may not have been upper tier from the sale sample, when given the makeup of Golden Canary, she performed exceptionally well and hinted that she could very well be a serious talent in the making.
The tale of the tape was as follows:
She went 21 4/5 for a 1/4-mile, but where she really caught our attention was with her initial gallop-out 1/8-mile around the turn where she punched the 3-furlong time in a rapid  33 3/5.  This time for 3 poles was awesome, particularly considering the 1/4-mile time and the fact she still kept to task with a 1/2-mile in 47 and change speaks to her endurance and desire.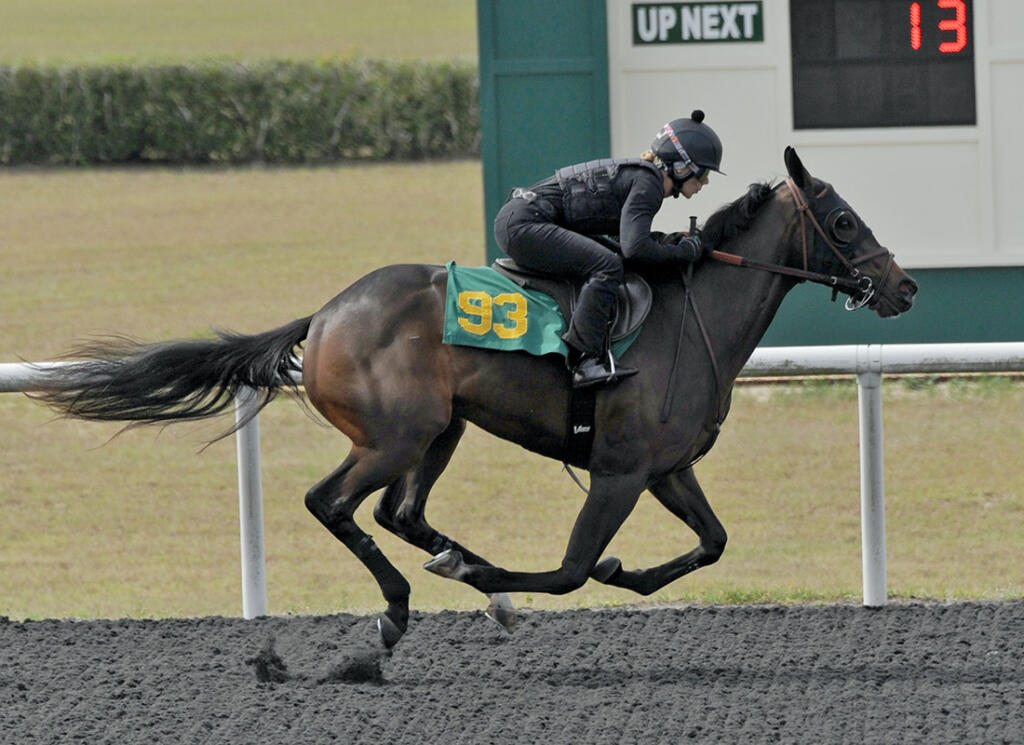 Coming from an operation who doesn't squeeze the lemon dry, we have conviction that Golden Canary has immense upside growth potential and will spread her wings under the tutelage of Hall of Fame trainer, Mark Casse.
To check out Golden Canary's breeze on the track:
WALKING VIDEO
Golden Canary is a total Queen and as intriguing as her on-track performance was in her breeze, she really tipped the scales in her favor when our team inspected her at he barn.
She is elegant and floats over the ground, all the while carrying herself with class and exuding intelligence.
To see Golden Canary strutting her stuff on the shank:
CONFORMATION
This gal is the ideal blend of her legendary sire, Medaglia d'Oro and her damsire, War Front.
When you breed those 2 bloodlines, you hope to receive a specimen in the mold of Golden Canary.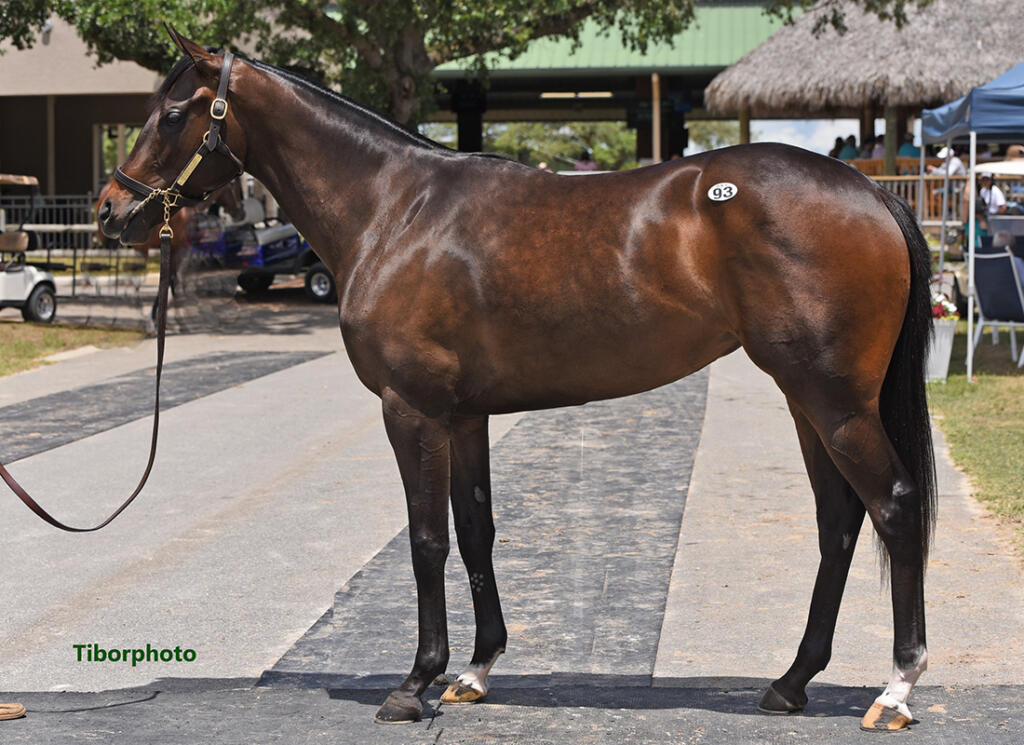 She has all the parts in all the right places, with pristine balance.
With her pedigree, if she runs to her breeze and to her looks, the partners who put their faith in her will be rewarded in multiples of her syndication valuation when the time comes to run her through the auction ring as a broodmare prospect.
PEDIGREE
This is a pedigree which requires zero introduction.
Being by a Blue Chip stallion and out of a young, Black Type mare who's by another Blue Chip stallion is your prototypical "breed the best to the best and hope for the best" approach to breeding.
And, we're hopeful that Golden Canary can be the best.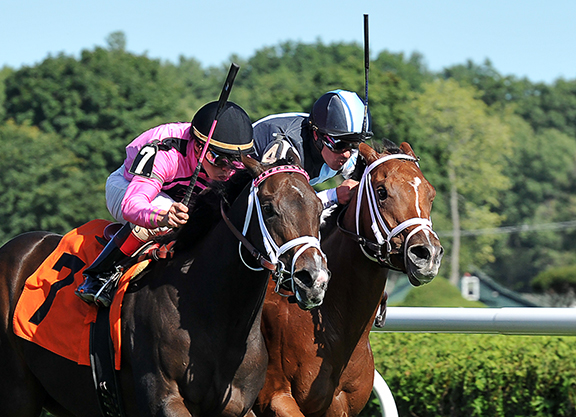 Our partner in the filly, Gary Barber, campaigned this filly's mama, Black Canary, and she was trained by Mark Casse, both of whom testify to the extreme talent Black Canary flaunted during her training and at the races.  In fact, Black Canary beat Eclipse's own eventual Stakes filly, Orecchiette, when they both debuted at Saratoga as 2 year-olds (photo above)!  So, it's really all in the family!
Buying athletic fillies with real world pedigrees at value for money is what put Eclipse on the map and that strategy continues to be our bread and butter—Golden Canary is that type of play and then some.
She has all the tools necessary to join our ever-increasing band of star #EclipseFillies.
To see Golden Canary's Pedigree page, click on the link below:
TRAINER, THE PLAN & VENUE OPTIONS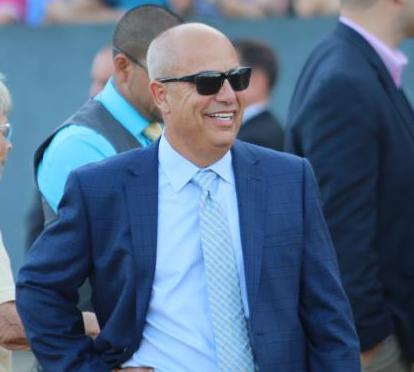 Canada's standout trainer is an American born in Indianapolis into a racing family. In 2011, Casse won his fifth straight and sixth overall training title at Woodbine in suburban Toronto with a record 119 victories, which was nearly double the number compiled by the runner-up. Among them were 13 stakes victories, including the Grey Stakes, in which Casse saddled the top three finishers. Casse's father, Norman Sr., retired as the chairman of the board of the Ocala Breeders' Sales in 2006 and is a 40-year-plus veteran of Thoroughbred owning, breeding and training.
Casse is the former private trainer and operations director for the massive Mockingbird Farm, which owner Harry Mangurian dispersed in 1999. Since moving to Canada, Casse has won seven Sovereign Awards as Canada's top trainer, inclduing the last four years. Casse's son, Norman, previously his top assistant, is now training on his own and has a Kentucky Oaks contender.
In 2015, Casse won his first Breeders' Cup race when Catch a Glimpse won the Breeders' Cup Juvenile Fillies Turf. The next day he won the Breeders' Cup Mile with filly Tepin.
He returned in the 2016 Breeders' Cup to pick up a win in the Sentient Jet Juvenile with the promising Classic Empire, making the colt the winter future-book favorite for the Kentucky Derby. Casse's filly Valadorna also ran second in the 14 Hands Winery Juvenile Fillies, and his superstar racemare Tepin just failed in her attempt to score back-to-back Mile wins when finishing second to Tourist.
After encountering some difficulties in early 2017, Classic Empire rebounded to win the Arkansas Derby and solidify his status as the leading Kentucky Derby contender for Casse and his team.
Casse earned his fourth victory at the Breeders' Cup on Nov. 4, 2017, when World Approval surged to a dominant victory in the Breeders' Cup Mile. He added a fifth in 2018 when Shamrock Rose closed boldly to win the Breeders' Cup Filly and Mare Sprint on Nov. 3 at Churchill Downs.
In 2019, War of Will emerged as a Kentucky Derby Presented by Woodford Reserve contender with wins in two prep races at Fair Grounds, the Lecomte Stakes and the Risen Star Stakes Presented by Lamarque Ford.
In the 145th Derby, the colt was at the center of controversy, as he was interfered with by first-place finisher Maximum Security through the far turn at Churchill Downs, resulting in that horse's disqualification.
War of Will earned redemption by winning the Preakness Stakes at Pimlico, giving Casse his first American classic win. Then, three weeks later, Casse tallied another classic win when his longshot starter Sir Winston took the Belmont Stakes Presented by NYRA Bets.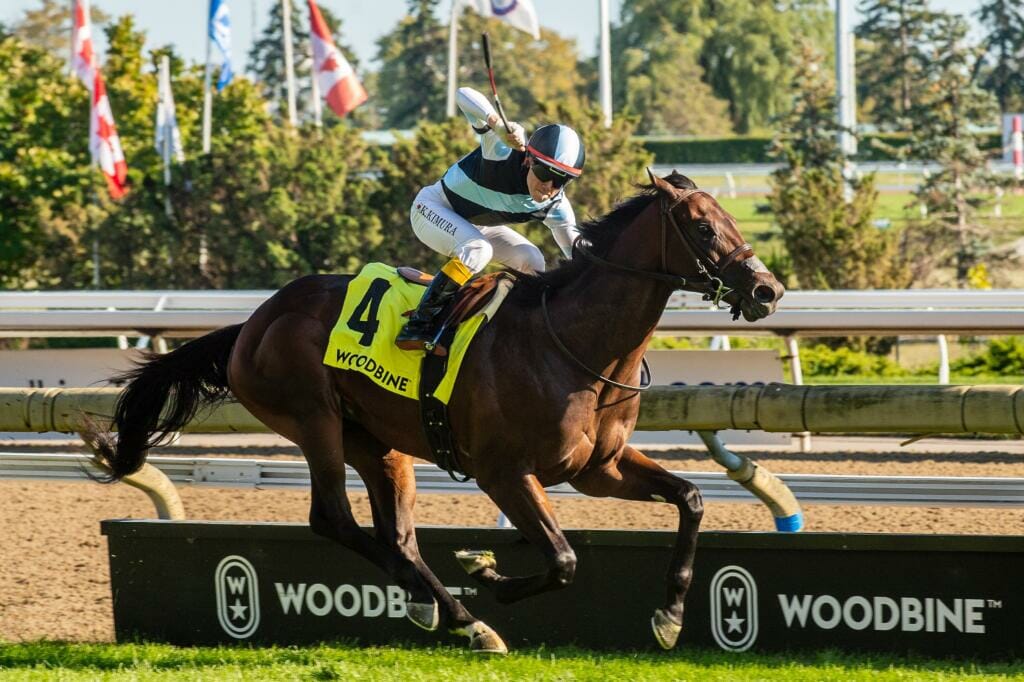 Casse has been superb for Eclipse since the stable's inception 10 years ago, including major winners Patrioticandproud, Gretzky the Great, God of Love (both Gretzky the Great and God of Love were voted Champion 2 Year-Olds in Canada), Spanish Loveaffair and the high quality performers Diamond Sparkles, Baksheesh, Dirty Dangle and Fulminate.
Casse's versatility as a trainer is only matched by his versatility in the geographical reach his barn is willing to venture to win big races.  We'll start Golden Canary in New York with an eye towards Saratoga, but the world is truly her oyster in the care of Casse and his team.
Golden Canary has been with Mark Casse at Belmont Park for close to a week already and they have reported this filly to be push-button, getting right into the swing of things with their Hall of Fame training program.  Their familiarity with Golden Canary's mama, Black Canary, who broke her Maiden on debut as a 2 year-old at Saratoga, combined with upper echelon experience with Medaglia d'Oro fillies in the form of Wonder Gadot, who was an elite 2 year-old, beaten a head in the Kentucky Oaks at age 3 and then beat the boys in the Canadian Classic, the Queen's Plate, should all prove highly beneficial for Golden Canary's development.  As always, we'll treat her as an individual and allow Golden Canary to tell us what she's ready for and when, but our vision is for her to be a summertime starter who should blossom with maturity and seasoning.
VALUATION
The total 100% valuation for Golden Canary is $275,000.  We will continue to honor pandemic increments starting at 3% with preference granted to larger commitments. You can see the chart below for pricing details
QUESTIONS & COMMITMENT CONTACTS
To ask questions or to make a commitment, please feel free to reach out to any of the following Eclipse team members:

Aron Wellman at Aron@eclipseTBpartners.com or at (310) 968-9559
Jack Sadler at Jack@eclipseTBpartners.com or at (803) 920-9005
Sean Tugel at Sean@eclipseTBpartners.com or at (859) 940-0456
Valuation and Costs
| Ownership % | Total Value | Q1 Estimated Expenses | Total Payment |
| --- | --- | --- | --- |
| 3% | $8,250 | $600 | $8,850 |
| 6% | $16,500 | $1,200 | $17,700 |
| 9% | $24,750 | $1,800 | $26,550 |
| 12% | $33,000 | $2,400 | $35,400 |
| 15% | $41,250 | $3,000 | $44,250 |
| 18% | $49,500 | $3,600 | $53,100 |
| 21% | $57,750 | $4,200 | $61,950 |
| 24% | $66,000 | $4,800 | $70,800 |