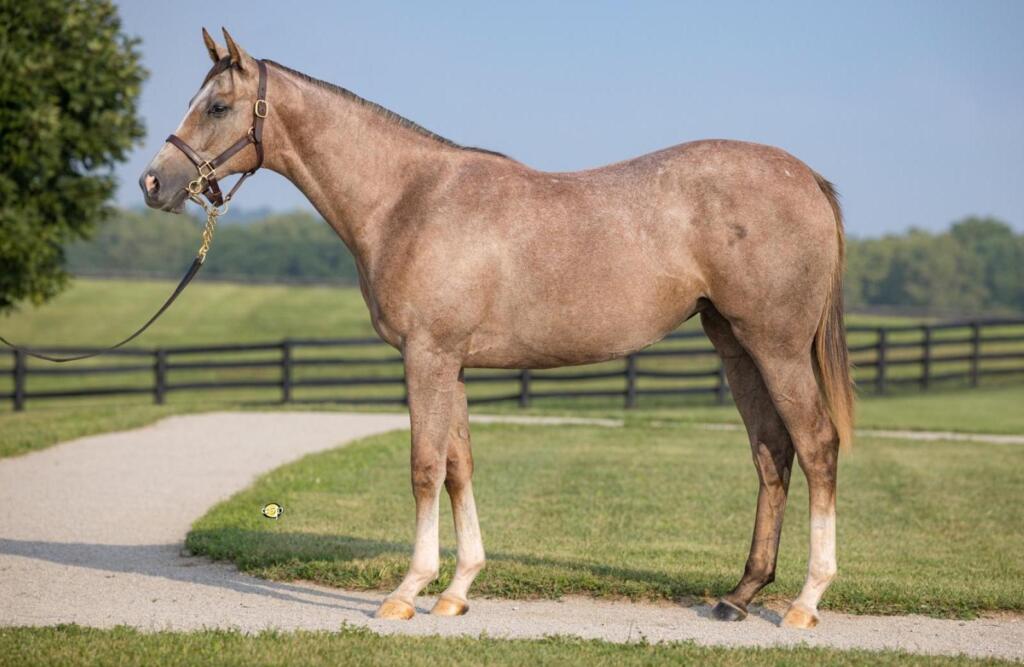 Gathered (Collected – Seattle Grey Filly)
Gallery
OVERVIEW & VISION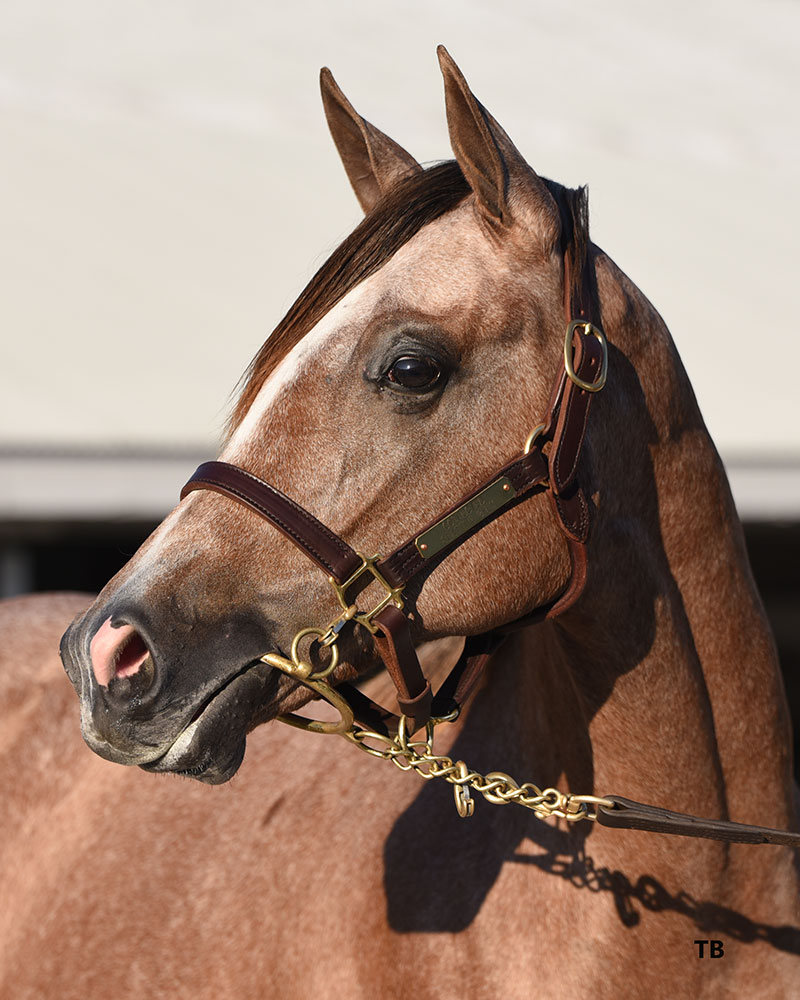 Gathered is a beauty.
And she's not just gorgeous looks, she's got the moves, too.
The grays are always sexy and intriguing, but Gathered takes that notion to a whole other level.
She's next level stuff.
Collected is a sire who is doing it the hard way and he's rapidly establishing himself as a force to be reckoned with as he sends out high-class winner after winner.  In fact, Eclipse is so bullish on Collected that we acquired a share in his stallion rights this past year, something we do only with pinpoint selectivity, which ought to tell you how high we are on his prospects at stud.
Airdrie Farm has been a leading breeder for decades and their organic approach to their matings and the manner in which they raise their foals on rich Kentucky land is second to none and a program Eclipse has had much success buying from over the years.
But, in the end, Gathered stands on her own merits.
She was graded as an A physical by our scouting team and she moves like a gazelle.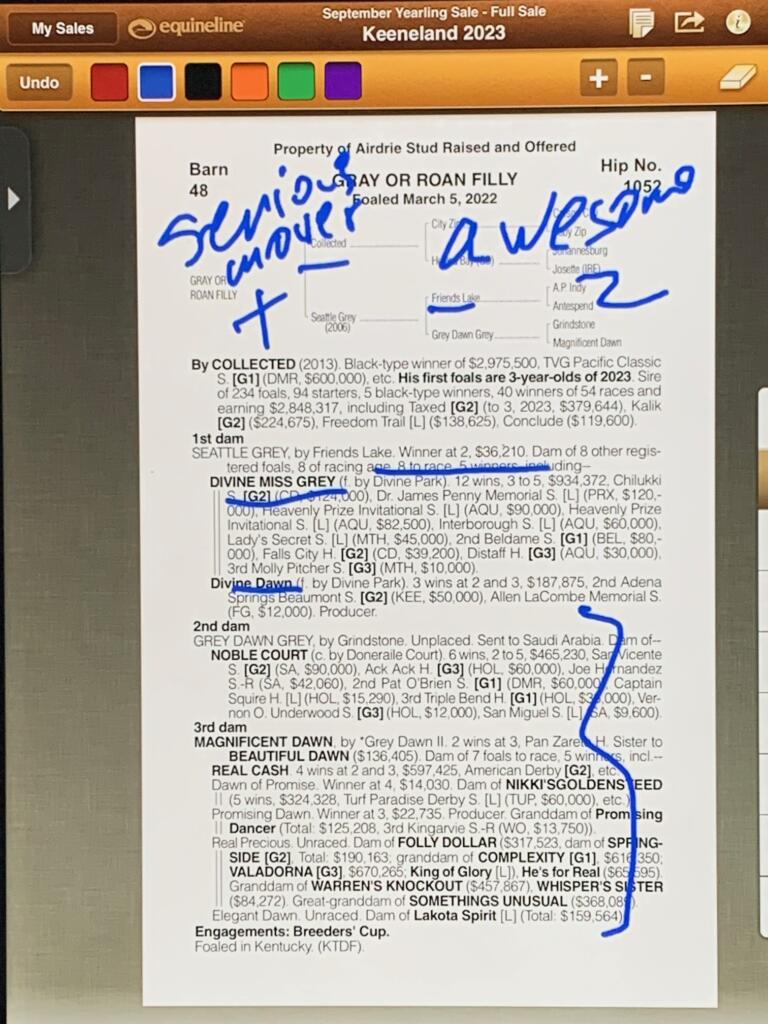 With Graham Motion at the helm when Gathered graduates from the farm in Ocala to head off into the Big Leagues, it would come as no surprise to see this grand gray gal rise to the top of her division in due time.
***To access Aron Wellman's in-depth overview and analysis of Gathered, click on this link:
CONFORMATION
It's one thing to be beautiful and to talk the talk, but Gathered walks the walk, too.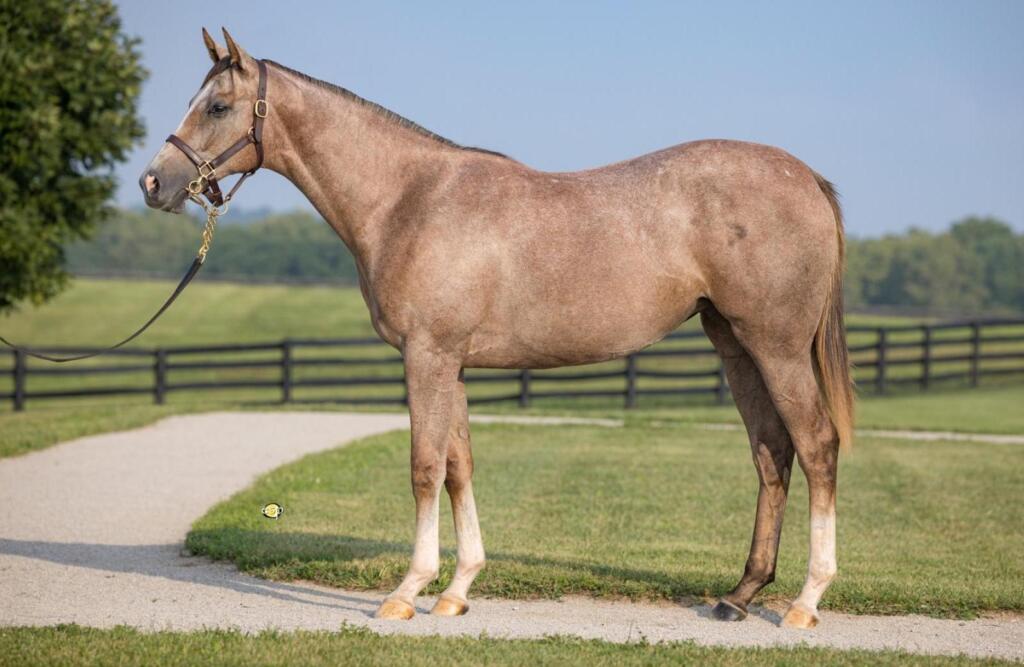 From head to toe she's exquisite, but she also backs it up with a powerhouse body and an incredibly rhythmic way of moving.
We were enamored with Gathered from the word GO and there was nothing that was going to stop us from adding her to the stable and being giddy about seeing how she'll look with our famous baby blue and black silks on her back.
PEDIGREE
Gathered's pedigree is old school Airdrie to the core.
There is no better nursery in the world and top notch runners emanate from their historic land year in and year out.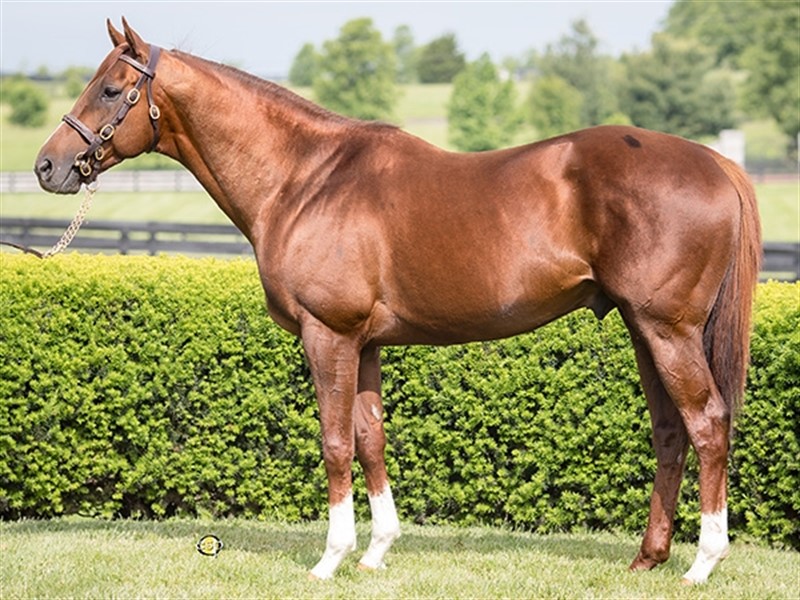 As previously mentioned, Eclipse put our money where our mouth is in terms of our gamble on Collected and you can see for yourself how replete the maternal side of Gathered's page is with Graded performers.
Gathered is designed to be precocious and versatile and she'll be in the ideal hands to exploit what we believe to be exceptional talents when Graham Motion brings her to his base at Fair Hill.
To see Gathered's pedigree page, click on the link below:
WALKING VIDEO
To see Gathered on the catwalk:
TRAINER & THE PLAN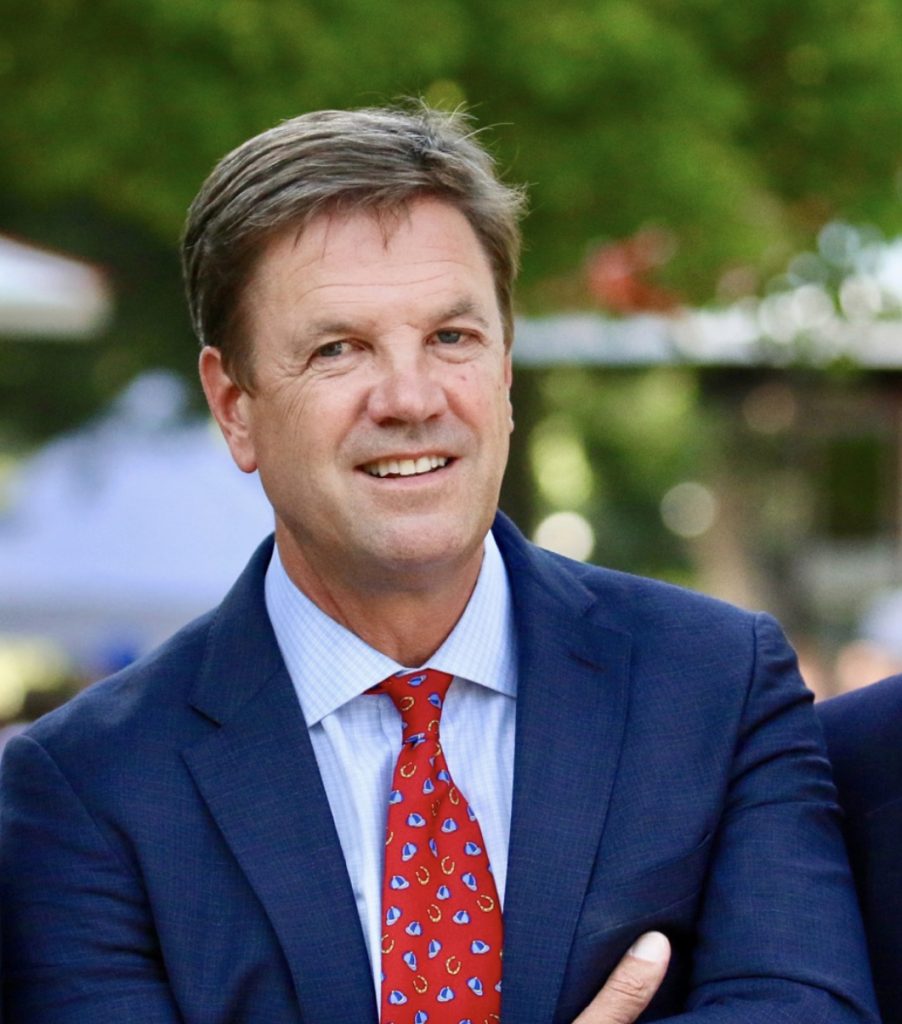 Graham Motion is well on his way to earning himself a spot in the Hall of Fame.
Motion is most famous for being the conditioner of Animal Kingdom, who won the 2011 Kentucky Derby while Eclipse President, Aron Wellman, was the Vice President of the colt's ownership company, Team Valor.
Motion and Wellman developed a phenomenal rapport while Motion trained privately for Team Valor and it was only a matter of time before Motion became one of Eclipse's go-to trainers.
Motion has delivered the goods for the baby blue and black, saddling numerous Stakes and Graded winners for the stable, highlighted by the All-World filly, Sharing, who captured multiple major races for Eclipse, including the 2019 renewal of the Grade 1, $1 million Breeders' Cup Juvenile Fillies Turf.
More recently, Eclipse and Motion combined to win the Grade 1, $400,000 Hollywood Derby with Speaking Scout.
In addition to Sharing, Graham trained Shared Account and Main Sequence to victories in Breeders' Cup Championship events.
Off the track and away from the barn, Graham is a family man to the core, doting over his wife Anita and his children, Jane and Chappy.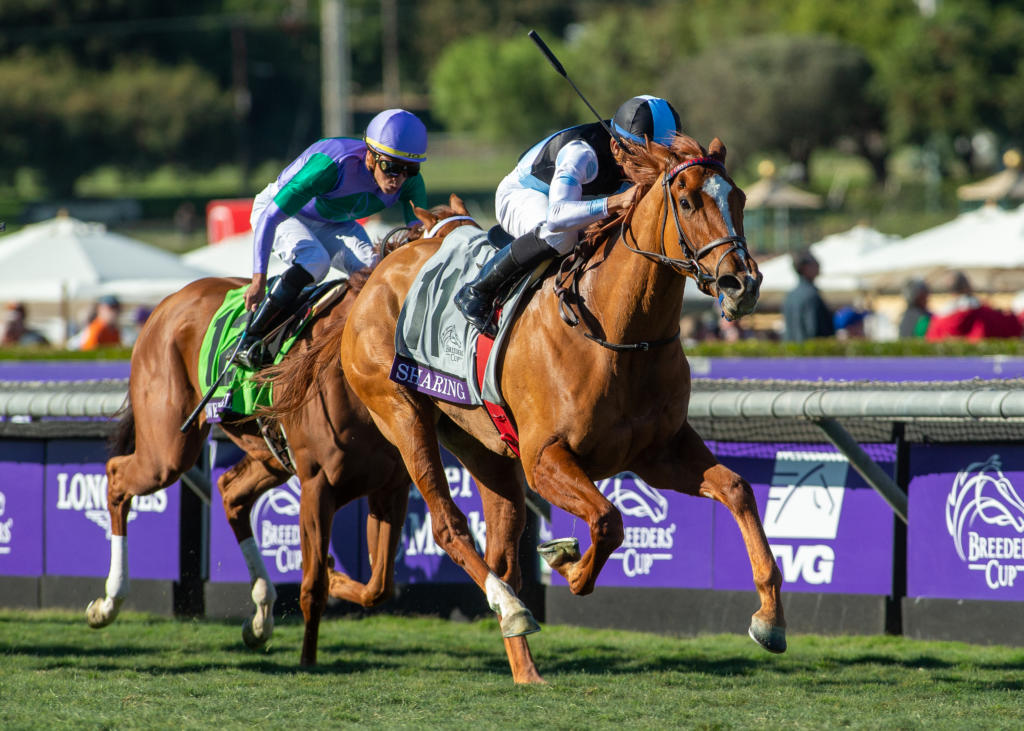 Graham and Anita are also incredibly philanthropic in and out of the industry, devoting the bulk of their charitable attention towards retired racehorse aftercare organizations, including Thoroughbred Retirement Foundation, Thoroughbred Charities of America, National Museum of Racing, Thoroughbred Education and Research Foundation and The Retired Racehorse Project. 
Graham is based year-round at the most magnificent training center in the United States at Fair Hill in Elkton, Maryland where a variety of track surfaces available, including dirt, turf and synthetic and there are vast amenities at his fingertips, while any number of Mid-Atlantic and East Coast tracks are easily accessible.
VALUATION
The total 100% valuation for Gathered is $225,000 and we will continue to honor pandemic increments starting at 3%. You can see the chart below for pricing details.
QUESTIONS & COMMITMENT CONTACTS
To ask questions or to make a commitment, please feel free to reach out to any of the following Eclipse team members:

Aron Wellman at Aron@eclipseTBpartners.com or at (310) 968-9559
Jack Sadler at Jack@eclipseTBpartners.com or at (803) 920-9005
Sean Tugel at Sean@eclipseTBpartners.com or at (859) 940-0456
Valuation and Costs
| Ownership % | Total Value | Q1 Estimated Expenses | Total Payment |
| --- | --- | --- | --- |
| 3% | $6,750 | $600 | $7,350 |
| 6% | $13,500 | $1,200 | $14,700 |
| 9% | $20,250 | $1,800 | $22,050 |
| 12% | $27,000 | $2,400 | $29,400 |
| 15% | $33,750 | $3,000 | $36,750 |
| 18% | $40,500 | $3,600 | $44,100 |
| 21% | $47,250 | $4,200 | $51,450 |
| 24% | $54,000 | $4,800 | $58,800 |